By Ken Silva pastor-teacher on Oct 18, 2010 in Emergence Christianity, Emergent Church, Features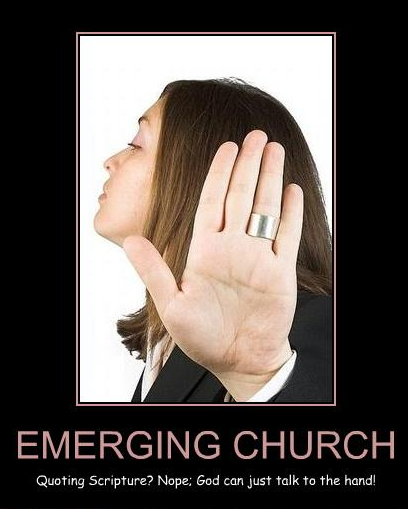 No, I imply that what pagans sacrifice they offer to demons and not to God. I do not want you to be participants with demons. You cannot drink the cup of the Lord and the cup of demons. You cannot partake of the table of the Lord and the table of demons. (1 Corinthians 10:20-21)
What God Says Just Gets In The Way
Some people just don't get it. Apprising Ministries has been making you aware of the now upgraded Emerging Church 2.0 with its newer, more clearly delineated, postmodern Progressive Christian theology—a Liberalism 2.0—that this sinfully ecumenical neo-liberal cult of the Emergent Church often refers to as "big tent" Emergence Christianity. This cult is now out of the closet regarding the soteriology of their big tent liberal theology: Pagan universalism.
In fact, heretical Emerging Church pastor Doug Pagitt—one third of the Emergent Church trinity of apostates with his equally heretical friend Tony Jones, progressive "theologian in residence" at Solomon's Porch, as well as Living Spiritual Teacher and EC guru Brian McLaren—even says, "Universalism is too small."[1]
Understanding that in their warped and toxic theology the Gospel, ala the bankrupt theology of hope spewed by second-rate theologian Jurgen Moltmann, God already reconciled the entire cosmos—essentially He's reversed the curse—will help you see why the actual mission of the Christian faith is irrelevant to them.
Having gone off-roading far into the postmodern Wonderland of Humpty Dumpty language, for these vipers, the Scriptures are nothing but a private playground they're free to interpret any way their "community" feels like it. A case in point is what I just covered earlier today in Let's Doubt That Doubt Is Good where you'll see the lunacy in the Lord's Name of EC leaders encouraging people into the sin of unbelief.
What you need to understand is for five plus years now I've been trying to have a conversation with many of the top names within this EC cult and they simply will not listen. While they love to doubt everything concerning the historic orthodox Christian faith, there is one thing of which they are absolutely sure, and that is they are right; and Bible-believing Christians are wrong.
Yeah, the moment you show them from the God's Word their positions are erroneous, they resort to libel while whining that you're a "hater." However, this is only because they also know they cannot support their flimsy feelings from Holy Scripture; and so, we love them enough to forgive them while continuing to try to tell them the truth.
That said, you might remember my recent post Emerging Church Leader Samir Selmanovic Worships With Witches where I showed you that one of the lesser known EC luminaries, an up-and-coming ear-tickler named Samir Selmanovic, told us:
If you didn't know, the "we" refers to Selanovic's main shtick, which is something called Faith House Manhattan (FHM), whose motto is Experience Your Neighbor's Faith. You see what I mean about ignoring the Bible; the text I used above tells us Selmanovic spent the night at the table of demons. By the way, it's also very revealing about the beliefs of Red Letter Christians like Tony Campolo and EC guru Brian McLaren when we note that this apostate FHM is personally blessed by them as well:
And then to show just how spiritually obtuse they are Samir Selmanovic would later tweet:
Notice the red herring; we don't deal with the Bible condemns what he did, instead like a spiritual adolescent Selmanovic attempts to change the subject. Roman Catholic popes also had innocent Protestant Reformers burned on a stake too; and that was just as wrong. It has nothing to do with violating the opening text, not to mention:
Do not be unequally yoked with unbelievers. For what partnership has righteousness with lawlessness? Or what fellowship has light with darkness? What accord has Christ with Belial? Or what portion does a believer share with an unbeliever? What agreement has the temple of God with idols? For we are the temple of the living God; as God said, "I will make my dwelling among them and walk among them, and I will be their God, and they shall be my people."

"Therefore go out from their midst, and be separate from them, says the Lord, and touch no unclean thing; then I will welcome you, and I will be a father to you, and you shall be sons and daughters to me, says the Lord Almighty." (2 Corinthians 6:14-18)
Selmanovic then followed that up that earier comment with this more personal one:
First of all Samir, I'm already being fair; you're the one shutting the door of the Kingdom of God in people's faces with your false emerging non-gospel. And secondly, we have no right to be more generous than Jesus Himself Who informs us, "I told you that you would die in your sins, for unless you believe that I Am [the eternal God] you will die in your sins" (John 8:24, literal Greek). The Bible is very clear:
"[L]et it be known to all of you and to all the people of Israel that by the name of Jesus Christ of Nazareth, whom you crucified, whom God raised from the dead—by him this man is standing before you well. This Jesus is the stone that was rejected by you, the builders, which has become the cornerstone. And there is salvation in no one else, for there is no other name under heaven given among men by which we must be saved." (Acts 4:10-12)
________________________________________________________________________________
Endnotes:
[1] You'll see Pagitt himself used the phrase as he titled the two video segments in Doug Pagitt Agrees With Evolutionary Evangelist Michael Dowd.
See also:
SAMIR SELMANOVIC AND BEING UNABLE TO FOLLOW JESUS WITHOUT ISLAM 
CHRISTIAN AGNOSTIC ADELE SAKLER AND SAMIR SELMANOVIC DISCUSS CHRISTIAN ATHEISM
SAMIR SELMANOVIC HAS LEFT THE BUILDING
FULLER SEMINARY SPONSORS EMERGING CHURCH HERETIC DOUG PAGITT
THE EMERGING CHURCH AND THE NEW PROGRESSIVE THEOLOGY ON OTHER RELIGIONS
THE EMERGING CHURCH AND THE NEW PROGRESSIVE THEOLOGY ON CHRIST