By Ken Silva pastor-teacher on Oct 18, 2010 in AM Missives, Current Issues, Emergence Christianity, Emergent Church, Features, Rob Bell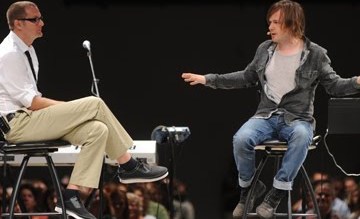 The natural person does not accept the things of the Spirit of God, for they are folly to him, and he is not able to understand them because they are spiritually discerned. (1 Corinthians 2:14)
Preaching The Good News of Doubt?
Here at Apprising Ministries, a main focus of this particular online apologetics and discernment work has been monitoring and exposing of the now upgraded Emerging Church 2.0 with its newer, more clearly delineated, postmodern Progressive Christian theology.
This new, and not improved, liberal theology—a Liberalism 2.0—is what this sinfully ecumenical neo-liberal cult of the Emergent Church will often refer to as "big tent" Emergence Christianity. You're likely aware of leaders within this EC—seeker driven for the "counter-culture"—movement like the Emerging Church trinity of apostates, Living Spiritual Teacher and EC guru Brian McLaren, universalist Emerging Church pastor Doug Pagitt, and his friend Tony Jones, the progressive "theologian in residence" at Solomon's Porch.
Having been embraced by spiritually obtuse evangelicals, vipers such as these have long been teaching counterfeit forms of Christianity to young mainstream evangelicals. I have also told you that there will be nothing gained by foolish "conversation" with these types of Apostles of Unbelief in the EC, and among their number you'll find mystics like those pictured above; rock star Emerging Church pastor Rob Bell and his good friend Peter Rollins. 
In Peter Rollins Denigrates God's Word In The Big Tent I showed you that Rollins made an appearance at the lastest apostasia-palooza of the Emerging Church called Big Tent Christianity: Being and Becoming the Church. There my friend John Chisham, pastor of River of Life Alliance Church in Marshall, Minnesota documented via the tweet below part of Rollins' message and his view of God's Word:

Not all that surprising really in Rollins' case that he'd find the Scriptures "incoherent considering my opening text; the same with gay-affirming "pastor" Jay Bakker heads up a rather rapscallion, and largely Biblically illiterate, bunch in the Emerging Church who've crowned themselves Outlaw Preachers. Bakker agreed with his friend Peter Rollins so he retweeted:

In fact, back on October 10 Rollins was speaker once again at Bakker's support group called Revolution NYC, which is trying to pass itself off as a church. Rollins' ramble, which is one of the silliest things I've heard in a long, long time, was an ode to doubt he called: Why The New Atheists Don't Go Far Enough. Frankly, I'm starting to think that Rollins is an atheist himself cloaking himself with a coat of sheep's skin. His latest motto is:
Can't you see it now, the new Emergent Doubter's Translation with reimagined verses like Matthew 14:31 — Jesus immediately reached out his hand and took hold of him, saying to him, "O you of little faith, why didn't you doubt more?" How about a doubt-filled Mark 11:23 — "Truly, I say to you, whoever says to this mountain, 'Be taken up and thrown into the sea,' and musters up enough doubt in his heart, to be not believing that what he says will come to pass, it will be done for him."
Then there's Luke 24:38 — And he said to them, "Know why are you troubled, not enough doubts arise in your hearts?" Or how about Mark 9:24 — Immediately the father of the child cried out and said, "Oh no, I believe; help me have unbelief and divine doubt!" And the classic John 20:27 —  Then he said to Thomas, "Put your finger here, and see my hands; and put out your hand, and place it in my side. Do not believe, but doubt and not believe." But what you may not know is this kind of love of doubt isn't new at all; it's always a part of liberalism.
Here's an excerpt today at Pyromaniacs from Charles Spurgeon, who was dealing with the evil forebears of the Emerging Church. This sermon entitled "The Three Witnesses" was originally preached at the Metropolitan Tabernacle on Sunday morning, 9 August 1874:
I feel sick to death of the common talk about the healthiness of doubting and the beauty of "modern thought." This talk is only the self-praise of a set of concealed infidels treacherously lurking in God's church. (Online source)
Yeah, these Emerging Church teachers like Peter Rollins and Rob Bell are really on the cutting edge alright…of the 19th century…
See also:
ROB BELL, PETER ROLLINS AND PHYLLIS TICKLE TOGETHER ADVANCING EMERGENCE CHRISTIANITY
ROB BELL, PETER ROLLINS, AND QUEERMERGENT'S ADELE SAKLER 
ROB BELL IS DEFINITELY NOT LIKE JESUS
EMERGING CHURCH LEADER SAMIR SELMANOVIC WORSHIPS WITH WITCHES
BIG TENT CHRISTIANITY A GROUP HUG IN THE EMERGING CHURCH
ST. PAUL DENVER UNITED METHODIST BUDDHIST-CHRISTIAN INTERSPIRITUAL COMMUNITY