By Ken Silva pastor-teacher on Aug 13, 2010 in AM Missives, Current Issues, Features, Rick Warren, Southern Baptist Convention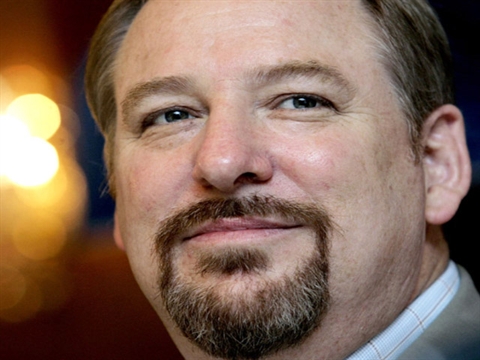 The online apologetics and discernment work Apprising Ministries, which extends as an outreach of the local church where I'm pastor—SBC (for now)—has long been critical of the Purpose Driven Pope Rick Warren. In addition to his twisting of the Bible as if it's his personal piece of Play-Doh, as a former Roman Catholic, I am personally offended by his double-minded position concerning the apostate Roman Catholic Church.
Being a Southern Baptist pastor the same as Warren I'm well aware of its Idol of Autonomy, which allows the spineless Southern Baptist Convention leaders—apparently simply figureheads—to avoid having to actually deal with doctrinal issues infecting it; e.g. Ed Young, Jr. year after year having Word Faith prosperity preacher and Oneness Pentecostal heretic T.D. Jakes preach in his Fellowship Church (SBC).
So this is how Rick Warren, arguably the SBC's most visible minister—you know, "America's pastor" and all that—embrace Roman Catholicism, which long ago place its own anathema upon the very Gospel of Jesus Christ itself, as a viable form of Christianity; and this while Warren is still a minister in right standing within the largest *cough* Protestant denomination in the United States. Welcome to the postmodern pudding of Humpty Dumpty language.
Well, to be "missional" and contextually relevant here, as Dana Carvey's SNL "church lady" character Enid Strict would so often opine: "How convenient." Against this backdrop I'll remind you that in the post Rick Warren Defends Church Challenge yesterday I told you Rick Warren had tweeted the below boast. And further, he then deleted it within a couple of hours, and yet the next day the self-professed "Pastor to pastors" who, "Leads network of churches in 195 nations-PEACE Plan," was offering a vigorous defense of it:

All of which would lead me to ask the question: Why did Rick Warren delete the tweet that he's now been vigorously defending? Then in a follow up/update Rick Warren Above Needing To Explain Himself I showed you the following tweet from Alan Fahrner, who tells us he's an "average guy in a small town in New Hampshire." Fahrner, a minister who preaches once a month at Antrim Church of Christ, asks:
Warren then answers Fahrner and tells him:
I see; typical of the Purpose Driven/Seeker Driven sector of the man-centered Church Growth Movement vomited out of Fuller Theological Cesspool Seminary, if someone dares to criticize one of "God's anointed" then obviously we aren't intelligent enough to understand their great erudition; so obviously we "misjudge motive." Well, speaking for myself here Rick Warren, I never have judged your motive; just your bad doctrine.
As pertaining to this issue, it would appear that Warren considers himself above having to explain, what seems to me, his boastfully setting up his Saddleback Church as a model; one we mere mortals can't possibly measure up to regarding any 500 of its members, let alone the entire body. So, let me see if I'm grasping this: Rick Warren will "delete tweets when people misjudge motive" because he feels it's "a waste of time" to set the record straight.
Ok, then maybe he'll now offer an explanation as to why it is, if he needed to delete the tweet which he later spent most of the next morning defending, that this same seemingly arrogant boast/challenge still remains on his Facebook page:
Stay tuned, should make fascinating reading…
See also:
IS THIS DOCTRINAL AND SOUND DR. JOHN PIPER? 
RICK WARREN AND ROMAN CATHOLICS 
RICK WARREN DECEPTION ALREADY INVADING REFORMED CAMP  
SADDLEBACK CHURCH, RICK WARREN, AND SPIRITUAL DISCIPLINES 
DR. MICHAEL HORTON ON THE CHAMELEON-LIKE RICK WARREN 
THE INADEQUATE GOSPEL OF RICK WARREN