By Ken Silva pastor-teacher on May 12, 2010 in AM Missives, Current Issues, Features, Southern Baptist Convention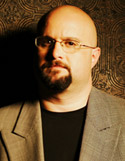 Apprising Ministries now brings you the latest in the unfortunate situation concerning Dr. Ergun Caner, president of Liberty Baptist Theological Seminary. Inside Higher Education makes us aware today of a report by The News & Advance of Lynchburgh, VA.
Ray Reed informs us:
Liberty University will investigate whether Ergun Caner, president of Liberty Baptist Theological Seminary, actually has all of the Muslim background that he has described in some of his speaking engagements around the country.

Liberty University described Caner as a converted Sunni Muslim and immigrant from Turkey when it named him head of the seminary in 2005, according to News & Advance files.

For several weeks, bloggers who claim either Baptist or Muslim connections have expressed doubts about Caner's testimony… (Online source)
Reed then shares LU's official statement announcing that " the provost of Liberty University is appointing a committee to look into these matters." He also informs us:
The committee, [is] to be headed by longtime LU administrator Ron Godwin, is expected to issue a decision on its findings by June 30, said university spokesman Johnnie Moore. Moore said the statement was sent to ChristianityToday.com and the Nashville Tennessean newspaper, in addition to The News & Advance.

Caner could not be reached for comment Monday. Jerry Falwell Jr., chancellor of Liberty University, also made his first public comment regarding Caner on Monday.

"In light of the fact that several newspapers have raised questions, we felt it necessary to initiate a formal inquiry," Falwell said in a statement posted on the university website.

The controversy focuses on whether Caner was raised in Turkey and in the Muslim faith until age 17, as he has been recorded as saying in remarks to large church congregations in Florida and Texas in the months after the Sept. 11, 2001 attacks on New York… (Online source)
You can Reed's report in its entirety right here.
See also:
DR. JAMES WHITE: AN OPEN LETTER TO DR. FALWELL AND DR. GODWIN
*UPDATE*LIBERTY FORMS INQUIRY COMMITTEE ABOUT ERGUN CANER
*UPDATE* DR. ERGUN CANER, DR. JAMES WHITE, AND ANGELZ TO THE RESCUE