By Ken Silva pastor-teacher on May 9, 2010 in Current Issues, Features, Southern Baptist Convention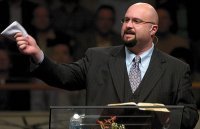 Being primarily an online apologetics and discernment work sent forth by Jesus keeping you apprised of issues going on within the visible church is a large part of the job description for Apprising Ministries.
As I've told you previously, one of those going on right now I began covering in Bloggers Target Seminary President Ergun Caner.
It was there I pointed you to a web-only report by John Kennedy for Christianity Today we're told:
Liberty University's board of directors has declined to take public action against Ergun Caner, president of the university seminary, as bloggers raise doubts about Caner's account of his childhood as a Muslim… [L]ately, both Muslims and Reform-minded Southern Baptists are questioning biographical details provided by the 43-year-old Ergun…

Behind the squabble is Mohammad Khan, a 22-year-old London-based computing student who has posted 17 talks by Caner on YouTube… Both Khan and James R. White, director of the Phoenix-based Alpha & Omega Ministries, a Christian apologetics ministry, say there is no record of Caner's claims that he twice debated Muslim apologist Shabir Ally. 

"The president of a large theological seminary has created a myth concerning his background that is incredibly self-contradictory," said White, who teaches on Islam at Golden Gate Baptist Theological Seminary. (Online source)
Understandably this has been upsetting to students at Liberty and I've certainly been made aware of that fact in my email inbox. During a mostly amiable discussion with one student who felt I was trying to dig up dirt on Dr. Caner, along with my alleged unspecified associates, I explained that I personally have zero "colleagues" involved in attempting "to dig up dirt" about Dr. Caner.
In fact, I'm not involved with any of the people who're being named in the story, I've simply passed along credible news stories rather dispassionately in order that people be informed. As I further shared, this also works to Dr. Caner's advantage as well; if this is all untrue then people can certainly come to his defense.
Now it appears the story has taken a bit of a twist; in this post from last Tuesday Dr. James White tells us, as it pertains to this controversy surrounding Dr. Ergun Caner, he's come a bit under fire himself. Dr. White begins by telling us a little about his "friend Angel Contreras" whom he explains seems to pop up:
right when I need some encouragement, some relief from a particularly troubling episode (and that is the case right now with the Caner and now Liberty debacle, all immediately prior to a major debate), up pops an e-mail with an attachment from Angelz.
(Online source) 
More on why I brought that to your attention in a moment; but first, Dr. White tells us that:
Mr. Kennedy, the author of the CT article, called me. Seems some rabble-rousers out there contacted Christianity Today and told them I do not teach for Golden Gate. So he had to do "due diligence." I asked if he had called Golden Gate, and he hadn't (I invited him to do so, and gave him the proper people to contact, by name)…

Then I pointed out that, unlike Ergun Caner, I had returned his call, and, unlike Ergun Caner, had provided him with a direct response to his inquiry. I do find it ironic that he was fact checking me—when the issue is what Ergun Caner has claimed, and cannot document. But I was happy to provide the documentation. (Online source) 
Dr. White goes on to share a couple of pieces of satire that "Angelz" had done; first, "his classic piece from 2006 when the Caners threw their credibility under the bus and disregarded their own signed agreement, leading to the cancellation of the debate at Liberty University." Dr. White also presents another piece, an "Angel Classic," which concerns this current situation with Dr. Ergun Caner.
And Dr. White then concludes with the following disturbing comment:
Of course, Angel quotes from Colossians about not lying, and he should take into consideration that Liberty has pronounced Dr. Caner free from having done anything "theologically inappropriate," and that myth-making about your own past is not a moral or ethical issue! So, all is well. (Online source) 
*Update* Tim Guthrie of something called The SBC Today Blog is reporting:
I  made a decision several months ago to support a couple of guys. This decision was not made lightly. In the course of the decision I knew that I also would need to investigate some things. And this I did. The following is part of my results. Results that prove that Ergun Caner was a Muslim. Results that prove that he was a Devout Muslim. Results that were not too difficult to discover. Results that are real.

Here is an eye witness of the life and facts of Ergun Caner. A man who actually knows them and more:

My name is Jamal Jivanjee, and I was born and raised in the greater Columbus Ohio area. My mother is an American & my father was born and raised in East Africa and is of Asian Indian decent. My father was a devout Muslim and we attended functions at the same mosque/ masjid that Ergun, Emir, & his family attended on east Broad street in Columbus, Ohio. Ergun & Emir's father, Mr. Acar Caner, was a very prominent leader within the Islamic community that we associated with and was very involved with this mosque… (Online source, emphasis his)
You can read the rest of Guthrie's post right here.