By Ken Silva pastor-teacher on May 3, 2010 in Current Issues, Features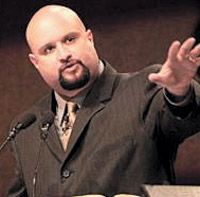 And for once the online apologetics and discernment work Apprising Ministries isn't involved as "Liberty's Ergun Caner accused of false statements in his testimony about converting from Islam." Today according to a web-only report by John Kennedy for Christianity Today we're told:
Liberty University's board of directors has declined to take public action against Ergun Caner, president of the university seminary, as bloggers raise doubts about Caner's account of his childhood as a Muslim. Elmer Towns, co-founder of Liberty University and dean of the School of Religion, says there will be no official reprimand or demotion of Ergun Caner. Towns, who had a hand in hiring Caner, says the Liberty board has held an inquiry and directors are satisfied that Caner has done nothing theologically inappropriate.

"It's not an ethical issue, it's not a moral issue," Towns told Christianity Today on April 27. "We give faculty a certain amount of theological leverage. The arguments of the bloggers would not stand up in court."… Caner and his youngest brother Emir gained prominence as Muslim experts following the September 2001 terrorist attacks. The following year, the brothers wrote Unveiling Islam: An Insider's Look at Muslim Life and Beliefs (Kregel)…

But lately, both Muslims and Reform-minded Southern Baptists are questioning biographical details provided by the 43-year-old Ergun. The blogosphere has been abuzz with critiques of statements Caner has made about himself in speeches, sermons, and online videos… Behind the squabble is Mohammad Khan, a 22-year-old London-based computing student who has posted 17 talks by Caner on YouTube. The videos contain slow-motion segments superimposed with Khan's comments…

"Christians are under the impression that he is some sort of Islamic expert," Khan told CT. "He isn't." Both Khan and James R. White, director of the Phoenix-based Alpha & Omega Ministries, a Christian apologetics ministry, say there is no record of Caner's claims that he twice debated Muslim apologist Shabir Ally. 

"The president of a large theological seminary has created a myth concerning his background that is incredibly self-contradictory," said White, who teaches on Islam at Golden Gate Baptist Theological Seminary. White, who says he has engaged Ally in four formal public moderated debates, sounded the alarm for many Southern Baptists. In turn they have tracked down Caner's conference speeches, sermons, writings, and even court documents to counter the ex-Muslim's statements… (Online source)
You can read Kennedy's report in its entirety right here.
See also:
MUSLIMS WANT FRANKLIN GRAHAM REMOVED FROM CAPITOL PRAYER
CHRISTIANITY AND ISLAM—THE SAME GOD?
DO CHRISTIANS AND MUSLIMS WORSHIP THE SAME GOD?
ISLAM AND CHRISTIANITY: THE DEITY OF CHRIST
KEEPING YOU APPRISED OF: ISLAM
RICK WARREN: PURPOSE DRIVEN TO ASK FOR ALLAH'S FORGIVENESS
What Does Islam Teach About God and is He Like the God of the Bible?