By Ken Silva pastor-teacher on Apr 8, 2010 in AM Missives, Current Issues, Features, Rick Warren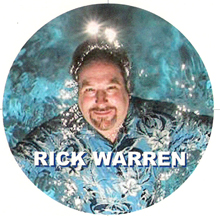 Apprising Ministries has been keeping you updated on Warrengate, which has begun because Dr. John Piper suffered a lapse in judgment by inviting Purpose Driven Pope Rick Warren to be a keynote speaker at the Desiring God Conference 2010.
Yesterday I pointed you to a couple of radio programs featuring two godly men very much up on the issues involved here in Crosstalk: Bob DeWaay On Warrengate And John Piper and Phil Johnson Comments On Warrengate For Iron Sharpens Iron Radio.
Over at First Things Adam Omelianchuk has contributed The New Calvinism's Personality-Driven Life where he writes:
There have been many write ups on the so-called "New Calvinism" sweeping through the evangelical landscape, and much attention has been paid to highly organized leadership behind it. It seems that what Emergent Village was trying to accomplish through networking and organizing with other like-minded leaders and ministries through blogs, books, and websites, the New Calvinists did with much more success… (Online source)
Omelianchuk anticipates the question: "Who are the leaders and the ministries of the New Calvinism?" and then shares some familiar names as he tells us:
If you asked a group of New Calvinists you might get slightly different lists, but here is one that most might agree see as representing a broad appeal: 

John Piper of Desiring God Ministries

Albert Mohler of Southern Baptist Theological Seminary

Mark Dever of 9Marks Ministries

John MacAurthur of Grace Community Church

RC Sproul of Ligonier Ministries

CJ Mahaney of Sovereign Grace Ministries

Mark Driscoll of Mars Hill Church and Acts 29 Ministries

Ligon Duncan of First Presbyterian Church—Jackson, MI

Tim Keller of Redeemer Presbyterian

Phillip Ryken of Wheaton College and Tenth Presbyterian of Philadelphia

Michael Horton of Westminster Seminary, CA and the White Horse Inn

DA Carson of Trinity Evangelical Divinity School (Online source)
Certainly an interesting take on New Calvinism and how it crosses into Warrengate:
John Piper's decision to invite Rick Warren to speak at this years Desiring God conference is truly remarkable. The divergence between the two pastors is significant in style and substance, but according to Piper's explanation there seems to be a similar heartbeat for the glory of God underlying both of their approaches to ministry… (Online source)
Hmm, "heartbeat for the glory of God"; odd, considering Warren's stance embracing the apostate Roman Catholic Church as brothers in Christ despite its condemning God's gospel. And again, I am not saying Dr. Piper is a heretic, unChristian, etc., etc.; he's a dear brother in Christ who's in sin to offer the double-minded "Protestant" Rick Warren the use of his pulpit. I'm also not attacking Adam Omelianchuk here either, as he continues:
The outrage at Piper for inviting Warren by some New Calvinists is astonishing considering the fact that part of the Reformed resurgence is built on the fact that it is the plain preaching of Scripture that creates disciples, not fancy eloquence that rest on the personality or even the wisdom of the speaker… (Online source)
For me, in addition to Warren's sinful and double-minded ecumenicsm, my concern with chameleon'like Rick Warren is what pastor Bob DeWaay calls Warren's "file cabinet orthodoxy." By this DeWaay means:
You stick it in a file cabinet, and someone questions you about it, you pull it and show [it to] them. Then you put it back in there; but it really doesn't influence what you do, how you write, how you preach, how you speak. And it's not very useful orthodoxy. [1]
Omelianchuk now concludes:
All this serves as evidence to show that the New Calvinism is infected with the some of the same problems that beleaguered the church of Corinth where reverence for human leaders lead to a factious spirit that utterly missed the person and work of Christ and his intentions for his body.  (Online source)
No doubt "reverence for human leaders" always proves to be bad; and in this case, perhaps there is an element of truth. The comments section of Omelianchuk's post has proven to be quite enlightening  as Frank Turk of Phil Johnson's Pyromaniacs blog has had quite a bit to say. He speaks about "the watchbloggers and the sycophants," whoever "they" are; and even Dr. Tim Keller himself dropped by. In closing this, for now, Omelianchuk's piece is a good read with some food for thought; and the comments section sort of telling.
You may recall that while explaining why he invited Rick Warren to DG 2010 via video, and pastor Rob Willmann posted his transcript of it right here, Dr. Piper rather unwisely said: "I'm gonna need help to know why I should feel bad about this decision." Today my friend Lou Martuneac, author of In Defense of the Gospel, has offered some assistance concerning this request in the latest of his series on Warrengate, which began with John Piper to Feature Rick Warren at 2010 Desiring God.
Martuneac informs us in John Piper, "I'm Going to Need Help to Know Why I Should Feel Bad About This Decision" that:
The title of this article is taken from John Piper's video in which he explained why he invited Rick Warren to speak at the 2010 Desiring God conference. In two stages, I will help John Piper "to know why [he] should feel bad about this decision" and to repent of it…

John Piper is not an enemy and I do not appreciate those who might portray him as one. He is, however, a brother who has gone horribly wrong in theology and practice with the Warren invite being the latest and most stark example. If members of the body of Christ do not take biblical steps to admonish and withdraw from to restore him he will eventually make even worse decisions than this one with Rick Warren.

If you love John Piper as a brother, you will admonish him as a brother. There is no more loving course of action than to restore a brother who has gone into "contrary" doctrine or practice than to admonish him… (Online source)
You can read Lou Martuneac's insightful article in its entirety right here.
________________________________________________________________________________
Endnotes:  

1. http://www.crosstalkamerica.com/shows/2010/04/john_piper_invites_rick_warren.php, accessed 4/8/10.
See also:
DR. MICHAEL HORTON ON THE CHAMELEON-LIKE RICK WARREN
THE INADEQUATE GOSPEL OF RICK WARREN
SBC PROTESTANT PASTOR RICK WARREN DOUBLE-MINDED ON THE REFORMATION AND ROMAN CATHOLICISM
SOUTHERN BAPTIST PASTOR RICK WARREN AND SADDLEBACK CHURCH OPENLY RECOMMEND CONTEMPLATIVE SPIRITUALITY/MYSTICISM
SADDLEBACK CHURCH PASTORS USING ROB BELL TEACHINGS
DR. ROD ROSENBLADT CALLS RICK WARREN'S MAN-CENTERED THEOLOGY "ROMAN CATHOLIC"