By Ken Silva pastor-teacher on Mar 31, 2010 in Current Issues, Features, Rick Warren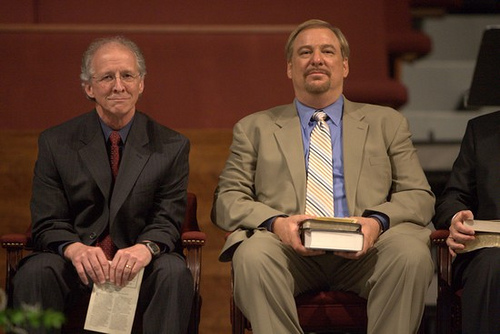 There had been much speculation concerning a post Apprising Ministries ran last night called Rick Warren To Be Featured At Desiring God 2010 where I pointed you to a short post at Sharper Iron by Greg Linscott who revealed that Leadership Network's propped-up Purpose Driven Pope Rick Warren, who teaches the apostate Roman Catholic Church is part of the Body of Christ and openly promotes anti-sola Scriptura Contemplative Spirituality/Mysticism, is be a featured speaker at Piper's Desiring God conference this year:
SharperIron has confirmed with Jonathan at Desiring God in Minneapolis that Rick Warren is among the speakers for the 2010 Desiring God National Conference. There will be more details explaining the invitation from DesiringGod.org in the near future… (Online source)
I then shared there was further corroboration of story just breaking at the time from Lou Martuneac over at his In Defense of the Gospel blog who informed us:
Earlier this month I requested and have now received written confirmation from Bethlehem Baptist Church (BBC) that John Piper invited and will host Rick Warren as a keynote speaker at his (Piper's) 2010 Desiring God conference.

The source from BBC said Desiring God will, "…eventually be posting registration instructions and conference details, including a video from John Piper on why he invited this year's speakers," including Rick Warren. (Online source)
And then today in Confirmed: Rick Warren Is To Speak At Desiring God 2010 I told you that I'd spoken personally with a woman named Ruth at Desiring God and that she did me Rick Warren is slated to speak at DG 2010: 
"We are confirming that Rick Warren is a speaker, yes."
Now in Rick Warren to Speak at John Piper's Desiring God Conference over at the Crosstalk Blog Ingrid Schlueter begins filling us all in on some of the details as to how this unfortunate event started to take shape:
It has been confirmed that Rick Warren will be a speaker at the prominent Desiring God 2010 Conference. According to Jonathan Parnell at the offices of the conference, John Piper reportedly met Rick Warren at the funeral for Ralph Winter, and that is how the invitation came about.

Jonathan Parnell was quick to tell me that Dr. R.C. Sproul and Dr. Al Mohler would also be speakers, as if to assure me that things couldn't get too out of hand with them there. It appears that Rick Warren is going to be given the opportunity to respond to charges that he is non-doctrinal in his messages. Parnell told me that Rick Warren is "more doctrinal" than he appears. That would be news to untold numbers of Christians who have seen their churches abandon the biblical Gospel by jumping on the Purpose-Driven bandwagon.

Additionally, one wonders exactly what doctrine undergirds Mr. Warren's latest outrage, his involvement with Tony Blair's Faith Foundation and its "North American offensive", as Blair put it, with a purpose of "Uniting all faiths." That would be the doctrine of anti-christ.

Whatever Piper's thinking is, it is plain that inviting Rick Warren to speak at his conference, giving him prime time to manipulate hearers and present himself as just another misunderstood leader, is a serious mistake. Piper's years of credibility as a trustworthy minister of Gospel truth are being undermined by this decision…
You can read the rest of Ingrid Schlueter's commentary right here.
See also:
OVERSTATEMENT ABOUT RICK WARREN APPEARING AT DESIRING GOD 2010
SBC PROTESTANT PASTOR RICK WARREN DOUBLE-MINDED ON THE REFORMATION AND ROMAN CATHOLICISM
DAN SOUTHERLAND AND CULT-LIKE HOSTILE TAKEOVER TACTICS OF PURPOSE-DRIVEN/SEEKER-DRIVEN CHURCH TRANSITIONING
RADICAL APOSTATES, RICK WARREN AND PETER SCAZZERO
SOUTHERN BAPTIST PASTOR RICK WARREN AND SADDLEBACK CHURCH OPENLY RECOMMEND CONTEMPLATIVE SPIRITUALITY/MYSTICISM
SADDLEBACK CHURCH PASTORS USING ROB BELL TEACHINGS
DR. ROD ROSENBLADT CALLS RICK WARREN'S MAN-CENTERED THEOLOGY "ROMAN CATHOLIC"