By Ken Silva pastor-teacher on Mar 30, 2010 in Current Issues, Features, Rick Warren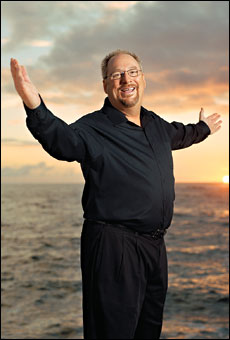 Apprising Ministries points you to a short post at Sharper Iron by Greg Linscott who gives us some information that concerns the Desiring God ministry of John Piper.
It seems that Leadership Network's propped-up Purpose Driven Pope Rick Warren, who teaches the apostate Roman Catholic Church is part of the Body of Christ and openly promotes anti-sola Scriptura Contemplative Spirituality/Mysticism, will be a featured speaker at Piper's Desiring God conference this year:
SharperIron has confirmed with Jonathan at Desiring God in Minneapolis that Rick Warren is among the speakers for the 2010 Desiring God National Conference. There will be more details explaining the invitation from DesiringGod.org in the near future… (Online source)
You can see this post, which contains some supplemental information as well, right here. 
*UPDATE* We now have further corroboration of this breaking story as not long ago over at his In Defense of the Gospel blog Lou Martuneac informs us:
Earlier this month I requested and have now received written confirmation from Bethlehem Baptist Church (BBC) that John Piper invited and will host Rick Warren as a keynote speaker at his (Piper's) 2010 Desiring God conference.

The source from BBC said Desiring God will, "…eventually be posting registration instructions and conference details, including a video from John Piper on why he invited this year's speakers," including Rick Warren. (Online source)
See also:
SBC PROTESTANT PASTOR RICK WARREN DOUBLE-MINDED ON THE REFORMATION AND ROMAN CATHOLICISM
RADICAL APOSTATES, RICK WARREN AND PETER SCAZZERO
SOUTHERN BAPTIST PASTOR RICK WARREN AND SADDLEBACK CHURCH OPENLY RECOMMEND CONTEMPLATIVE SPIRITUALITY/MYSTICISM
RICK WARREN AND SADDLEBACK CHURCH: PRAYER IS NOT FOR THE NOVICE
SADDLEBACK CHURCH PASTORS USING ROB BELL TEACHINGS
DR. ROD ROSENBLADT CALLS RICK WARREN'S MAN-CENTERED THEOLOGY "ROMAN CATHOLIC"
DAN SOUTHERLAND AND CULT-LIKE HOSTILE TAKEOVER TACTICS OF PURPOSE-DRIVEN/SEEKER-DRIVEN CHURCH TRANSITIONING