By Ken Silva pastor-teacher on Mar 31, 2010 in Current Issues, Features, Rick Warren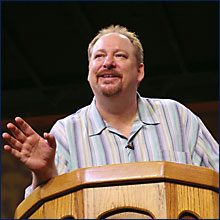 Pastor Greg Linscott of Sharper Iron was kind enough to pass the below on to Apprising Ministries where John Piper explains why he invited Leadership Network's Purpose Driven Pope Rick Warren to speak at Desiring God 2010:
"I had mentioned some negative things earlier about the emergent church, i said the black community didn't get into it BUT the observation was the black community at least some of you, DID get into 40 days of Purpose. Uh Mainly from Purpose Driven Life and Purpose Driven Church and Rick Warren and Rick Warren isn't emergent, BUT maybe not totally separate and Mark Driscoll just preached there, and preached from the cross, and Rick was moved. And do I, what do I think about all that?

Well I put my cards totally on the table here, um I have invited Rick Warren to come to the Desiring God National Conference this fall. And he's coming. Now I will get a lot of criticism for this from my Reformed brothers, because… not because Rick Warren is openly non calvinistic or non reformed. I don't think he wears his theological distinctives on his sleeve, but would be probably theologically more at home with where I am than where an arminian is. I believe that. What makes Warren a problem, and I'm gonna… well, when I wrote him, here's what I said. And he'll probably watch this video too. I said the conference is called "THINK: The life of the Mind and the Love of God." I want you to come. You are the most well known pragmatist pastor in the world. I don't think you are a pragmatist at root. Come and tell us why thinking Biblically matters to you in your amazingly pragmatic approach to ministry."

"I want him to lay his cards on the table. I want him to tell us what makes him tick. Because he does come across in much of what he says and does as very results-oriented and pragmatic and not theologically driven, and yet, I met him for the first time last year at Ralph Winter's funeral in Pasadena. And we sat beside each other on the platform for three hours. I like him because he sings. He sings badly. And anybody who's willing to sing when they sing badly, I like em. And we were talking beforehand and he said to me 'I'm reading all the works of Jonathan Edwards this year. I pick a great theologian every year and I read all of his collected works. I'm on volume 17 of the Yale series of Jonathan Edwards' works.'"

"'You've gotta be kidding me. Nothing you've ever said would incline me to think …' (laughter)

"So these guys are gonna go interview him tomorrow I think so you can quote some of these things. I do think he's deeply theological. He's a brilliant man. He wouldn't have the church he does or the Peace Plan, or all the influence he does and of course the greatest sentence in the Purpose Driven life is the first one isn't it? It's not about you, it's about God. The Glory of God. So I don't think he's emergent. At root I think he is theological and doctrinal and sound. And what makes him tick? Actively and doing church? I intend to find out. So. I like him and I'm frustrated by some of his stuff." (Online source)
You can listen to the audio here.
See also:
LATEST DETAILS ON RICK WARREN SPEAKING AT JOHN PIPER'S DESIRING GOD 2010
OVERSTATEMENT ABOUT RICK WARREN APPEARING AT DESIRING GOD 2010
SBC PROTESTANT PASTOR RICK WARREN DOUBLE-MINDED ON THE REFORMATION AND ROMAN CATHOLICISM
DAN SOUTHERLAND AND CULT-LIKE HOSTILE TAKEOVER TACTICS OF PURPOSE-DRIVEN/SEEKER-DRIVEN CHURCH TRANSITIONING
SOUTHERN BAPTIST PASTOR RICK WARREN AND SADDLEBACK CHURCH OPENLY RECOMMEND CONTEMPLATIVE SPIRITUALITY/MYSTICISM
SADDLEBACK CHURCH PASTORS USING ROB BELL TEACHINGS
DR. ROD ROSENBLADT CALLS RICK WARREN'S MAN-CENTERED THEOLOGY "ROMAN CATHOLIC"