By Ken Silva pastor-teacher on Mar 29, 2010 in AM Missives, Current Issues, Emergence Christianity, Emergent Church, Features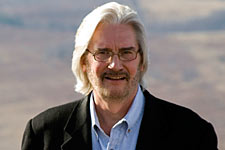 Apprising Ministries points you to the following report from Lighthouse Trails Research, which shows a continuing spread of the spiritual cancer of the Emerging Church within apostatizing evangelicalism:  
This coming June, Calvary Chapel Albuquerque (a veteran Calvary Chapel church pastored by Skip Heitzig) will host the National Worship Leader Conference in Albuquerque, New Mexico and will feature New Age sympathizer and emerging church leader, Leonard Sweet. The NWLC event will take place in three different U.S. locations with Sweet participating in two of them. 

The worship conference is presented by Worship Leader magazine, whose chief editor is Chuck Fromm (Chuck Smith, Sr.'s nephew). On the conference website, a banner promotion by Greg Laurie, (another veteran Calvary Chapel pastor) sits in a prominent spot. Laurie states: "In Worship Leader magazine, you hear from the leading thinkers, artists, and pastors on how we can more effectively worship God." 

With general promotion of Worship Leader magazine by someone as popular as Greg Laurie, and with the conference taking place at one of the larger Calvary Chapel churches, undoubtedly, the event will be accepted by many Christians as a credible, trustworthy conference. But Leonard Sweet's involvement should cause serious concern for believers. 

Leonard Sweet has been a leading figure in bringing the "new" spirituality into the evangelical church for more than a decade and a half… (Online source)
One is left wondering what lessons in "worship" evangelical Christians can learn from sinfully ecumenical men like Leonard Sweet who are actively involved in spreading the new form of Progressive Christianity they're calling Emergence Christianity. A "big tent" Christianity which is so generic that New Age guru Deepak Chopra has called it:
a fresh vision for the resurrection of a new global Christianity that will restore our faith both in ourselves and in the divine.
—Deepak Chopra, author of Jesus: A Story of Enlightenment [1] 
 You can read the LTR report in its entirety right here.
________________________________________________________________________________
Endnotes: 

1. Harvey Cox, The Future Of Faith [New York: HarperOne, 2010], back cover.
See also: 
CONCERNING LEONARD SWEET OF THE EMERGING CHURCH AND CHRISTIAN EDUCATION
JESUS, RECONSIDERED: BRIAN MCLAREN AND AL MOHLER ON NPR
BRIAN MCLAREN AND HIS NEW EMERGING PROGRESSIVE THEOLOGY
LIBERALISM 2.0 THE NEW PROGRESSIVE CHRISTIAN
BRIAN MCLAREN ON DOUG PAGITT RADIO
PHILIP CLAYTON AND HIS TRANSFORMING THEOLOGY
THE EMERGING CHURCH, PHILIP CLAYTON, AND NEW PROGRESSIVE THEOLOGY