By Ken Silva pastor-teacher on Mar 26, 2010 in Current Issues, Features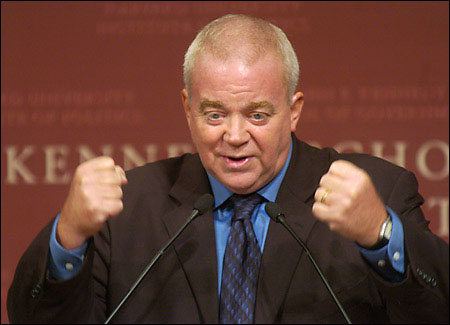 Years ago John MacArthur hit the target dead on when he said:
listen, false teaching will always cry intolerance. It will always say you are being divisive, you are being unloving, you are being ungracious, because it can only survive when it doesn't get scrutinized. So it cries against any intolerance. It cries against any examination, any scrutiny—just let's embrace each other; let's love each other; let's put all that behind us.

False doctrine cries the loudest about unity. Listen carefully when you hear the cry for unity, because it may be the cover of false doctrine encroaching. If ever we should follow 1 Thessalonians 5, and examine everything carefully, it's when somebody is crying unity, love, and acceptance. (Online source)
Now you have the proper background before you read A Covenant For Civility from a group which contains among not a few outright heretics—such as Emerging Church guru Brian McLaren—who're busy trying to hijack the Christian faith.
I appreciate what Christian apologist Ingrid Schlueter, host of Crosstalk America, says in her post 'Covenant of Civility' Exposed as she gets to the heart of the matter:
Christ's atonement is mocked and rejected, the words of Jesus Christ trampled upon, a literal hell that our Savior warned about is scorned, Holy Scripture is twisted and distorted beyond all recognition, but Jim Wallis and Brian McLaren are out making statements of "Peace, peace!" when there is no peace. (Jeremiah 6:14) When the enemies of God blaspheme His holy name under the banner of a "new kind of Christianity", they are declaring war, not peace.

When our Savior's honor is at stake, when the integrity of the saving Gospel of Jesus Christ is at issue, there can never be peace and civility. Wolves are not civil creatures, even when they wear the disguise of sheep. They tear and rend and destroy when they go unchallenged. St. Paul in Acts, chapter 20 warned of these wolves. (Online source)
And Jim Wallis, I want make sure you undertsand something very clearly. Just so you know; you're never going to have your phony unity before the world as long as Christian men like me are still breathing.
See also:
JESUS, RECONSIDERED: BRIAN MCLAREN AND AL MOHLER ON NPR
BRIAN MCLAREN AND HIS NEW EMERGING PROGRESSIVE THEOLOGY
PHILIP CLAYTON AND HIS TRANSFORMING THEOLOGY
THE EMERGING CHURCH, PHILIP CLAYTON, AND NEW PROGRESSIVE THEOLOGY 
LIBERALISM 2.0 THE NEW PROGRESSIVE CHRISTIAN THEOLOGY 
 THE EMERGING CHURCH AND THE NEW PROGRESSIVE THEOLOGY ON OTHER RELIGIONS 
THE EMERGING CHURCH AND THE NEW PROGRESSIVE THEOLOGY ON CHRIST