By Ken Silva pastor-teacher on Feb 16, 2010 in AM Missives, Current Issues, Emergence Christianity, Emergent Church, Features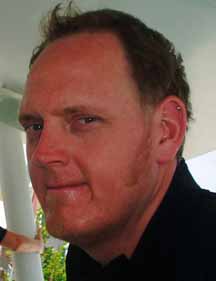 You know from reading Apprising Ministries that quasi-universalist Doug Pagitt is a leading voice in the sinfully ecumenical Emerging Church aka Emergent Church—that morphed into Emergence Christianity (EC). In Doug Pagitt And Arrogance Of Liberal/Progressive Christians you may recall I reminded you Pagitt was the one selected by Leadership Network (LN) to head-up the project of bringing together some of the top young up-and-coming ministers of the mid-90's who were just growing in stature within Youth ministry circles around that time for its Young Leaders Network.
These would later go on to become the EC, and as I told you in Emergent Church: A Diseased Tree, the online apologetics and discernment ministry Herescope has some excellent articles that uncover the real truth about the actual beginnings of the Emerging/ent/ence Church through the company of LN. As it concerns Doug Pagitt, the following from A Generous Orthodoxy by EC guru Brian McLaren proves most interesting:
"In the late 1990's, I was invited to become part of Leadership Network's Young Leader Networks (YLN), also briefly known as the TerraNova Project. I was grandfathered in as the network's 'old guy,'…I met with Doug Pagitt to discuss our future plans."
So know you know that you have Pagitt and LN to thank for giving McLaren a forum from which he now Invites You On His Quest To Destroy Christianity. Well guess what; as you'll see The Emerging Church And Progressive Christianity, EC leaders like Pagitt and his equally heretical "theologian in residence" Tony Jones are trying to make progressive theology popular and populist again. If you didn't know, progressive theology is another way to refer to liberal theology, which was spiritual skubalon the late Dr. Walter Martin dubbed the Cult of Liberalism.
With this background then, I point you to the following tweet from Pagitt a little while ago today:
The good news at Focus on the Family – http://bit.ly/dojBJn (Online source)
The link above takes us to Pagitt's post Things must be changing at Focus on the Family where he gushes:
Man alive, things must be changing at Focus on the Family. I received their weekly email today and to my surprise it was not advocating a political position, nor making judgments about people's "life-styles", it was not even pushing a particular model of parenting. Not this time. Nope, it was about the unconditional love of God.

Unconditional!. Meaning God's love come not by thinking or believing right; not by living right; not by voting right, just straight-up love. They even went so far as to make the headline "God is Love"… (Online source)
A couple of things immediately come to mind here: 1) If someone so far from the genuine Gospel of Jesus Christ as Doug Pagitt is raving about recent changes as FotF, good reason for financial supporters to take close note; and 2) notice how once again Pagitt demonstrates his ignorance of sound biblical doctrine, and again shows his affinity for spiritually bankrupt Liberalism 2.0 i.e. the new version of what Brian Mclaren refers to as big-tent, progressive Christianity, the Father/Motherhood of God and the Brother/Sisterhood of Man in the Global Family.
Pagitt pronounces the mystic mantra of these neo-Gnostic neo-liberals: "God's love come not by thinking or believing right." You see, because they are in love with themselves (see—2 Timothy 3:2), in order for such as these to get everyone under the big tent of their uber-inclusive New kind of Christianity these new Christians with their Christianity worth believing they must first kick out the exclusivity of the actual Gospel of Jesus Christ. So with relentless propaganda the EC progressive/liberals continue singing to you, over and over again: Love Is All You Need.
But they'll never be able to drown out the Voice of God the Son—Jesus Christ of Nazareth—the only name under heaven given to men by which we must be saved (Acts 4:12) for those who have ears that hear — "I said therefore to you that you will die in the sins of you; for if you believe not that I Am [the eternal God], you will die in the sins of you" (John 8:24, literal Greek). And the Gospel is, there is forgiveness of your sins in Jesus' name; and He says — whoever comes to Me I will never drive away. So, won't you repent, and believe the good news; and come to Jesus now.
See also:
DOUG PAGITT AND JOHN SHELBY SPONG
DOUG PAGITT AND A "CHRISTIANITY" HE LIKES
THE NEW CHRISTIANS WITH CHRISTIANITY WORTH BELIEVING—NO SOLA SCRIPTURA: YES, WOMEN PASTORS AND QUEER CHRISTIANS
EMERGING CHURCH AND PROGRESSIVE CHRISTIAN THEOLOGY
IF YOU TRULY LOVE "JESUS" THERE ARE NO BOUNDARIES FOR THE "CHRIST-FOLLOWERS"
DOUG PAGITT AND CHRISTIAN UNIVERSALISM
APPRISING MINISTRIES WITH A PEEK AT THE COMING SOTERIOLOGY OF EMERGENCE CHRISTIANITY