By Ken Silva pastor-teacher on Jan 19, 2010 in AM Missives, Current Issues, Emergence Christianity, Emergent Church, Features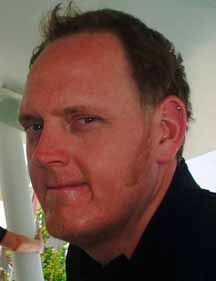 Apprising Ministries points you to the following yesterday by heretical quasi-universalist pastor Doug Pagitt, a leading voice  'round the Emerging Church aka Emergent Church, which morphed into Emergence Christianity (EC)—and who were originally propped up and advanced by Leadership Network (LN). The EC, now a cult of a postliberalism firmly within mainstream evangelicalism, was actually a part of LN's planned take-over of the visible church.
My guess from tracking this sorry story is that LN was taken a bit by surprise with the hard left turn from many EC luminaries in this sinfully ecumenical EC cult like Pagitt and his equally heretical "theologian in residence" Tony Jones—which is a Liberalism 2.0 complete with the virus of corrupt Contemplative Spirituality/Mysticism (CSM) ala Living Spiritual Teacher and Quaker mystic Richard Foster along with his spiritual twin Dallas Willard.
Yesterday in his post Fear—A Powerful Thing Pagitt tells us that Sunday:
on my Radio Show I had a conversation with Chris Rosebrough of Fighting For The Faith and Pirate Christian Radio about his take on why people from his network and stream of faith are so willing to speak about me and others the way they do. I wanted to reflect on it a bit more here. (Online source)
Pagitt goes on to explain:
I wanted Chris to help me and my listeners to understand why people, who I know are followers of Jesus, talk about other professing followers of Jesus in these disparaging ways… You can hear the interview here – January 17, last half of hour 1, and first 10 minutes of hour 2. (Online source)
And then, sounding exactly in lock-step with his liberal/progressive counterparts Pagitt pontificates:
I suggest this view is a distorted version of faith that does not reflect the Biblical story at all, but that argument is part of our ongoing conversation. What I am sure of is that their reactions are driven from fear. I am not sure where the fear come from, but, in my opinion, it causes them to look at people with suspicion and distrust which taints everything.

Looking at the world in the terms Chris suggested creates "the good" and "the evil", and "the good" are always fearful of "the evil". This kind of fear does strange things to people. (Online source)
Such is the arrogance of men like Pagitt; should someone dare disagree with the Christianity he cobbled together in his basement last night, then of course they must be afraid. The truth is, the only thing I fear in regard to false prophets like Doug Pagitt, would be the eternal destiny of those who keep following these Pied Pipers of Liberalism 2.0 into the Global Family of their reimagined version of liberalism's original Fatherhood of God and Brotherhood of Man. Sadly, what Pagitt et al are doing with their pseudo-intellectual mental masturbation is helping usher in the One World religion to be ruled by the Antichrist.
By the way, Chris Rosebrough is going to be reviewing the above post and giving a debriefing concerning his appearance of Pagitt's radio show today on his own Fighting for the Faith program heard weekdays at 6pm EST on Pirate Christian Radio.
See also:
THE EMERGING CHURCH AGENDA AND DOUG PAGITT
DOUG PAGITT AND A "CHRISTIANITY" HE LIKES
DOUG PAGITT AND CHRISTIAN UNIVERSALISM
EMERGING CHURCH PASTOR DOUG PAGITT
DOUG PAGITT AND FRIENDS ATTACKED?
THE NEW CHRISTIANS WITH CHRISTIANITY WORTH BELIEVING—NO SOLA SCRIPTURA: YES, WOMEN PASTORS AND QUEER CHRISTIANS