By Ken Silva pastor-teacher on Dec 22, 2009 in AM Missives, Current Issues, Features, Homosexuality/"Christian"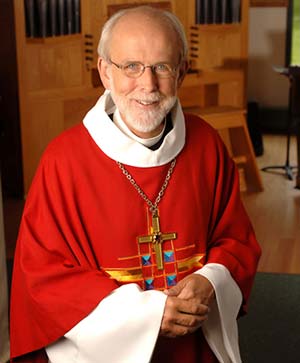 Let not many of you become teachers, my brethren, knowing that as such we will incur a stricter judgment. (James 3:1, NASB)
Did Hanson Share His Own View Or Did He Not?
Through the evil influence of the the egregiously ecumenical Emerging Church aka Emergent Church—morphing into Emergence Christianity (EC)—which is a cult of postliberalism now firmly within mainstream evangelicalism—there's a growing gay agenda within the church visible. And for this reason Apprising Ministries has been warning you that there's a very dark and threatening same-sex storm, right now approaching hurricane force, growing even closer to the coast of your own local evangelical church. 
Whether one wishes to see it or not it's simply beyond question that the dying mainline denominations are right now being ripped apart by the homosexual lobby within them because they long ago kicked out Sola Scriptura in favor of highly subjective Contemplative Spirituality/Mysticism (CSM), which is itself actually just a new form of Gnosticism. And in Andrew Marin And Tony Jones I begin to focus you upon the very real ramifications concerning the growing gay agenda within evangelicalism when someone like Marin is promoteing the likes of an heretical EC leader like Jones.
In this post we shift gears and head back to look further at the sad saga AM first began covering in ELCA And Homosexuality. Therein I shared a report that the Evangelical Luthern Church in America had inflicted a mortal wound upon itself; it happened when they chose to defy the Word of God by voting to ordain unrepentant men and women continuing to openly commit sexual immorality as they live the deviant and sinful lifestyle of having sexual relations with another of the same sex, i.e homosexuality. And sadly, here the mainstream is also getting a peek at its own impending future.
Now the reason I mentioned the issue of CSM, which often masquerades as spurious Spiritual Formation ala Living Spiritual Teacher and Quaker mystic Richard Foster and his spiritual twin Dallas Willard, is because it is by its very existential practice a rejection of the proper approach to Christian spirituality of Sola Scriptura. As Dr. John MacArthur correctly pointed out in his excellent book Reckless Faith: When The Church Loses Its Will To Discern mystical experiences are:
self-authenticating; that is, they are not subject to any form of objective verification. They are unique to the person who experiences them. Since they do not arise from or depend upon any rational process, they are invulnerable to any refutation by rational means… Mysticism is therefore antithetical to discernment. It is an extreme form of reckless faith. (27)
And now you'll understand why ELCA Bishop Mark Hanson Says The Bible Is Not The Final Authority; because it isn't, human reason is now becoming the final authority, no matter how much lip service people pay to the Bible. But to be fair, Hanson's been backtracking, and now tells us that he didn't really say that. The following comes from Lutheran leader was quoting others on homosexuality:
The Evangelical Lutheran Church in America says that in a town hall meeting Sunday, its presiding bishop was presenting the views of some within his denomination rather than his own views on the Bible and homosexuality. (see earlier story) A questioner asked Bishop Mark Hanson, "Where is there anything other than rejection of homosexual conduct within the Bible?"

Hanson responded that while some Lutherans cite those scriptures, there are others who say "the understanding we have of homosexuality today does not seem to be reflected at all in the context of the biblical writers, so let us bring our understanding of sexual orientation that has been opened up to humankind over the years to this conversation."

ELCA spokesman John Brooks says Hanson was citing that view without espousing it. (Online source)
Well, below is a compilation of a three part series concerning that very same virtual town hall meeting referenced above done by LCMS Christian apologist Chris Rosebrough on his Fighting for the Faith program, which can be heard on the Pirate Christian Radio network at 6PM Eastern time. Not only will you be able to judge for yourself whether ELCA Presiding Bishop Mark Hanson is indeed speaking out of both sides of his mouth, but as you listen to the program, you'll also be edified as Rosebrough completely rips apart the flimsy arguments of liberalism advanced by so-called Progressive Christianity. 
See also:
MARTIN LUTHER ON HOMOSEXUALITY
ELCA IMPLODING OVER HOMOSEXUALITY
QUICK WORD ON SIN OF HOMOSEXUALITY
THE SIN OF HOMOSEXUALITY IS DIFFERENT
JESUS DEFINES MARRIAGE FOR RED LETTER CHRISTIANS
HOMOPRESSION IS AT LEAST AS BAD AS HOMOPHOBIA