By Ken Silva pastor-teacher on Jul 20, 2013 in AM Missives, Current Issues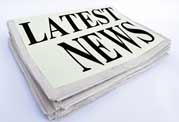 My wife Donna and I are pleased to let you know that the Lord has answered prayer. I was released from the hospital rehab center this past week and I'm now recuperating at home.
We want to send you our deepest heartfelt gratitude for all your well-wishes , prayers, and support. I'm currently dealing with a fair amount of pain, which is still being controlled by medication.
Between a wheelchair, a walker, and a cane, I'm slowly regaining my mobility after being completely bedridden for nearly three straight months.
We're grateful to God that this ordeal seems to be moving toward an end and in the upcoming week you should begin to see me slowly start posting some articles once again here at Apprising Ministries.
As you might imagine, having no health insurance, these past four months of hospitalization, doctor's appointments, and medical imaging, has left us with a bill of some six figures.
Thank you again for believing in AM and for your faithful prayer. If you'd like to continue to support Apprising Ministries you may donate via PayPal by clicking here.
Or, if you prefer, you can make your checks/money orders payable to Connecticut River Baptist Church with Apprising Ministries in the memo and send them to:
Connecticut River Baptist Church
P.O. Box 340
Claremont, NH 03743
Further reading