By Ken Silva pastor-teacher on Mar 16, 2013 in Current Issues, Devotions, Features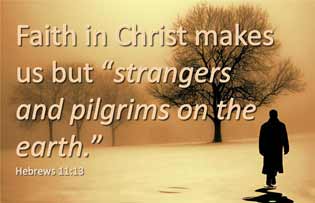 As a reader of Apprising Ministries, no doubt you'll see that I often point you to teachings written by men who lived in the 1800's of before. There's a very simple reason; I'm a pastor who adhere's to Biblical Christianity.
Since the man-centered spiritual Trojan Horse of the neo-liberal cult of the Emerging Church was embraced and unloaded within mainstream evangelicalism circa 1997, you're hearing less and less about the genuine Christian Faith.
Here's a classic example in this message from Octavius Winslow. I believe you'll see it as the polar opposite of way too much of the preaching within apostatizing evangelicalism:
Therefore, come out from them and separate yourselves from them, says the Lord. Don't touch their filthy things, and I will welcome you. (2 Corinthians 6:17)

There is not a stronger mark of the Lord's people than their separation. They are separated from the world, separated from their families, separated from their own righteousness, and often separated from the religious world–a godly people whom the Lord has set apart from all others, that He might set them apart for Himself. Now, it is this distinctive badge ofseparateness the Lord will have His saints retain in all their Christian course. We are very apt to forget it.

We live in the world, mix with the world, hold transactions with the world, and, in some measure, are guided by the conventional habits of the world. Still, we have need to be continually reminded that, though living in the world, and, of necessity, compelled to conform to its proper and lawful customs, we yet are not OF the world. "I have chosen you OUT OF the world," says the unworldly, loving Savior to His disciples; "therefore the world hates you." "You are not of the world, even as I am not of the world." Now, in what sense, oh my soul, and to what extent, does your loyalty to Christ demand your separation from the world?

The words which suggest the present reflection are, by a slight variation, taken from the prophet Isaiah 52:11, and originally were applied to the captive Jews in Babylon,

"Depart, depart, go out from there! Touch no unclean thing! Come out from it and be pure, you who carry the vessels of the Lord." Now, Babylon, a city of proud, unclean idolaters, and opposed to God, was an emblem of this ungodly, Babylonish world, in which the saints of the Most High dwell, but from which they are called to come, and from whose inhabitants they are called upon to separate themselves, touching not the unclean thing.

The religion of Christ is not ascetic and monkish. It knows nothing of "nunneries," or "monasteries," or "retreats." These are all opposed to the genius and requirements of Christianity–its divine, social, and spiritual nature. Our blessed Lord, the Divine Founder of our religion, expressly warns His disciples of this perversion of His gospel–"Wherefore if they shall say unto you, Behold He is in the desert; go not forth–behold, He is in the secret chambers; believe it not." It enjoins nothing like this upon its disciples, "for then must you needs go out of the world," says the apostle.

But it does teach crucifixion to the world, nonconformity to the world, spiritual and marked separation from the world, from its pleasures, its gaieties, its principles, its religion. We are the professed disciples of an unearthly Christ, the followers of an unworldly Savior. "Let us go forth, therefore, unto Him outside the camp" (of the Babylonish world), "bearing His reproach," keeping our consecrated garments unspotted from the world, touching not the unclean thing. Then will Jesus, our Lord, receive us, and infinitely make amends for all we have lost of power and wealth and honors, for His holy and precious Name.

Let our separation from the world be our closer union and fellowship with the Church of Christ in its every branch, and with Christ Himself, the one Head of the Church. This will tend more strongly to define and sharpen the line of demarcation between us and an ungodly world. Association with the saints will render us a more marked and distinct people. The world will take account of us that we are the Lord's. O my soul! come away from an unclean and defiling world. "If any man loves the world, the love of the Father is not in him." Lord! by Your cross may I be crucified to the world, and the world to me!

Octavius Winslow
Further reading