By Ken Silva pastor-teacher on Mar 12, 2013 in AM Missives, Current Issues, Features, Roman Catholicism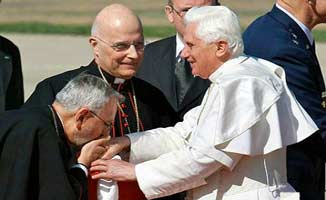 Earlier Apprising Ministries brought you another vivid illustration of an evangelical who is either disingenuous or ignorant of the damnable differences between Rome and the Protestant Reformation in Rick Warren Asks Us To Fast And Pray For God To Help Apostates Elect Their New Pope.
Such as these like Warren and SBC-promoted quasi-pastrix Beth Moore will tell you our differences have lessened through the years. But as you'll hear below from Dr. R.C. Sproul, though we don't necessarily agree with all he teaches, is actually those differences are even worse now.
In the promo video below for his book on the subject you'll hear Sproul state emphatically:
The Roman Catholic Church has changed since the 16th century; there's no doubt about it. And the differences we had in the 16th century, have changed. They're far greater now than they were in the 16th century.

Are We Together? A Protestant Analyzes Roman Catholicism

Summary

In recent years, some evangelical Protestant leaders have signed statements pledging themselves to joint social action with Roman Catholics. Others have refused to participate, declaring that, in their view, the statements went too far, touching on the gospel, which remains a point of disagreement between Protestants and Roman Catholics. Many evangelical Christians have found themselves confused by the different directions taken by their leaders.

In Are We Together? A Protestant Analyzes Roman Catholicism, Dr. R.C. Sproul takes his stand for the cardinal doctrines of Protestantism in opposition to the errors of the Roman Catholic Church. Sproul, a passionate defender of the gospel of justification by grace alone through faith alone in Christ alone, cites the historic statements of the Protestant Reformers and the Roman Catholic authorities, then references modern doctrinal statements to show that the Roman Catholic Church has not altered its official positions. In light of this continuing gap, he writes, efforts by some in the evangelical camp to find common ground with Rome on matters at the heart of the gospel are nothing short of untrue to biblical teaching. In Sproul's estimation, the Reformation remains relevant.

Are We Together? is a clarion call to evangelicals to stand firm for the gospel, the precious good news of salvation as it is set forth in Scripture alone. (source)
Further reading