By Ken Silva pastor-teacher on Dec 26, 2012 in Current Issues, Features, T.D. Jakes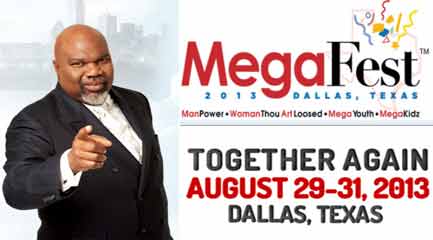 Christian Research Network is a sister work of Apprising Ministries. This past year we've seen syncretism reach a ridiculous level within mainstream evangelicalism. For example, who would have believed former Gospel Coalition Council members James MacDonald and Mark Driscoll would open the door for Word Faith mogul T.D. Jakes into the heart of professing Christendom?
Yet, this is exactly what they did back in January of this year with their Elephant Room 2 conference. Yes, sure, I would expect to write articles like Megachurch Pastors Joel Osteen And T.D. Jakes Unite And Why You Should Care; but we have serious reason to concerned when two-time ER veteran and popular Seeker Driven prophet-leader Steven Furtick openly pays homage to Word Faith prosperity perpetrator Joel Osteen.
However, we did also witness the following this past year as well: Joel Osteen Has Influenced Steven Furtick Longer Than You May Know and Steven Furtick As Televangelist At Lakewood Church Of Joel Osteen. The fact is, WF prosperity preachers are being embraced even by the likes of former SBC president Dr. Jack Graham as you see e.g. in James MacDonald Was A Bit Late In Mainstreaming T.D. Jakes.
Now that you're positioned properly in this section of the battlefield, in a moment CRN Associate Editor Erin Benziger of Do Not Be Surprised… will apprise us concerning this year's annual MegaFest of T.D. Jakes. First however, Karen Robinson-Jacobs of The Dallas Morning News brings out T.D. Jakes' MegaFest expected to be largest Dallas convention in 2013:
An estimated 100,000 convention goers are expected to make MegaFest — the religious, entertainment and family-themed gathering hosted by T.D. Jakes Ministries — the best attended Dallas convention of 2013, [said] city and tourism officials…

The three-day event, scheduled for August, will bring in an estimated $41 million in direct spending at hotels, restaurants and other venues in North Texas, according to the Dallas Convention & Visitors Bureau.

The agency lobbied for years to bring MegaFest "home" to Dallas, which also is home to Jakes' Potter's House mega-church. It will be the first time the event has been held in Dallas, following stints in Atlanta and South Africa. (source)
CRN's Erin Benziger now places this all into further context and brings you completely up to speed:
The ministry of well-known prosperity preacher T.D. Jakes produces multiple conferences each year. Among these are the annual Woman, Thou Art Loosed conference for women, as well as the Manpower conference, which of course is attended by men. Also very popular, and very large, in years past has been the conference known as MegaFest.

MegaFest first was launched in Atlanta in 2004. The event was enormously popular, reportedly drawing an overall attendance of 560,000.1 MegaFest would return to Atlanta in 2005 and 2006. In 2007, the event was canceled, only to be revived again in 2008 with a change in venue.

The 2008 MegaFest traveled overseas to Johannesburg, South Africa. A press release for the event reads,

Jakes acknowledges that MegaFest International is the next logical step in the evolution of the event. "At the previous MegaFest events, we had people attend from all over the world, all ethnicities, all religions; so many different cultures were in the room. As I looked out, the feel was so much more aligned to an international event, than a U.S. specific event," said Jakes. "I believe the true purpose of the ministry is to go beyond the traditional walls and minister to the world. MegaFest International provides us with that platform."2

It was announced on Friday, 26 October, that in 2013, MegaFest will be held in the city of Dallas, which is the home base of T.D. Jakes. This no doubt fulfills the wishes expressed by Jakes in 2007 that he someday would be able to bring this conference to his hometown.3 The gathering also could be lucrative for the city, as we read inThe Dallas Morning News:

The announcement was made at the Dallas Convention & Visitors Bureau's annual meeting Friday, where the city officially launched its new branding campaign, "Big things happen here."

Luring events like MegaFest is part of an aggressive campaign by the bureau to persuade local executives to come home — and bring their conventioneers with them.

The bureau's goal is "to engage our local area CEOs in supporting Dallas as a meeting destination," said Bill Boyd, founder of Sunbelt Motivation & Travel Inc. and chairman of the bureau for the 2012-13 fiscal year.

The conference will use 6,000 rooms on its peak night and will be one of the largest "citywide" conferences of the year, said Phillip Jones, chief executive of the Dallas convention bureau. A citywide conference is one that uses at least 2,500 rooms on the busiest night.

Jones said MegaFest is eligible for up to $2 million in reimbursement from a state fund for special events. It costs an estimated $10 million to produce. The Dallas Convention & Visitors Bureau will contribute about $500,000, he said.4

What exactly is MegaFest? According to the same 2008 press release mentioned above:

Since its 2004 inception, MegaFest has been recognized as one of the largest religious gatherings in the United States and has reached more than 700,000 people from around the world. Created by Bishop Jakes as a festival for fellowship, spiritual rejuvenation and personal growth, MegaFest combines Bishop Jakes' most successful conferences for men and women pairing them with youth events, live concerts and activities for the entire family.5

Of the 2008 MegaFest International gathering, T.D. Jakes would comment that, "This is much more than just a church service, it is a blending together of cultures and of countries for such a time as this."6 Other reports of the event when it was held in Atlanta have called it a "a wildly successful way to attract a predominantly African-American crowd to the city for foot-stomping gospel, self-help seminars, and fellowship on a massive scale."7

It is interesting that MegaFest has been noted by the press to include "self-help seminars." Those familiar with the ministry of T.D. Jakes will not be surprised to learn that some of those seminars offered have been in the realm of finance. In 2006, the event included money management expert Dave Ramsey.8 The 2005 gathering welcomed television personality Suze Orman, who is known for her financial advice.9 Unfortunately, though Orman was invited to speak at this religious gathering, she appeared at that time to have a misguided understanding of God's idea of prosperity:

Does God bless his followers with better jobs? "I think He blesses you whether you believe in Him or not," said Orman earlier in a telephone interview.

But, she added, "if you don't understand the power of God within yourself, you will never have what you should have, and even if you have it, you're not going to keep it."10

Orman appears to be referring to earthly and temporal blessings, and thus there is no Scriptural foundation for her claims that one must understand "the power of God within" before one can attain what he or she "should have." Perhaps her misunderstanding is shared by MegaFest's founder, T.D. Jakes, as it was noted in this same report that, "Jakes preaches that God wants his followers to flourish."11

It is true that the Christian possesses great blessings and an unending inheritance. This is, however, of a heavenly and spiritual nature. God desires that those who are His would learn and comprehend the great spiritual blessings that are theirs in Christ Jesus. Ephesians 1 unravels for the believer a litany of marvelous gifts that are part of the Christian's inheritance in Christ. Earthly, temporal prosperity or flourishing, however, is never promised to the believer. Quite the contrary, those who submit and surrender to Christ are promised persecution and the world's hostility (1 John 3:13; John 15:18–19).

According to one report, the 2005 MegaFest even found the wife of T.D. Jakes, Serita, prophesying in at least one instance:

Cassandra Francis, 35, a new transplant to Lawrenceville, felt desperate and needed help. The mother of six, she is newly separated from her husband of 10 years, and needed to find a job and some counselling.

MegaFest helped with both. Francis attended a workshop for couples led by Judge Mablean Ephriam (of television's "Divorce Court") and also was able to share a private word with T.D. Jakes' wife Serita Jakes, the "first lady" of MegaFest, who advised her how long it will take to find a job in Atlanta.

"She put her hands on me and told me it would take five weeks," said Francis…12

One cannot help but wonder if this prophecy ever came true.

The names which headline at these MegaFest events ought to be unsurprising to those who are familiar with the speaker lineups at Jakes' other conferences. Perhaps the most recognized of these names would be that of Pastrix Paula White, who has said that she considers T.D. Jakes to be her "spiritual father."13 Jakes, in turn, has referred to White as "a pastor extraordinaire," in spite of the fact that Paula White, by acting as an elder within the church, is in direct disobedience to Scriptures such as 1 Timothy 2:12. Speakers have not yet been announced for the 2013 MegaFest.

All of this would be of little interest or consequence had a certain event, namely the Elephant Room 2 conference, not taken place in the manner in which it did. With ER2, prosperity preacher T.D. Jakes was ushered into mainstream evangelicalism by men like James MacDonald and Mark Driscoll. This was done without Jakes voicing or demonstrating any repentance for his teachings of modalism or for his propagation of the heretical Word Faith gospel. Now that Jakes and his false teachings have been welcomed and embraced by a very influential sector of Christianity, evangelicalism's slide down the slippery slope of compromise seemingly has gained speed.

What, then, should be the true Christian's response? Prayer for the conviction to remain steadfast and true to the Gospel of Jesus Christ as revealed in Scripture. Prayer for the courage to denounce error when it is spoken. Prayer that many who have been deceived would instead be brought out of the darkness and into the saving light of our Lord and Savior, Jesus Christ.

FOOTNOTES
Further reading