By Ken Silva pastor-teacher on Dec 1, 2012 in AM Missives, Current Issues, Features, T.D. Jakes, Word Faith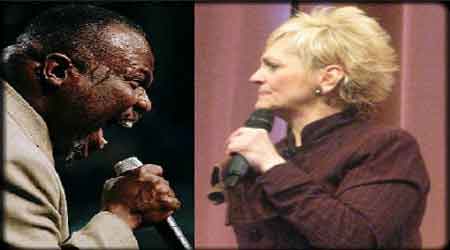 Due to increasing syncretism it's now become increasingly difficult to cover the various strains of unbiblical teaching as they slither their way into the church visible; and which, are quickly blending together in ways we'd previously never even have imagined.
As such Apprising Ministries is an online apologetics and discernment ministry (OADM) which has begin specializing in analyzing these current trends within the visible church, apprising you as to what they are, and then informing you as to how you can deal with them.
Sadly, even the most notorious of Word Faith preachers are now being mainstreamed as was T.D. Jakes in the Elephant Room 2 at the beginning of this year. As further example, more and more prophet-leader Steven Furtick, a two-time ER vet, has been revealing his own WF affinities.
We've witnessed Steven Furtick As Televangelist At Lakewood Church Of Joel Osteen; and if that wasn't bad enough, Furtick even paid his homage to Rod Parsley, who is about a blatant a WF snake oil salesman as you're going to find: Word Faith Heretic Rod Parsley With Prayer Cloth Power!
Now you have the proper vantage point from which to survey this sector of the evangelical battlefield as I point you to Christian Post Reporter Alex Murashko and his CP piece today Interview: How TD Jakes Helped Sheryl Brady Become a Pastor. This is how close WF pastrix Sheryl Brady has become to the mainstream.
You might recall Word Faith Pastrix Christine Caine Preaches Sunday Morning Sermon For Steven Furtick. What you might not know is Caine, good friends Beth Moore and Priscilla Shirer as well as a pastrix with the nefarious Hillsong WF church in Australia, has herself now become quite mainstream.
Here she is featured in a tweet not long ago from former SBC president Dr. Jack Graham; and then with her friend Sheila Walsh, whose pastor is Graham:

(source)


(source)
The SBC ought to be concerned about the apparent drifting of Jack Graham because you 'll see here in James MacDonald Was A Little Bit Late In Mainstreaming that he partnered with T.D. Jakes as co-chairmen of the North American event for the Global Day of Prayer back in 2005.
Pastors.com of Rick Warren informed us:
This year's event began with a worship service near the international dateline in Fiji and culminated with the Dallas event,…

Jack Graham, pastor of the predominantly Anglo Prestonwood Baptist Church in Plano, Texas, and T.D. Jakes, pastor of the mostly African-American Potter's House in southwest Dallas, served as co-chairs for the North American event. ((http://bit.ly/11h5040, webpage on file at Apprising Ministries))
Returning now to WF pastrix Christine Caine, below you'll see her lavish praise upon her "dear friend" pastrix Sheryl Brady:
,
(source)
Still not convinced that WF pastrix Sheryl Brady's star is on the rise; then consider this picture below of Seeker Driven Major General Ed Young, Jr. and his wife  along with with Brady and her husband "Bishop" Joby Brady from June of this year:

(source)
I've warned before that people cannot bring T.D. Jakes into the mainstream of the evangelical community without also opening the door for his baggage of WF heresies and women pastors. CP reporter Alex Murashko now tells us in his puff piece promoting Sheryl Brady's first book:
Pastor Sheryl Brady recently spoke with The Christian Post about how Bishop T.D. Jakes impacted her life and helped her decide to take to the pulpit and lead a congregation. Brady was commissioned by Jakes to pastor The Potter's House of North Dallas less than two years ago. (source)
Let me document this for you from T.D. Jakes and Sheryl Brady themselves through the following exclusive AM video. This first clip is from the 9/1/11 TBN Praise the Lord program hosted by Jakes, which was designed to promote his featured speakers at his Woman Thou Art Loosed 2011 (WTAL).
You may also find it interesting that WTAL 2011 was hosted by the Lakewood Church of fellow Word Faith prosperity preacher Joel Osteen; and even after ER2—despite  Jakes' alleged repentance from WF  teaching—this same heretical trio was also back once again for Jakes' WTAL 2012 just last month:

(source)
Jakes will now tell us of great things God's supposedly doing at pastrix Sheryl Brady's The Potter's House North (TPHN) and exhorts us that we "need to discover the anointing going on up there." Jakes then introduces Brady, whom he refers to as "one of my daughters" and we see that he personally called her to serve there:
[mejsvideo src="https://www.apprising.org/wp-content/uploads/2012/12/JakesnBrady.mov" width=640 height=360]
Any doubt about the extremely close relationship between T.D. Jakes, "Bishop" Joby Brady and pastrix Sheryl Brady is completely dispelled by the following video, which appears on the Media page of the TPHN website itself. It's actually the Brady's return to T.D. Jakes in order to be installed by him as the leadership of TPHN.
You'll quickly see that Jakes and the Bradys are quite enamored with each other and believe God called them all to work together furthering the "vision" and mission of T.D. Jakes:
[mejsvideo src="https://www.apprising.org/wp-content/uploads/2012/08/JakesBradys.mov" width=640 height=360]
In closing this, for now, here's pastrix Sheryl Brady in action along with her husband Joby. This kind of lunacy in the Lord's Name speaks for itself. The question then becomes: How are we to have any respect whatsoever for the work of T.D. Jakes when this is precisely what his spiritual "DNA" produces?
In other words, the likes of Sheryl and Joby Brady in this clip below are merely other versions of their spiritual father, T.D. Jakes:
[mejsvideo src="https://www.apprising.org/wp-content/uploads/2012/08/Bradys.mov" width=640 height=360]
Further reading