By Ken Silva pastor-teacher on Dec 12, 2012 in Current Issues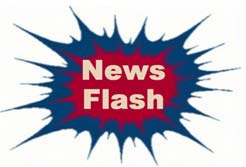 This just in from Internet News headquarters, where our motto continues to be:
If it's news, then it's news to us. Dateline Anywhere USA; hey, maybe even Your Town.
A breaking story—Ed Young, Jr seems enamored with himself:
ED YOUNG, JR WITH A TEARFUL TRIBUTE: THE VISION OF "PASTORS" ED AND LISA
Well, ok, maybe that's not news.
But we're pretty sure that what follows below on this God Day just might be:
We're told this is an Apprising Ministries exclusive—what, so you think NAR apostles and New Agers are receiving broadcasts from outer space?
In this transmission. Nephy Lim is reporting from the Proton Belt.Unfortunately, it seems Nephy is experiencing a myriad of problems in his attempt to get to Earth for the much-anticipated alien invasion.
Here he reports trouble with system malfunctions, mechanical difficulties, system failures, personal troubles, and worm holes — which he says contain real, live, squiggly worms!
In a last-ditch effort to get to get to Earth by Mayan calendar date of 12-21-12, Nephy is attempting to reconfigure his Louengletron invention, his portable portal device.
Nephy Lim remains hopeful that he can rig it up backwards to actually transmit himself to Earth in an even easier way than space travel itself.
Stay tuned for more developments as 12-21-12 gets closer…….
[mejsvideo src="https://www.apprising.org/wp-content/uploads/2012/12/NephyGodDay.mov" width=640 height=360]
HT: Herescope
Further reading