By Ken Silva pastor-teacher on Nov 13, 2012 in Current Issues, Features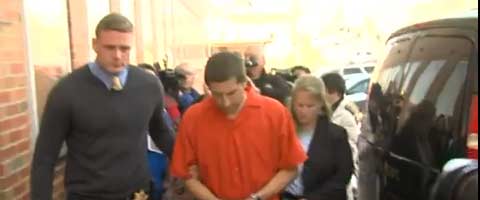 UPDATE: IHOPU MURDER SUSPECT MICAH MOORE CLAIMS VICTIM'S HUSBAND TYLER DEATON PUT HIM UP TO IT
Spiritual darkness continues to grow and 1 Peter 4:17 judgments are being sent by Jesus to rain upon the visible Christian church. As apostasy increases Apprising Ministries warns that stories like this will be on the increase.
The story begins with Katie Ferrell and Jason M. Vaughn of Fox 4 KC and their report Many Questions Remain in Murder of Grandview Woman where we learn:
Police say that they have a confession, but still a lot of unanswered questions in the murder of Bethany Deaton of Grandview.

According to authorities, Deaton was found dead inside a van on October 30th at Longview Lake. Court documents say that a note was found with Deaton's body that read, "My name is Bethany Deaton. I chose this evil thing. I did it because I wouldn't be a real person and what is the point of living if it is too late for that? I wish I had chosen differently a long time ago. I knew it all and refused to listen. Maybe Jesus will still save me."

Investigators say that pills were also found near Deaton's body, but Deaton's admitted killer, 23-year-old Micah Moore, it was all a cover-up to keep the 27-year-old woman quiet. In a statement to Jackson County Sheriff's deputies, Moore said that he and Deaton were part of a "religious community" – led by Deaton's husband, Tyler Deaton – in which the members had sex with each other.

According to court documents, witnesses told authorities that Tyler Deaton was viewed as a "Spiritual Leader" who had control over the members of the household. A witness also said that three days after Bethany Deaton's body was found, Tyler Deaton told him that he had a dream in which he killed his wife by suffocating her.

Tyler Deaton has not been charged with any crimes in connection to his wife's death. (source)
Then Joe Robertson of The Kansas City Star tells us in his story Woman was murdered to cover sexual assaults, authorities allege:
According to court documents, Moore met with a detective on Friday, 10 days after Deaton's body was found, and said, "I killed her." He said he had feared that Deaton was going to tell her therapist about assaults that had occurred over the previous few months.

The statement said Moore admitted that he was with Deaton at Longview Lake and that he "placed a bag over her head and held it there until her body shook."

Moore and several witnesses whose names were redacted from court documents told investigators that they had been roommates with Bethany Deaton and her husband, Tyler Deaton, in the 7300 block of East 122nd Street. They described a household where Tyler Deaton served as the "spiritual leader" of a "community."

One witness said he believed Tyler Deaton was attempting to make the witness a member of "their sexual group," the detective's statement said. (source)
Now today Gina Meeks of Charisma News is reporting in IHOPU Student Confesses to Murdering a Former Intern that the alleged killer Micah Moore is actually a "student at the International House of Prayer University."
It also seems that his victim Bethany Deaton herself was "a former IHOPU intern." According to Meeks:
Moore lived with Deaton, her husband and other men, county prosecutors said. According to a probable cause statement, Moore told a detective he and the other men in the home, including Deaton's husband, had been drugging and sexually assaulting her for months…

Bethany Deaton attended a six-month internship at IHOPU in 2009. University President Allen Hood said some of the members of the group were enrolled there,… The university pledged to completely cooperate with law officials and said it is taking steps to minister to students. (source)
Ferrell and Vaughn also shared the text of IHOPU president Hood's statement concerning Bethany Deaton's murder with us in their previous report:
"The International House of Prayer University (IHOPU) faculty was saddened by the tragic death of Bethany Leidlein Deaton on October 30. Bethany had attended a 6-month internship at IHOPU in 2009 and went on to become a registered nurse working in a local hospital.

On November 10, we were shocked when the Jackson County Sheriff's Office notified us that an IHOPU student by the name of Micah Moore, a man who knew Bethany since their college days in Texas, had been charged with her murder.

Since Bethany's death it has come to light that over 5 years ago, both she and Mr. Moore joined an independent, close-knit, religious group in Georgetown, Texas. This religious group of fewer than 20 people was led by Tyler Deaton. They relocated to Kansas City over the last few years and operated under a veil of secrecy.

This group has always operated independently of the university and it is important to all of us that this group's secrecy and disturbing religious practices are fully exposed.

Mr. Deaton led his religious group entirely independently from IHOPU, though he and some of his members were enrolled in our university.

We have been working closely with the local authorities in their ongoing investigation into Bethany's death. We continue to fully assist all law enforcement agencies in their efforts to uncover the extent and specifics of this horrific crime.

We are currently taking all necessary steps to minister to our students and ensure their safety and well-being. As an educational institution built around the priority of prayer, we ask everyone to please join us in praying for Bethany's family and friends and everyone affected by her tragic and untimely death.

Due to the ongoing police investigation we have no further comment at this time."  (source)
Today in her piece Meicah Moore Makes First Court Appearance in 'Religious Sex Community' Murder Case Fox 4 KC's Sarah Clark brings us the latest in the video below where she informs us:
The admitted killer of 27-year-old Bethany Deaton made his first court appearance Tuesday morning. Micah Moore, 23, confessed to suffocating Deaton… Deaton's family lives in Texas. Her father released a statement Monday about her death.

"We are deeply grieving the loss of our beautiful and innocent daughter. We are shocked and horrified by the information now coming forth. The betrayal, the subtle and increasing manipulation, and the brutal victimization which occurred is beyond tragic. We pray for the truth to be revealed. While it is important to understand how Bethany died, it is even more important to understand how she lived. Because of the ongoing investigation, we do not have any further comment at this time," the statement read.

Moore has been charged with first-degree murder and is being held on a $500,000 cash bond. (source)
[mejsvideo src="https://www.apprising.org/wp-content/uploads/2012/11/MooreMurder.mov" width=640 height=360]
Finally, in light of an interview I gave yesterday to Fox 4 KC reporter Katie Ferrell concerning my opinion that IHOP has become a dangerous cult-like organization I share the following IHOP is Dangerous. We're told it's Stephanie's testimony and that:
Stephanie was a student/intern at the International House of Prayer for three and a half years before being ejected unless she was willing to go to a re-education camp in Canada. This is her own testimony with her own voice. It is like MANY that I have heard. You decide for yourself.

If you have a son or daughter that is thinking about going to IHOP, dear parent, you need to know that there is a chance you may never talk to them again. Students are being told by staff to "fast" from contact to parents that aren't fully supportive of IHOP. I have heard this from multiple sources, including current staff.

Things are very wrong here. Please also read or listen to my free book "The Red Dragon" for a better understanding of the situation at IHOP. This endless dance will not bring lasting revival. There is a delusion here that is VERY dangerous!
[mejsvideo src="https://www.apprising.org/wp-content/uploads/2012/11/StephIHOP.mov" width=640 height=360]
Further reading