By Ken Silva pastor-teacher on Sep 7, 2012 in Current Issues, Features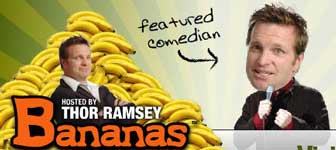 Apprising Ministries continues coverage of the odd time in which we live where lust for unity within professing Christendom has replaced love of the purity of God's Gospel.
To put it very simply, the sad fact is, fickle feelings have now trumped Holy Scripture in our day of growing sappy sentimentality which is now posing as Biblical Christianity.
The video below was sent to me by a reader yesterday and is actually a clip from a film called Youth Group that Christian comedian, producer, and pastor Thor Ramsey is trying to get made:
YOUTH GROUP is a Romantic Comedy with a Satirical look at certain methodologies and strategies in the church…with a very redemptive theme.

It was written by and will star Veteran Christian Comedian Thor Ramsey (http://www.ThorRamsey.com).

We are looking to secure $600K in financing to shoot the feature-length movie.

If you can help, please contact AustinBrooks@hotmail.com; thank you. (source)

When they told the new youth pastor that he was going to be crucified on Good Friday, he thought it was a joke, too. (source)
Thor Ramsey was part of the plant at Emmaus Church in Redlands, CA about 5 years ago as unpaid staff. The spokesperson I talked with at Emmaus yesterday told me he's a staff pastor with another church now.
I asked her which church it was and she asked me to hold. When she came back she asked for my contact information and assured me someone would call me with the "correct contact information" They never did.
I'm not sure what the big secret is, turns out Ramsey's teaching pastor of something called "Threshhold worship option" at Canyon Lake Community Church & Preschool (CLCC) in Canyon Lake, CA:


(source)
The Threshold worship is CLCC's attempt to be relevant and missional to contextualize the message:

(source)
CLCC has a membership of about 1,000 and welcomed Thor Ramsey as teaching pastor this January after interning there because he seemed the "best fit" for "leading the alternative Threshold services" there:
Canyon Lake Community Church recently celebrated 35 years of service by its senior pastor and also welcomed a new pastor to lead the church's alternative Threshold services.

On January 22, grateful congregants held a special service and luncheon for Pastor Pete Van Dyke and his wife, Pat, in honor of their 35 years at Canyon Lake Community Church. The Van Dykes arrived when CLCC was a mere 50-member chapel on the hill overlooking the unpaved roads of Canyon Lake, having relocated from their home in St. Anne, Illinois.

Today, the church has grown from one to four services, and now serves over 1,000 attendees and ministry participants of all ages…

On January 23, the church welcomed Thor Ramsey, his wife, Dinika, and their two daughters, Eden and Kate, to the permanent staff, after having Thor serve as interim pastor for the past eight months. The Ramseys are looking forward to relocating to the Canyon Lake area from their home in Redlands.

Whether one's preference is for melodious classical hymns or thunderous rock music, Canyon Lake Community Church is known for its varied worship options – and "Threshold," the church's latest launch, is the edgiest yet. So it came as no surprise that Thor, a nationally renowned stand-up comedian and acclaimed theologian/author, was the choice for leading the alternative service.

"Over time, his popularity steadily gained in momentum," says Brittany Younquist, assistant preschool director and hiring team member. "It became clear to us that Thor was the best fit for our expanding church." He was chosen after an extensive screening and interview process involving over 100 candidates. (source)
Anyway, Ramsey's also the author of A Comedian's Guide to Theology: Featured Comedian on the Best-Selling DVD Thou Shalt Laugh and of Thor Ramsey's Total Money Meltdown: A Proven Plan for Financial Disaster.
Of the latter, published by Moody Press, we're told:
If Christian comedian Thor Ramsey could recommend only one book on escaping debt and surviving a financial meltdown, he'd recommend Dave Ramsey's Total Money Makeover. But for readers who want a more humorous look at retaking control of the household budget, well, he humbly recommends his own Total Money Meltdown. After all, he won't be able to repay his debts from the sales of Dave Ramsey's book.

Thor Ramsey's sidesplitting guide to financial recovery chronicles his own bad financial decisions and what it took him to climb out of the hole he dug. ("By the way, you should only dig holes if you plan on filling them with treasure.") Not just a vehicle for his wit and humor, Thor Ramsey's Total Money Meltdown also provides readers with the necessary tools and biblical motivation to become financially free.

The truth is that all of us who've been in financial trouble knew better. But sometimes we don't know what it takes to get out of the hole. We feel hopeless and overwhelmed. This book shines some funny hope into people's messy money lives, first as a "how not-to guide" and then as a "how-to recover guide." (source)
For what this all may be worth, here's the trailer for Thor Ramsey's screen play:
Further reading