By Ken Silva pastor-teacher on Aug 3, 2012 in AM Missives, Current Issues, Features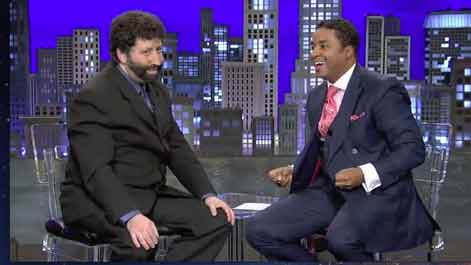 This seems to be the question of the hour. However, Apprising Ministries pieces like Jim Bakker's Homage To Jonathan Cahn Who Says He's Blessed By Bakker's Mentoring give reason to doubt Cahn's a prophet of God.
Are we seriously supposed to believe God Launched The Harbinger Book Using Jim Bakker? Cahn says so; but Bakker is a spiritual wing nut who's so far into spiritual outer space that we can't even get a radar fix on him.
While we're on the subject of the questionable discernment of Jonathan Cahn, let me point out that he was a guest this week on the July 31 edition of Praise The Lord on TBN:
Bishop Clarence E. McClendon hosts Prophet Manasseh Jordan from Manasseh Jordan Ministries, Psalmist/Pastor Judy Jacobs from His Song Ministries, Johnathan Cahn from President of Hope of the World Ministries/The Jerusalem Center, Dr. Emmanuel Ziga from Grace for All Nations Ministries International and music by Judy Jacobs. (source)
I'm aware that going on TBN is not, in and of itself, an endorsement of the Word Faith heresies expounded on the Network and by both Clarence McClendon and the profit Manasseh Jordan so let's avoid that rabbit trail.
Rather, I wish to first remind you of a couple of things that Christian apologist Chris Rosebrough asked Jonathan Cahn during an interview Rosebrough conducted with Cahn but eleven days before he would appear on TBN.
You'll hear Rosebrough ask Cahn if he was a prophet. After he denies being a prophet Rosebrough follows up asking Cahn if he makes sure to correct the misnomer when he is called such in interviews, etc:

[mejsaudio src="https://www.apprising.org/wp-content/uploads/2012/08/Rosebrough-JCahn.mp3″]
Well, apparently Jonathan Cahn is either being disingenuous or it slipped his mind; not once, but twice, during his segment on PTL below. McClendon calls Cahn a prophet and he never makes any attempt to correct him:
[mejsvideo src="https://www.apprising.org/wp-content/uploads/2012/08/JCahnTBN7-31-12.mov" width=640 height=360]
Further reading