By Ken Silva pastor-teacher on Jul 30, 2012 in AM Missives, Current Issues, Devotions, Features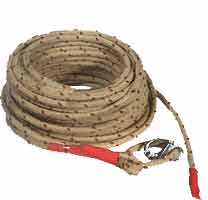 And he said to him, "If your presence will not go with me, do not bring us up from here. For how shall it be known that I have found favor in your sight, I and your people? Is it not in your going with us, so that we are distinct, I and your people, from every other people on the face of the earth?"
And the LORD said to Moses, "This very thing that you have spoken I will do, for you have found favor in my sight, and I know you by name." (Exodus 33:15-17)
As A Child Of God You May Always Cast All Your Cares On The Lord
Moses, a man who'd been leading the Israelite people—someone with 40 years of experience as a shepherd—did not just place trust in himself that he should handle the situation his own way. No, he seeks God in prayer about how he was to lead the Lord's precious people to the Promised Land. Verse 15— Then Moses said, "If Your presence does not go with us" — in other words, if You don't lead us — "do not send us up from here."
In verse 1 of this passage God had told Moses — "Leave this place, you and the people you brought up out of Egypt, and go up to the land." Moses, a man with a deeply intimate relationship with God, the mighty leader of Israel, could have immediately gone and drawn up the plans for this big move; after-all, he'd had much experience. However, Moses put all that aside and went to the Lord in prayer for God's perfect plan. Moses wasn't about to move until God told him that He'd be with them.
Because he was a humble man, Moses didn't just assume: "Well, God gave me a mind so I'd better use it to figure out for myself what I think is the best way to handle this situation." And yet, within Church leadership today, there are so many people who use the kind of thinking I've just conveyed here as if it actually pleases the Lord. But, what it really shows is a very subtle type of pride. However, Moses wasn't too proud to seek God's way; he knew better, so he prayed asking the Lord to make the way and to go with him. Again he's saying, "Lord, if You aren't Personally involved in this; no matter how I may feel, or how noble my idea might seem to me—if You don't go with me, then I don't want to make a move." And one isn't going to know what God is doing around him if he isn't talking with the Lord in prayer. Make sense.
Now think with me for a minute; when Moses went to God in prayer as we read in our text today, did this offend God? Did the Lord say, "Come on now Moses, stop your whining, be a man; pull yourself up by your own bootstraps and figure these things out for yourself." Look at verse 17 — "I will do the very thing you have asked, because I am pleased with you." The King James Version reads — for thou hast found grace in my sight. The Hebrew here is chen and means "favor, goodwill". So God is saying to Moses, "I will be gracious enough to show you favor as I go with you because it pleases Me that you asked Me, and chose to depend on Me." And Isaiah 40:31 tells us what happens to people who depend upon the Lord — those who hope in the Lord will renew their strength. They will soar on wings like eagles; they will run and not grow weary, they will walk and not be faint.
Yet how many times today do we go without the Lord's grace, favor, and blessing because we don't go to Jesus in prayer? James 4:2 informs us — You do not have, because you do not ask God. I want you to understand that it doesn't offend the Lord when His children pray and cry out to Him for help and guidance; in fact, it's really quite the opposite. If we are foolish enough to ignore the wisdom and assistance of our loving Father in Heaven, it's then when we offend Him. Let's look quickly at 1 Peter, chapter 5, because I want to show you something concerning whether or not we should pray only about the "big stuff"; and then, go ahead and take care of the so-called little things ourselves. I want you to see for yourself what God the Holy Spirit tells us in 1 Peter 5:7. Does it say, "Cast only the big problems" — no; it says — Cast all your anxiety — i.e. your cares; your worries — upon Him — upon God.
Why — because He cares for you. Did you notice that the Bible says we should give Jesus all of our cares and anxieties, not just some; but all that encompasses your life. You see, if you're a child of the living God by His grace alone; through faith alone, in Christ alone, then all that would concern you, concerns Him because He cares for you. In fact, if you were to read this passage in the original Greek it says, because to Him it matters concerning you. Also keep in mind that the passage has a couple of different meanings here; 1) the Lord "cares" for you in the sense of being attentive when you are upset, and 2) God is "concerned" because He is in charge of your life. As the Great Shepherd He's your provider. Either way, we win in this deal! In other words, God loves His children so much, and is so concerned for each of us, that all we care about, or need, He also cares about, and then takes care of.
Let me give you one quick personal example concerning this message. One morning a few years back I noticed a tiny baby prairie dog lying on its side just outside my back door. I took a small stick and touched him very lightly, and there was slight movement so I knew he was still alive. I put the tiny prairie dog gently into a box and brought him inside. For a long time I watched over the little fella, but there was no further movement. I was worried; but then, I started to think. "it was Jesus Who created me with a love for animals. In addition, the Lord created this baby prairie dog as well; He must have guided me to it, so I'll ask God to heal him." In faith that the Lord did indeed tell us that what we humans care about, He also cares about, I began to talk to God about this helpless little creature. Shortly afterward He gave me the idea to put a drop of water on the tiny prairie dog's mouth, and sure enough he moved to get at it.
No one will ever convince me that the Almighty God of the universe didn't heal that injured baby animal. I believe the Lord used me as His hands to raise that little guy to full strength while I had the pleasure of taking care of him for the next few months. Finally the little fella let me know he was healthy enough when he chewed through the heavy plastic of the clothes basket I had been using for his home. It's also interesting that when I let him loose he quickly went right down into a hole in the ground. But then, he immediately reappeared; popping his little head up out of the hole, as if to reassure me that he was going to be okay, and he darted right back down into his new home. Perhaps the little guy was on a mission; I don't know, but I do know that Jesus cares, and that the Lord answers prayer. Now maybe this little animal might not have mattered to someone else, but Jesus knew that it was of intimate concern for me, and He answered my prayer.
There are other examples I could give you, and I venture to guess that you would also have your own accounts of similar answers to prayer, over what some might call "little things." But after-all, who's to decide what is, or isn't, "big" enough to pray about? Still some say: O, God's too big to care about your lost car keys or things like that. Well quite frankly, the Lord Who created the entire universe out of nothing simply by speaking it into existence is too big to care about us period; but, we'll be eternally grateful that in His mercy God has chosen to care about us—even though we didn't first choose Him. Does the incredible sacrifice Jesus made by becoming a man, choosing to grow up on this earth just the same as you and I do, suffering the rejection of His own creations, being cruelly scourged until the flesh of His back lay open, and then nailed to a rugged Roman cross where He died a real physical death for sinners, even enduring Hell—a time He was separated from the Father—become a little clearer for you now?
He is a great and loving God attentive to your every need, if, you'll just ask Him. The Apostle Paul, once a fierce persecutor of the early Christian Church, who went on to develop an intensely intimate relationship with Jesus, understood how much God cares—and because the Lord cares—He threw us the "lifeline" of prayer. Through the inspiration of the Holy Spirit, in Philippians 4:6, Paul writes — Do not be anxious about anything, but in everything — notice here; not just some things, but as Peter also told us — in everything, by prayer and petition, with thanksgiving, present your requests to God. And how about what the Apostle John tells us — This is the confidence we have in approaching God: that if we ask anything according to His will, He hears us. And if we know that He hears us—whatever we ask—we know that we have what we asked of Him (1 John 5:14-15).
Did you catch the exact same theme concerning prayer with each Biblical author? But what's so sad is how this lifeline of prayer is so neglected. Now just imagine for a moment what this world could be like if we'd only firmly grab onto that lifeline today and begin to fervently pray.
Further reading