By Ken Silva pastor-teacher on Jul 15, 2012 in AM Missives, Current Issues, Features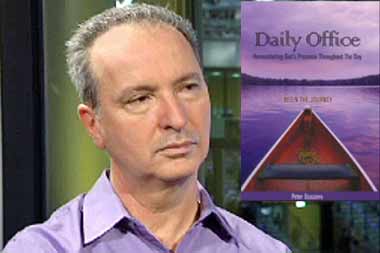 Apprising Ministries has previously warned you about Peter Scazzero, the founder and senior pastor of New Life Fellowship Church, e.g. in Peter Scazzero Introducing Enneagrams Into Mainstream Evangelicalism.
Scazzero is actually a leading perpetrator of corrupt Contemplative Spirituality/Mysticism (CSM) a la gurus Dallas Willard and his spiritual twin Living Spiritual Teacher and Quaker mystic Richard Foster.
He's no lightweight; I showed you three years ago in Rick Warren Wants Us To Know Peter Scazzero that none other than Southern Baptist megapastor Rick Warren brought Scazzero in for his inaugural Radicalis conference.
Prior to this, Peter Scazzero had already partnered up with the leadership of Bill Hybel's Willow Creek Association (WCA), which extends from Willow Creek, another Church Growth Movement megachurch.
WCA "is regarded as the most influential ministry to evangelical pastors in the U.S"1 and Scazzero's materials are being used to teach Contemplative/Centering Prayer (CCP); meditation in an altered state of consciousness:
You can see them listed in Willow Creek resources right now:

(source)
The truth is, Tim Keller Is Also Promoting Mystic Guru Peter Scazzero. Under "Recommended Resources" in Community Formation at Keller's Redeemer Presbyterian Church for their Small Group Ministries we find:

(source)
This really shouldn't come as a surprise because we know that right within Scazzero's The Emotionally Healthy Church itself Tim Keller tells us that:
This book unmasks a "super-spirituality" in many churches that cannot deal honestly with the depths of our spiritual and emotional brokenness. Pete Scazzero shows us how the gospel frees us to admit our brokenness and then gives us many practical ways to move forward. I recommend this book for pastors and church leaders.
Tim Keller, Senior Pastor
Redeemer Presbyterian Church, New York City
I bring this out to let you know that if you don't think Peter Scazzero's infecting mainstream evangelical pastors with this refried Romanism, you'd better think again. Now you know what may even be influencing your pastor.
The first video clip below is Peter Scazzero getting set to preach to his New Life Fellowship Church (NLFC) you'll see him remind his congregation about the pietism of his version of the Daily Office (DO) a la Phyllis Tickle.
You might recall that Tickle is the Empress of Emergence Christianity; and, the rotten root of this DO is in the spurious CSM that flowered within the antibiblical monastic traditions of apostate Roman Catholicism.
In addition, you'll also hear Scazzero sound just like the Emerging Church apostate Doug Pagitt and the Emergent Church mythology that the Bible has to be interpreted "in community." Just look where that has gotten them.
O, but it'll have a different result when ostensibly mainstream Protestant evangelicals do it. No, it won't; it flies in the face of Scripture:
knowing this first of all, that no prophecy of Scripture comes from someone's own interpretation. (2 Peter 1:20)
The point being, communities made up of individuals don't get to just make up their own interpretations to suit what they "feel" God is saying because the Author of Scripture determines the meaning of what He wrote.
Scazzero ends up arguing that God uses the Bible to speak to various church "communities" in different ways; but once you open that door, then the Bible can be made to say anything you want it say to a given community.
How I'm really coming to hate that word; but I digress. By the way, it's quite clear that Peter Scazzero is speaking of his own local church NLFC when he says "us," and not Christians in general:
[mejsvideo src="https://www.apprising.org/wp-content/uploads/2012/07/Scazz-Office-Fascism.mp4″ width=640 height=360]
Back in January of this year I told you about a Leadership Conference With Protholic Peter Scazzero on May 4th and 5th. As I pouted out, you'll be noticing an increase of pastrixes as the wording was likely intentially vague.
Concerning the gender of "pastors and leaders" who're embracing the "Revolutionary New Paradigm" of Scazzero:
So our Scazzero Emotionally Healthy he/shes will be seeking a "deep interior life," which is mystic-speak for the meditation in an altered state of consciousness of CCP. That's why there was a:
The conference was made up of more of the squishy psychobabble that's at the heart of guru Scazzero's centered on the self CSM stylings. Below is wrap up video for Day 2 of his conference; he tells us they went into Genograms:
a graphic representation of a family tree that displays detailed data on relationships among individuals. It goes beyond a traditional family tree by allowing the user to analyze hereditary patterns and psychological factors that punctuate relationships.

Genograms allow a therapist and his patient to quickly identify and understand various patterns in the patient's family history which may have had an influence on the patient's current state of mind. The genogram maps out relationships and traits that may otherwise be missed on a pedigree chart. (source)
For Scazzero-ites this is necessary to assist in "transformation." He then informs us such as these comprise people "from all over the world" now. The goal, says Scazzero, is to lead "out of a solid self, not a pretend self."
Next he plugs his Emotionally Healthy shtick and then tells us:
And tomorrow, we're looking forward to launching into monastic spirituality; the contemplative spiritually. Right now people are at the contemplative prayer room that Rosie and Helen—two folks in our church have tremendous calls on their lives—have built.

And it's like creating a monastic community in the middle of Queens, New York City.
[mejsvideo src="https://www.apprising.org/wp-content/uploads/2012/07/Cut1Scazz.mp4″ width=640 height=360]
Heading home to to Rome; and what should make you stop dead in your tracks is Scazzero's he/shes are out to spread as spores in the wind throughout Christendom "for the transformation of the wider church culture."
In this last clip Scazzero again reminds us why his work is so dangerous; 1) it's focused on Contemplative Spirituality/Mysticism and 2) it isn't confined to the United States, he plans to spread this CSM virus worldwide.
And the truth be told, these neo-gnostics like Peter Scazzero have already captured more of the church visible than you may even know:
[mejsvideo src="https://www.apprising.org/wp-content/uploads/2012/07/Cut2Scazz.mp4″ width=640 height=360]
So, when I saw Scazzero tweet the below the other day I know that the issue of women usurping the position of elder in order to become pastrixes looms ever closer to the mainstream of the church visible:

(source)
He's talking about this:

The link takes us to a post by Peter Scazzero and we now know for certain that he'll use this conference as an attack upon the proper Biblical understanding of the Christian pastorate:

(source)
As you see, Scazzero will have to resort to emerging misinformation in order to try and circumvent God's Word.
Further reading
Endnotes
http://www.willowcreek.com/about/, accessed 7/15/12. ↩