By Ken Silva pastor-teacher on Jun 22, 2012 in Current Issues, Devotions, Features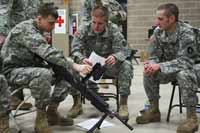 Obviously, what I have been teaching here at Apprising Ministries is really nothing new; it has been in actuality little more than going back to what has always been preached since the birth of the Church.
And this would simply be proclaiming the absolute majesty and sovereignty of the LORD God Almighty, His glorious Gospel and preparing soldiers for battle. You may say: "But I can't do it; I don't know how to fight."
Can you pray; for the Bible says:
For though we walk in the flesh, we are not waging war according to the flesh. For the weapons of our warfare are not of the flesh but have divine power to destroy strongholds. 
(2 Corinthians 10:3-4)
Right now the Lord is calling for those in His visible Christian community, who have the intestinal fortitude and noble desire, to be willing to handle the mightiest weapon He has given to us—the prayers of the saints.
Today I encourage you to rise up and leave the safety of complacency and go at once to join the battle as Christ sends forth His Army in this Truth War in order that we might join Him in loving dead people back to life.
And Robert Murray M'Cheyne warns us:
"The end of all things is at hand"—"The fashion of this world passeth away." A believer stands on a watch-tower—things present are below his feet—things eternal are before his eyes. A little while, brethren, and the day of grace will be over—preaching, praying will be done.

Soon we shall give over wrestling with an unbelieving world—soon the number of believers shall be complete, and the sky open over our heads, and Christ shall come. His parting cry was: "Surely I come quickly." Then we shall see Him "whom, having not seen, we loved."

A little while, and we shall stand before the great white throne: a little while, and the wicked shall not be—we shall see them going away into everlasting punishment; a little while, and the work of eternity shall be begun. We shall be like Him—we shall see Him day and night in His temple—we shall sing the new song, without sin and without weariness for ever and ever.

In a little moment, brethren, all this shall be: "For a small moment have I hid My face from thee; but with everlasting mercies will I gather thee" (source)
Yes, beloved of God…time is short…and the time for us to man our weapons has now arrived…
Further reading