By Ken Silva pastor-teacher on Jun 21, 2012 in Current Issues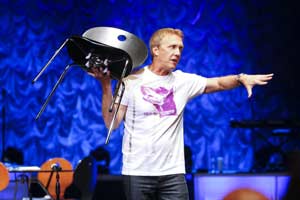 Apprising Ministries began coverage of highly influential Southern Baptist megapastor Ed Young, Jr. back in December of 2006 with But Southern Baptists Say OK To "Bishop" T.D.Jakes.
In my recent piece Ed Young, Jr With Elephant Room 2′S T.D. Jakes On TBN's Praise The Lord I reminded you that he's at least a Major General in the Seeker Driven attractional church-planting camp.
The point being, even though he is growing a bit long in the tooth Young, Jr—son of two-time former SBC president Dr. Ed Young—still has much influence within contemporary evangelicalism.
When Ed Young, Jr. speaks young prophet-führers he spawned, such as Steven Furtick, listen closely. Today I was sent the link to a post at Young. Jr's blog Somebody Honor Somebody, which has since vanished.
Here's what the page originally looked like: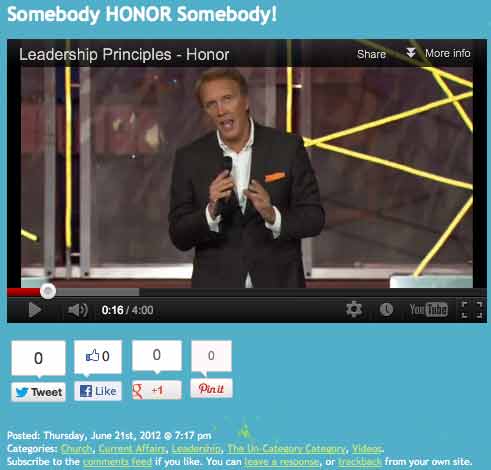 For some reason, Ed Young, Jr. pulled it. However, before you're tempted to think "maybe he changed his opinion." Keep in mind, it was just posted it today and Young. Jr. didn't pull the video, he merely unlisted it.
He begins by telling us the obvious: "Honor is one of the most important entities that you can have circulating in your sphere of influence." Then Young. Jr. tells us about a recent dinner party he attended with his wife.
There a secular business man impressed Young, Jr. when he told the SBC pastor that "the number one thing" he demands of his employees "is loyalty." The clip below then picks up as Young, Jr. tells us about churches "really on fire."
Places he's spoken at that "really have the Spirit of Christ" and a "servant spirit" are "always cultures of honor." Whereas some places he' s been obviously weren't and were easily discerned. Ok, I wouldn't necessarily argue with that.
However, Young, Jr. then devolves into a typical Word Faith teaching that the alleged dishonorable cultures became so because they "kind of pride themselves" as the "intellectuals." He then says they "slam" those who walk in honor.
For error to thrive people like Ed Young. Jr. have to criticize "the thinkers" as he calls them; they have to be discouraged of using their critical reasoning skills. In my days in the WF I heard this idea time and time and time again.
Young, Jr's not done yet; he then argues that "those who slam that stuff are walking in dishonor and those who walk in honor are Biblical." Certainly the last statement is true. Young' Jr. next encourages us how to handle dishonorable people.
He says:
So whenever you follow someone, or read someone, or listen to someone, look behind that person and see if they have a history of dishonor.
You know, like someone who has apparently been living an ostentatious lifestyle and is alleged to have a private jet. ((RADIO EXPOSE ON ED YOUNG JR AND LUXURY)) Young, Jr. then takes the prerequisite swipe at bloggers:
Because those people—I'm talkin' about the bloggers, I'm talking' about the people who jump online with this or that, the instagrammers, I'm talking' about the speakers, I'm talking' about some of the writers—those ones who deal with dishonor, and spiritual Pharisetical snobbery, have an authority problem.
Right, you know like people who call their critics Nazis or berate someone for an hour on the phone after a conference. (("WE CAN WORK IT OUT:" IS JAMES MACDONALD QUALIFIED TO HAVE THIS CONVERSATION? and "WE CAN WORK IT OUT:" IS STEVEN FURTICK QUALIFIED TO HAVE THIS CONVERSATION?)) I would agree; these guys are definitely Pharisetical and seem to me to have an authority problem.
Young. Jr. then waves his finger at the camera and urges us:
And make sure you look at their history—their track record; and it'll explain a lot. "But as for me and my house, we're gonna serve the Lord." An' we're going where honor is in effect.
Finally, Young, Jr. admonishes us:
If you ever sniff dishonor, or disloyalty, release the person quick. I'll say it again. Whenever you sniff it, see it, smell it—the Holy Spirit whispers it to you—release them quick.
[mejsvideo src="https://www.apprising.org/wp-content/uploads/2012/06/Young-Jr-Honor.mp4″ width=640 height=360]
Hmm, that actually seems like pretty good advice. So, let me see if I have this straight. Certainly to rebel against the Word of God in order to preach a phony prosperity gospel and embrace women pastors must be considered dishonorable.
So, I wonder what Ed Young, Jr. thinks of his own nauseatingly dishonorable conduct below with Word Faith heretics T.D. Jakes and Joel Osteen:
[mejsvideo src="https://www.apprising.org/wp-content/uploads/2012/06/Ed-Young-TD-Jakes-2006.mp4″ width=640 height=360]
[mejsvideo src="https://www.apprising.org/wp-content/uploads/2012/02/Ed-and-Joel.mp4″ width=640 height=360]
Further reading