By Ken Silva pastor-teacher on Apr 24, 2012 in AM Missives, Current Issues, Features, Joel Osteen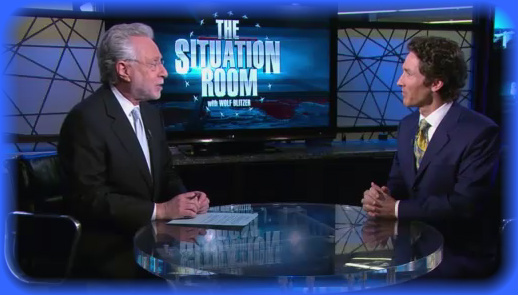 Apprising Ministries often functions spiritually as a kind of Reconnaissance, Surveillance, and Target Acquisition( RSTA) unit along the Internet Front of this Truth War.
I pointed out during my appearance Tonight Matters With Ken Silva Of Apprising Ministries that the Net is moving 6 months to a year ahead of the main of the Christian community.
With this is in mind, let me remind you again that the rather ecumenical Elephant Room 2 was like a nuclear explosion in the spirit world and its silent shockwaves have damaged more structures than we can yet see.
You may believe me when I tell you that ER2′s most devastating effects have yet to see their full manifestations. I offer that the mainstreaming of Word Faith mogual T.D. Jakes and his wannabe, attractional Prophet-Pastor Steven Furtick, will prove to have many adverse effects within evangelicalism.
Sadly, it plays right into the hands of enemy forces and their next area of attack upon the wavering heart of the church visible. This attack is causing people to believe God is bringing "people of faith" together, which is leading to a sickening syncretism that's a lot closer to your church than you may even know.
The aforementioned Steven Furtick is an up and coming new breed hybrid Seeker Driven motivator who marries this pragmatic attractional approach to the Christian faith with Word Faith prosperity preaching. Now consider this from the two-time ER participant Steven Furtick: T.D. Jakes Is My Favorite Preacher In The World.
Jakes is a close friend and associate of Joel Osteen, which you can see e.g. in Megachurch Pastors Joel Osteen And T.D. Jakes Unite And Why You Should Care. In other words, they're fellow heretical Word Faith prosperity preachers. But some say, just because Steven Furtick admires Jakes it doesn't mean that he also admires Osteen.
Maybe so; however, Furtick's clearly on record personally stating that he does as I plainly documented in Steven Furtick, James MacDonald, And Joel Osteen. In fact, what Furtick testified publicly is that he believes: Joel Osteen Is A Great Man Of God:
This truly brings Furtick's discernment into question because I've already shown in Smile When You Lie that Joel Osteen is a preacher of Word Faith heresy. That's hardly something a great man of God would do. Nor would he call practicing Mormon Mitt Romney a Christian e.g. in Joel Osteen And His Mormon Brother In Christ.
Here again below from his January 16th appearance this year on CBS This Morning you'll see Joel Osteen, Steven Furtick's great man of God, tell us,"What I see about Governor Romney is that he says, 'I believe Jesus Christ is the son of God, he's raised from the dead and he's my savior.' I see him as being a believer in Christ, like me."
[mejsvideo src="https://www.apprising.org/wp-content/uploads/2012/04/Joel-Osteen-On-Mitt-Romney-His-Brother-In-Christ.mp4″ width=640 height=360]
Fast forward to today where Joel Osteen takes his heretical view even further on CNN's "The Situation Room with Wolf Blitzer." Now according to this poor excuse of a Christian pastor, not only does he say that faithful Mormon Mitt Romney is a Christian, Osteen also believes antichrist Mormonism itself is Christian as well.
In Osteen: Romney is a Christian by CNN reporter Ashley Lillough we read:
Famed pastor Joel Osteen reiterated his position that Mitt Romney is a Christian on Tuesday, saying as long as the likely GOP presidential nominee believes that Jesus is the Son of God then he subscribes to the Christian faith.

"When I hear Mitt Romney say that he believes that Jesus is the Son of God–that he's the Christ, raised from the dead, that he's his Savior–that's good enough for me," Osteen said in an interview to air on CNN's "The Situation Room with Wolf Blitzer."

While Osteen described the Mormon faith as "not traditional Christianity," he said he believes Mormons fall under the Christian tent.

"Mormonism is a little different, but I still see them as brothers in Christ," the pastor argued. (Online source)
You can see and hear Joel Osteen play the nauseating toady today on national TV for yourself below:
[mejsvideo src="https://www.apprising.org/wp-content/uploads/2012/04/Word-Faith-Heretic-Joel-Osteen-Says-Mormonism-Is-Christian-4-24-12.flv-1.mp4″ width=640 height=360]
See also:
THE "JESUS" OF MORMONISM ALA GLENN BECK
MORMONISM DECLARED WAR ON CHRISTIANITY