By Ken Silva pastor-teacher on May 10, 2012 in AM Missives, Current Issues, Features, T.D. Jakes, Word Faith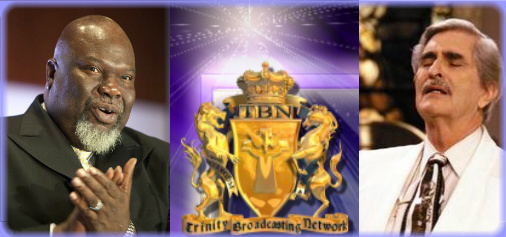 Apprising Ministries
told you previously in 
T.D. Jakes Is Not A Word Faith Prosperity Preacher
 that James MacDonald, former Gospel Coalition Council member and curator of the Elephant Room, says this is the claim
T.D. Jakes
 is allegedly making—post ER2—during private conversations between the two.
Unfortunately for James MacDonald et al the facts simply don't line up with his assertion that T.D. Jakes is no longer a WF prosperity preacher. For example there's Megachurch Pastors Joel Osteen And T.D. Jakes Unite And Why You Should Care and T.D. Jakes May 2012 Leadership Conference To Feature Joel Osteen.
Then just a few weeks ago T.D. Jakes Speaker This Month For Paula White's A God Encounter. Interestingly enough that appearance for his spiritual daughter[1] came just 6 days after T.D. Jakes was featured speaker for TBN's March 8 edition of Spring Praise-A-Thon 2012 as you'll see in the first video clip below.
Matt and Laurie Crouch were hosts and notice at 2:49 Laurie says she's going to give whatever amount of money Jakes tells her to, i.e. the classic WF sow a seed gift [money] and thereby obligate God to bless you with a bigger return or some miraculous intervention you may require of Him:
This next clip begins after Matt Crouch introduces the visiting pastors and pastrixes, which is how each program begins. After moving to the couch Crouch introduces T.D. Jakes as the storyteller he is. He then asks Jakes to tell us the story of how his ministry started. You'll see it was Paul Crouch who first put Jakes on television:
Jakes goes on to say how nervous he was to come through the gates of TBN as if he was in awe to be appearing on the Praise the Lord program. Jakes next informs us that at the time Crouch would discover him he was preaching for uninversalist Carlton Pearson at one of his Azusa conferences held at Oral Roberts University.
Jakes explains that the message Paul Crouch would hear was actually edited from when he spoke at Pearson's church prior to his speaking at Oral Roberts University. Jakes said it was "about a seven minute clip" and aired on Pearson's television program at the time Paul Crouch was working on his book I Had No Father But God.
He tells Matt Crouch "your dad didn't know me from Adam" when he saw him on Pearson's television program. Jakes discusses how his unorthodox take on John 20:24-28 so touched Paul Crouch and then lauds himself for his own integrity. Next Jakes tells us his appearance would quickly lead to him having his own show on TBN.
Jakes goes on to walk us through the whole sequence of events leading up to Crouch contacting him, which Jakes attributes to an orchestrating of his steps by God. This becomes clear at 4:04 when Jakes says one of the reasons we need "Christian television," i.e. TBN is:
because we've got to have people who are sensitive enough to the Holy Spirit that when the Holy Spirit says [to] do something, you don't necessarily pick somebody by the size name they have, or how many degrees they have (audience applauding)… God can reach way down into the clay hills of West Virginia, in a rural area (speaking of himself)…
Jakes had mentioned how quickly God allegedly grew his ministry, which now reaches "all around the world." Then Word Faith mogul T.D. Jakes pays homage to heretical spiritual huckster Paul Crouch saying it came about "all through a moment where Paul Crouch said, 'yes,' to an unction of the Holy Spirit" in this clip below:
We're supposed to believe that the Lord raised up and blessed these spiritual snake oil salesmen; I think not.
________________________________________________________________________________
End notes:
[1] see ELEPHANT IN THE ROOM: T.D. JAKES AND PAULA WHITE.
See also:
T.D. JAKES PROSPERITY GOSPEL; SOW A SEED, GOD WILL BLESS YOU
T.D. JAKES PREACHING HERETICAL WORD FAITH POSITIVE CONFESSION
ELEPHANT ROOM 2′S T.D. JAKES' SPIRITUAL DAUGHTER PAULA WHITE IN THE NEWS