By Ken Silva pastor-teacher on Apr 10, 2012 in AM Missives, Current Issues, Features, T.D. Jakes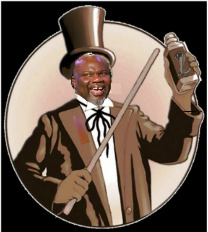 Well, this is what James MacDonald, former Gospel Coalition Council member and curator of the Elephant Room, would try and have us believe during alleged private conversations with T.D. Jakes.
Apprising Ministries has been covering the slowly growing fallout in the aftermath of the ER2 since its session on January 25th of this year.
Frankly, it seems pretty clear to me ER2 will prove to be a watershed event because it detonated as a bomb within the walls of contemporary evangelicalism.
Sadly, we may not yet even realize how big this story is going to get. It's my opinion the division ER2's going to cause is only barely beginning.
An example would be ER2's main claim to fame which was, in my opinion, the pass given to Word Faith prosperity preacher and reputed modalist T.D. Jakes. In Elephant Room 2′S T.D. Jakes' Spiritual Daughter Paula White In The News I reminded you that later James MacDonald would go on the offensive.
In his appearance on the Chris Fabry Live program MacDonald would tell us that in their private dialogues Jakes does not accept the label of a Word Faith prosperity.preacher. As I saw it, the clear implication was that—in addition to allegedly leaving modalism—T.D. Jakes has also moved away from WF prosperity preaching.
Really; then how do we explain that just last month Jakes was, same as he does every year, still shilling for Trinity Broadcasting Network—the notorious Word Faith haven for heretics—during their Spring Fleece-a-thon:
There's Jakes on the 6th begging bucks of support for apostates (at best) like Paul and Jan Crouch; and clearly associating himself with other Word Faith royalty like Benny Hinn, Juanita Bynum and Mark Chironna. Then on the 8th, leaving aside the SBC's David Jeremiah, there's Jakes with B-list WF preachers like Clarence McClendon.
No, if it's all the same to you James MacDonald, I think I'll go with Jesus on this one:
"Beware of false prophets, who come to you in sheep's clothing but inwardly are ravenous wolves. You will recognize them by their fruits." (Matthew 7:15-16)
See also:
T.D. JAKES PROSPERITY GOSPEL; SOW A SEED, GOD WILL BLESS YOU
T.D. JAKES MAY 2012 LEADERSHIP CONFERENCE TO FEATURE JOEL OSTEEN
T.D. JAKES PREACHING HERETICAL WORD FAITH POSITIVE CONFESSION