By Ken Silva pastor-teacher on Feb 27, 2012 in AM Missives, Current Issues, Features, Rick Warren, Southern Baptist Convention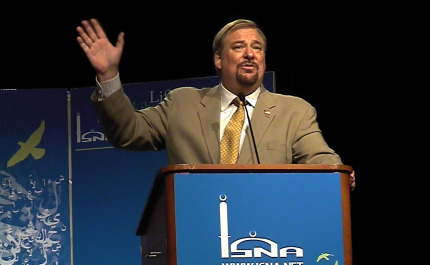 Apprising Ministries has long been a leading critic of the semi-pelagian (at best) doctrine of Southern Baptist megachurch pastor Rick Warren.
In articles like Rick Warren And Teachings Of Demons I've also clearly documented his sinful ecumenicism as well.
Of course that's merely one of the fruits within apostatizing evangelicalism because of its foolish fascination with corrupt Contemplative Spirituality/Mysticism.
Now I point you to a developing story followed by some contributors of the Christian Research Network concerning Rick Warren and a report by free lance writer jim Hinch in the Orange County Register.
CRN contributor Christine Pack tells us in Controversy Over An Article About Rick Warren's Efforts to Bring Muslims, Christians Together:
According to our article posted just a few hours ago, Rick Warren, megachurch pastor of Saddleback Church in Lake Forest, CA, is currently working to build a "bridge" (through a document called "King's Way") between Christians and Muslims by claiming that the two faiths worship the same God.The "King's Way" document, which is the foundation for these bridge building efforts, is not yet publicly available, but a December 2011 meeting at Saddleback Church has been documented here. From the article by Jim Hinch of the Orange County Register:

"The Rev. Rick Warren, pastor of Saddleback Church in Lake Forest and one of America's most influential Christian leaders, has embarked on an effort to heal divisions between evangelical Christians and Muslims by partnering with Southern California mosques and proposing a set of theological principles that includes acknowledging that Christians and Muslims worship the same God." (online source)
Warren then appears in the comments section of Hinch's report with a rather nebulous comment about apparent misinformation allegedly put out by Hinch:

Hinch would later respond assuring us his story is factual:

Then CRN contributor Erin Benziger pointed out in "Historic Interfaith Document" was "One Year in the Making" that:
As stated in yesterday's post, Rick Warren Builds Bridge to Muslims, while Islam may bow to one god, and Christianity serves one God, these two are not the same God. As was also mentioned yesterday on this blog, the idea of "love God, love your neighbor" is not the Gospel, it is the Law. Indeed, as emphasized above, this recent step taken by Saddleback Church does reveal "the new theological position of Saddleback." Yet, can it really be said that this is a new position? After all, did not Rick Warren stand before a room of Muslims in 2009 and declare:

You know that obviously as an evangelical pastor, my deepest faith is in Jesus Christ. But you also need to know that I am committed not just what I call the "Good News," but I am committed to the common good. And as the Scripture says "Love your neighbor as yourself." I am commanded to love and I am commanded to respect everybody. Everybody. Now I was asked to speak to you about how Muslims and Christians can work closer together for the greater good, in our world. And I will tell you that I am not interested in interfaith dialogue, I am interested in interfaith projects. There is a big difference. Talk is very cheap. And you can talk and talk and talk and not get anything done. Love is something you do. It is something that we do together. Love is a verb. Now as the two largest faiths on this planet, Muslims and Christians, we must lead in this. We must lead. With over one billion Muslims, and over 2 billion Christians, together, as half the world, we have to do something, about modeling what it means to live in peace, to live in harmony. (Online Source)

Sadly, Rick Warren is not only deceiving millions, but he appears to be deceiving himself as well.  (Online source)
Stay tuned as there sure seems to be more to the story and we're still investigating it. In closing this, for now, I got off the phone with Jim Hinch just before this writing and he told me that Warren's comment has been taken down. At this time we don't know how it disappeared.
Keep in mind here that Jim Hinch is a veteran journalist and I found him to be quite friendly and forthright. I saw no reason to doubt him when he reiterated he had talked with Saddleback associate senior pastor Tom Holladay and thoroughly checked his facts.
Jim also added the following as well clarifying his Rick Warren builds bridge to Muslims:
I do have a copy of the [King's Way] document but it was given to me by a source who asked that it not be published. The five-page document lays out three areas of agreement, including shared aspects of Christian and Muslim belief and a commitment to work together on community service projects.

The part about shared areas of belief states "we believe in one God" and enumerates several characteristics of God common to both faiths, including that God created the world, is good, etc. The document does not address beliefs about Jesus, which is a major difference between Islam and Christianity.

I talked to sources both at Saddleback and in the Muslim community and all of them described the mutual outreach efforts and the attempt to find points of theological common ground. While reporting the story I asked to speak to Rick Warren but was told he was too busy for an interview.

I have no reason to think Warren hasn't seen the King's Way document. I've discussed the document with his head of communications, with one of his top senior pastors and (briefly by e-mail) with the pastor in charge of interfaith outreach, who co-authored the document.

The story makes clear that no one involved in this outreach effort, either at Saddleback or in the Muslim community, is proposing a merger of the two faiths or agreeing to disregard areas where the faiths diverge. Both sides acknowledge that differences remain between them.

But they have agreed not to focus on those differences for the purpose of reducing hostility between the two faiths and finding ways to work together on projects that benefit the community. No one at Saddleback used the words "same God" in an interview.

A Saddleback representative contacted me to ask for a clarification to the story. Rather than "Christians and Muslims worship the same God" they would like the story to read "Christians and Muslims believe God is one." I'm not sure I see the difference but I think editors are prepared to make the clarification.
The bottom line now is that Rick Warren needs to publicly make clear what his stance is concerning this issue. Does he believe Christians and Muslims believe in the same God? That is a common position among many missionaries within the Church Growth Movement.
However, Rick Warren vaguely implying Jim Hinch is in error and not telling us where specifically is only fanning the flames around this issue. I'm grateful that Hinch covered this story and for his willingness to dialogue with me on the phone today to further clarify his report.
We also remember Rick Warren signed A Christian Response to 'A Common Word Between Us and You' , which appeared to me to imply that Christianity and Islam believe in the same God:
Being that Rick Warren was trained by Peter Drucker and Leadership Network he is versed in leadership double speak. This is why I find myself in agreement with Tony Miano about Warren being an
Evangelocham:
I've watched interviews of and read works and comments by Rick Warren for two decades. And what I've discovered over that course of time is that Rick Warren is a chameleon. And I believe he is one of the most dangerous men in Christendom, today.

Plastic pastors transparent enough to see through, like Joel Osteen, are not as dangerous as Rick Warren. Modalistic moguls of the painfully-obvious-money-hungry prosperity movement, like T.D. Jakes, are not as dangerous as Rick Warren. Self-serving sorcerers of the false signs and wonders movement, like Todd Bentley, are not as dangerous as Rick Warren.

No. None of the before-mentioned personalities or groups are all that dangerous because what you see is what you get. They all lack the ability to change their appearance to accommodate a change in environment. They lack the chameleon-like ability, the self-serving ability, to say what needs to be said in order to keep people in every camp liking them.

Rick Warren is a chameleon. Over the years he has shown, time and time again, his uncanny ability to say what will please his audience at the moment–secular news anchors and pundits, the masses at the request of a president who knows neither the Christ nor His Word, the leaders of false religions around the world, and sadly, even well-respected leaders of the real Christian community. (Online source)
See also:
JOHN PIPER, RICK WARREN & FOSTER-WILLARDISM
MARK DRISCOLL, ACTS 29 NETWORK, AND RICK WARREN 
JAMES ROBISON AND RICK WARREN WORKING TO REVERSE THE PROTESTANT REFORMATION