By Ken Silva pastor-teacher on Feb 7, 2012 in AM Missives, Contemplative Spirituality/Mysticism, Current Issues, Features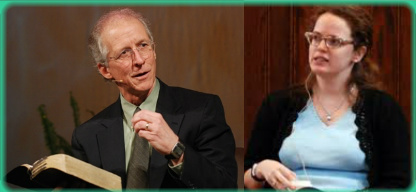 Apprising Ministries has been on the front edge warning you of the spread within confessional evangelicalism of corrupt Counter Reformation Contemplative Spirituality/Mysticism (CSM).
CSM is a repackaged Roman Catholic mysticism, taught by the dubious duo of Living Spiritual Teacher and Quaker mystic Richard Foster along with his spiritual twin Dallas Willard under the guise of so-called Spiritual Formation.
That's why the below tweet a bit ago by Dr. John Piper caught my eye:
God be praised, AM also happens to be a leading work exposing the sinfully ecumenical neo-liberal cult of the Emerging Church aka the Emergent Church—with its circus "big tent" Progressive Christianity aka Emergence Christianity.
So, I thought you might want to be aware of this tweet from Dr. Piper. I told you via a footnote in Tony Jones Worships A Demon that Lauren Winner is teaching "The Doctor of Ministry cohort in Christian Spirituality" (i.e. CSM) at Fuller Theological Seminary.
As you'll see below she's doing so along with Jones and the Empress of Emergence herself Phyllis Tickle:
This earlier piece from FTS, Lauren Winner, Tony Jones and Phyllis Tickle Discuss Emergence Spirituality, shows you we're headed directly into spurious CSM: 
Lauren Winner, author of Girl Meets God and professor at Duke University Divinity School, observed that in the last five years she has experienced in her own life and seen among many Christians an effort to achieve a balance between active and contemplative spirituality.

"I'm not sure I can say that's a trend in North American spirituality," said Winner, "but I hope that it is." (Online source)
Any doubt concerning contemplative teachings from Lauren Winner, a professor at the liberal Duke University Divinity School, is dispelled from the very book recommended today by Dr. John Piper. Note her praise for the cult of Foster-Willardism:
The language of spiritual discipline, an ancient idiom of the church, has come into vogue again. In the 1970s and'80s, two books on spiritual disciplines, now rightly now rightly considered modern-day classics, were published: Richard Foster's Celebration of Discipline and Dallas Willard's The Spirit of the Disciplines.

Foster and Willard called readers to deepen their Christian lives by incorporating ancient practices of the church. These books struck a tremendous chord, and Christians of all stripes began exploring habits and structures like liturgical prayer, fasting, solitude, simplicity, and tithing. The spiritual disciplines are things that we do; they are things that we practice.

They are ways we orient our whole selves-our bodies and minds and hearts, our communities and rhythms and ways of being in the world-toward God. Thinking of spirituality as something we practice or do strikes some people as odd-isn't the point of Christianity that Jesus saves you regardless of what you do?[1] 
That last sentence is unclear, at best, and smacks of the universalism of Emergence Christianity at worst. No, Jesus doesn't save you "regardless of what you do." The Gospel is conditional upon one's acceptance of it; the Love Wins mythology of former EC rock star pastor Rob Bell is a fable.
In closing this, for now, Dr. Gary Gilley has rightly pointed out that "Celebration Of Discipline" By Richard Foster An Encyclopedia Of Theological Error. When it comes to Foster-Willardism, Christian apologist Bob DeWaay is dead on target when he says:
The spiritual disciplines are not taught in Matthew 11:29, 30 (Willard's primary proof test), and even Willard admits they cannot be found elsewhere in scripture… As with most unbiblical approaches, the spiritual disciplines are based on the idea of innate human powers that can be harnessed for good. Holding a false concept of sin as a "disruption of that higher [spiritual] life," Willard looks for a solution through finding our true potential, individually and corporately, through spiritual disciplines that will enable us to reconstruct the rule of God now…

These ideas are more akin to Eastern Religion than Biblical Christianity. Our problem is not the need to suck in more "unembodied personal power" by techniques to contact God. We are dead sinners facing God's wrath unless we repent and believe the gospel. Willard's concepts are foreign to the Bible… The idea of practicing spiritual disciplines was imported to the text, not found there. We live in an age of mysticism. People lust for spiritual reality and spiritual experiences.

The danger is that unbiblical practices will give people a real spiritual experience, but not from God. Deception is the likely outcome. God puts a boundary around the means by which we come to Him and grow in Him for our own protection. If we ignore the boundary set by Biblical guidelines, there is no telling were we will end up. If however, we come to God on His terms, knowing that we have a High Priest who is at the right hand of God, and that we have access through His blood into the holiest place, we can be assured we cannot be any closer to God this side of heaven. (Online source)
I talked about this earlier in John Piper, Rick Warren & Foster-Willardism. Yet right now in the library of Bethlehem Baptist Church (BBC) where John Piper is pastor we find Richard Foster, Prayer Finding the Heart's True Home:
Here, from my personal copy, is a little sample of what we learn about "prayer" from CSM guru Foster:
Contemplative Prayer immerses us into the silence of God. How desperately we in the modern world need this wordless baptism… Contemplative Prayer is the one discipline that can free us from our addiction to words. Progress in intimacy with God means progress toward silence… It is recreating silence to which we are called in Contemplative Prayer…
A Warning And A Precaution
At the outset I need to give a word of warning,… Contemplative Prayer is not for the novice. I do not say this about any other form of prayer… Contemplative prayer is for those who have exercised their spiritual muscles a bit and know something about the landscape of the spirit. In fact, those who work in the area of spiritual direction always look for signs of a maturing faith before encouraging individuals into Contemplative Prayer…
I also want to give a word of precaution. In the silent contemplation of God we are entering deeply into the spiritual realm, and there is such a thing as a supernatural guidance. While the Bible does not give us a lot of information on that, there are various orders of spiritual beings, and some of them are definitely not in cooperation with God and his way! … But for now I want to encourage you to learn and practice prayers of protection.[2]
As I pointed out elsewhere, this couldn't be clearer that what we're actually dealing with here is a new form of Gnosticism; i.e. it's hostile to the proper Christian spirituality of sola Scriptura. At BBC we also find the book Spirit of the Disciplines: Understanding How God Changes Lives.
It's Willard's ode to asceticism and the very same book which DeWaay discussed above:
In the end, I think we need to ask a few questions. Why would Dr. Piper wish to expose his flock to sinfully ecumenical Foster-Willardism? Why would Dr. Piper recommend Lauren Winner's book when it specifically encourages this Foster-Willardism?
Or are we to think that Dr. Piper didn't know what was in Lauren Winner's book when he recommended it?
___________________________________________________________________________
End notes:
[1] Lauren F. Winner. Real Sex: The Naked Truth about Chastity (p. 124). Kindle Edition.
[2] Richard Foster, Prayer: Finding The Heart's True Home [New York: Harper Collins, 1997], 155, 156, 157.
See also:
IS THIS DOCTRINAL AND SOUND DR. JOHN PIPER?
CONTEMPLATIVE SPIRITUALITY OF RICHARD FOSTER ROOTED IN THE EASTERN DESERT AND THOMAS MERTON