By Ken Silva pastor-teacher on Feb 7, 2012 in Current Issues, Features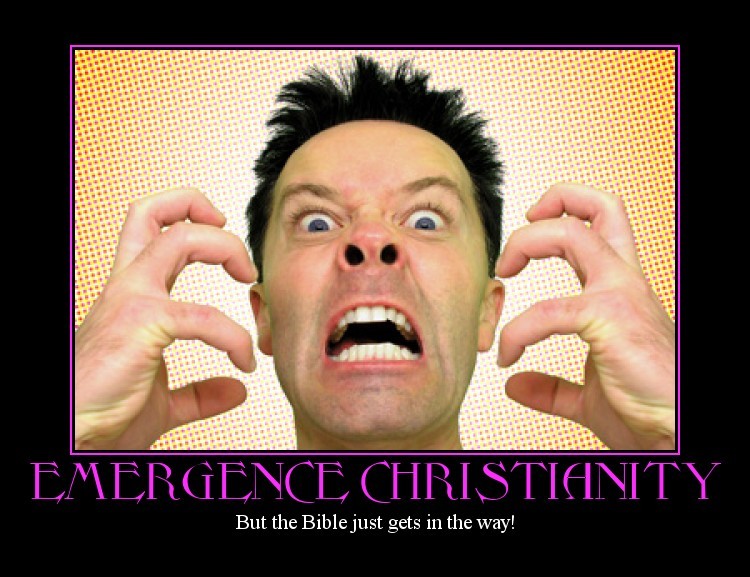 Apprising Ministries is a online apologetics and discernment labor in the Lord.
Part of my commission as pastor-teacher is to help make you aware of trends within the church visible.
I wish I had better news but as I survey the horizon I see the very tip of an iceberg of apostasy has only recently surfaced.
Sadly, it grew huge because spiritually obtuse leaders within confessional evanjellyfish didn't fight the neo-liberal cult within the Emerging Church.
But rather, foolishly they would embrace it.
Well after all, they were only following Acts 15:1-2 in their new missional Bible translation Anything Goes Evangelicalism—How To Make The World Love You:
Some inovative church planters came from Judea and started teaching the Lord's followers that they could not be saved, unless they were circumcised as Moses had taught. This caused lead apostle Paul and his missiologist bro Barnabas to include them in the next Explosive Growth conference so they share how they had contextualized the gospel.

So it was decided to send Paul and Barnabas and a few others to Jerusalem to have a missions conference with the apostles and the church leaders there to teach them how the missional church planters were engaging the Jewish culture and bringing the church back to her Jewishness.
This has served to give boldness and prominence to men like e.g. heretical Open Theist Greg Boyd, who tweeted today:
So I followed Titus 1:9 — hold firm to the trustworthy word as taught, so that he may be able to give instruction in sound doctrine and also to rebuke those who contradict it.
I tweeted back to set Boyd straight and said:
To which Boyd would later respond:
So I replied:
See also:
OPEN THEISM'S ATTACK ON THE ATONEMENT
THE WILD GOOSE OF THE EMERGING CHURCH IS NOT THE HOLY SPIRIT