By Ken Silva pastor-teacher on Oct 25, 2011 in AM Missives, Current Issues, Emergence Christianity, Emergent Church, Features, Rob Bell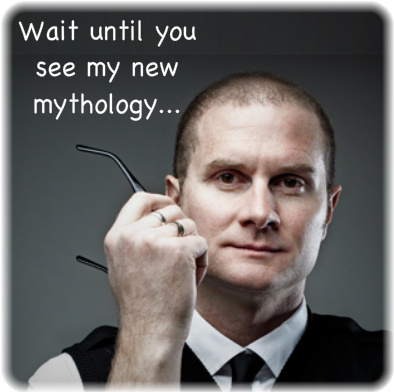 For many years Apprising Ministries—one of the few online venues who would tell you the truth straight up—has tracked the sad decline of Rob Bell, the rock star pastor of the Emerging Church.
You likely know that he's resigned from Mars Hill Bible Church and turned it over to his good friend and fellow apostate Shane Hipps to pursue—among other things—producing secular television.
Bell's new delusion is to develop a new audience and lure even more people away from Jesus. Yesterday in The Religion World Jeff Kunerth tells us Rob Bell takes his act on the road.
Kunerth points out:
Best-selling author and controversial pastor Rob Bell, who ignited evangelical ire with a book that questioned the existence of Hell, is embarking on a seven-city tour of the U.S. and Canada in November. Bell has announced he is leaving his Mars Hill Church in December and moving to L.A. to pursue other creative endeavors including scripting a television show. (Online source)
"Evangelical ire?" I think not; a mild titter is more like it in the evangelical community. That fact is, the doctrine of hell is not well in the church visible. It's actually been pretty much absent for years now anyway.
Kunerth continues:
Bell's "Fit to Smash Ice" tour will include stops in Toronto, Ithaca, N.Y., Providence, Philadelphia, Charlottesville, Va., and Jersey City. Other dates, including stops in the South, may be added later, his publisher said.

"This is a very personal tour for me," Bell explains. "It's several hours of entirely new content I haven't given before, exploring all the exhilarating ways we stumble and fumble and fail and bleed and limp along and just how good and sacred and thrilling it all is. I'm hoping to break some new ground on this tour, going places we haven't gone before. (Online source)
Well, that's not any new ground; it's the same type of man-love we hear from all of these neo-Gnostic mystics corrupted by Contemplative Spirituality/Mysticism. Get used to it; it figures to get worse as it spreads.
And finally, Kunerth informs us:
Bell says The Love Wins Companion: A Study Guide for Those Who Want to Go Deeper will be published in mid-November. The guidebook will offer insights and commentary by experts: theologians, Bible scholars, scientists, and pastors and a deep analysis of all relevant Bible passages on heaven, hell, and salvation.

It will include Bell's reflection on the publication of Love Wins,…While on tour, Bell is also working on a new book about "quantum physics and the Eucharist." (Online source)
You can see, Bell's still up to his use of titilation; we're supposed to wonder what quantum physics has to do with the Eucharist. First of all, speculations of scientists have nothing to with the Gospel.
However, in the transcription below of a segment from an interview conducted by process theology apostate Tripp Fuller, we can get a bit more of the picture concerning where Rob Bell has now drifted.
Again consistent with those deluded by mysticism Bell, who argued in favor of Christian Universalism in his Love Wins mythology, following is the beginning of his coming out of the closet re. panentheism.
Pan—all, en—in, Theos—God; mystics often express this as "the divine spark." While teaching on John, chapter 1, Rob Bell's fellow apostate Shane Hipps put it this way:
 This logos affects everybody including Osama bin Laden, as long as he's got breath in him is a spark of the divine.
Mystics believe the logos is within all of creation because they think God created the universe within Himself. Rob Bell appears to believe that quantum physics confirms the mythology of panentheism:
I'm working on a book right now on quantum physics and theology. I think that some of what  scientists are saying about the unpredictability and the in determinant nature of the universe at the subatomic level is going to radically transform how we see the physical and the spiritual.

I think we're going to see a major, major, major revolution in how we perceive the world around us and it's going to have
massive implications for theology; that's what I'm working on right now. I was—so that—that book is coming into—to light and I think some of the fundamental ways people have talked about things, the physical, the non—spiritual, the material, the immaterial, the sacred, the secular.

I think all that's—about to undergo some massive changes, which are going to be awesome and beautiful and I think lots of people are going to experience God—because a bunch of obstacles are going to all the sudden not be obstacles. And that's about—I just said some very, very vague sorts of things, but I think in the areas of science we're going to see some extraordinary things—the ongoing creation of the universe. (Online source)
See also:
PHIL JOHNSON DESTROYS LOVE WINS MYTHOLOGY OF ROB BELL