By Ken Silva pastor-teacher on Sep 12, 2011 in Current Issues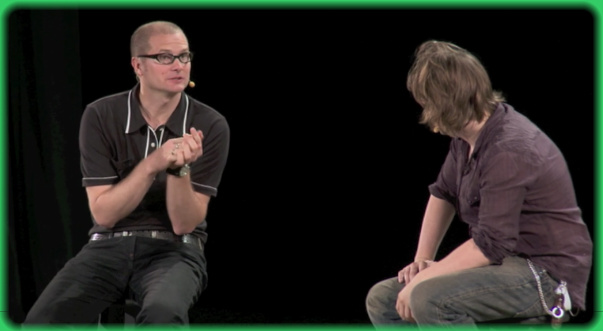 "Do two walk together, unless they have agreed to meet?" (Amos 3:3)
Emerging Apostles Of Unbelief 
The Lord be praised that He has seen fit to open the door for Apprising Ministries to have become one of the leading voices against the sinfully ecumenical Emergent Church aka the Emerging Church, a neo-liberal cult now operating within mainstream evangelicalism.
Its primary legacy is unloading its core doctrine of corrupt Contemplative Spirituality/Mysticism (CSM), masquerading as spurious Spiritual Formation ala Living Spiritual Teacher and Quaker mystic Richard Foster and his spiritual twin Dallas Willard into the very heart of the Protestant community.
As such the Emergent Church leaders have been quite successful in taking the focus off proper Christian spirituality; and instead putting it upon mere subjective feelings. Beyond question, one of the leading perpetrators of the new form of postmodern Progressive Christianty in the Emerging Church is Rob Bell of the Love Wins/Christian Universalism mythology.
Here I'll show you another example of Bell's being about as evangelical as the Dalai Lama. You likely have heard me mention The New Downgrade And Its Apostles Of Unbelief; Rob Bell, and his good friend Peter Rollins are two of the ND's primary Apostles of Unbelief. Rollins tells us that the first clip below:
is an excerpt from a session at Poets, Prophets and Preachers where Rob Bell interviewed me about my work. (Online source)
AM made you aware of this July 2009 conference in Did Rob Bell Forget The Cross? You may recall that in addition to Rollins Rob Bell also introduced the wider visible church to the warped and toxic teachings of his good friend Shane Hipps; who is now co-teaching pastor with Bell at his Mars Hill Bible Church.
Hipps is so far off-track spiritually that yesterday he  tweeted some startling information:
Sadly, the ND is already spreading so far that, despite a teaching pastor at one of the most influential churches among younger sectors of evangelicalism announcing this to the world, nothing's being said. Apparently Chrislam has now come to MHBC as Hipps later tweeted something he called a clarification:
Lovely; this Muslim woman has more commitment to her religion than so-called evangelical Shane Hipps has to his. Such is the state of the apostatizing spiritually spineless evanjellyfish community with the Apostles of Unbelief like Rob Bell and his now close friend Peter. This brings us to this first video clip.
You'll hear Rob Bell himself inform us that he loved the doubt-filled and ambiguous work of Peter Rollins so much he just had to make sure it became available to the visible Christian community:
As you get ready to watch the following short example of some that great work by his now good friend Peter Rollins, which Rob Bell wanted to make sure we'd be aware of, keep the following from God's Word in mind:
May you be strengthened with all power, according to his glorious might, for all endurance and patience with joy, giving thanks to the Father, who has qualified you to share in the inheritance of the saints in light.

He has delivered us from the domain of darkness and transferred us to the kingdom of his beloved Son, in whom we have redemption, the forgiveness of sins. (Colossians 1:11-14)
 With this mind then, now here's Peter Rollins with what he himself entitled Liturgy of Doubt—Embracing The Darkness. He tells us:
This is a clip from a talk I gave in Grand Rapids in which I explore the idea of rituals which invite us into the experience of doubt, complexity and ambiguity (Online source)
See also:
LET'S DOUBT THAT DOUBT IS GOOD