By Ken Silva pastor-teacher on Sep 6, 2011 in Current Issues, Features, New Apostolic Reformation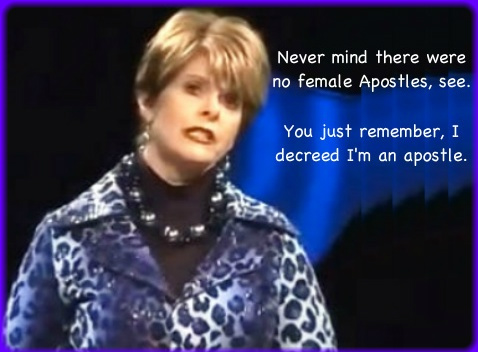 The online apologetics and discernment work Apprising Ministries continues to do our part to alert you to increasing syncretism e.g. Steven Furtick Bringin' On Word Faith And The Pastrixes.
Unfortunately, the truth is, we are on the brink of a veritable tsunami of apostasy.
Who would have thought that hyper-charismatic spiritual Word Faith wingnuts like Oneness Pentecostal heretic T.D. Jakes could be considered an evangelical?
 Or that New Apostolic Reformation self-appointed "apostles" like C. Peter Wagner would ever even be close to the mainstream? Well, guess what; now they are.
In the video below you'll see apostlette Cindy Jacobs, one of main leaders within the corrupt NAR and co-founder of an apostate organization called Generals International along with her equally deceived husband Mike.
As a former Word Faith adherent myself I recognize the classic WF jargon at :42 in where supposedly in the Name of Jesus she takes:
authority over every spirit of lust; pornography; addiction; homosexuality; bisexuality; perversion…
The idea is she will bind and cast out these spirits that have caused people to be in bondage to them. It gives further proof you needn't fear these fools who've anointed themselves prophets and apostles.
You see, if they really were sent by Jesus then they would know the real source of these sins; the sinful nature of mankind. Jesus already told us:
And he said, "What comes out of a person is what defiles him. For from within, out of the heart of man, come evil thoughts, sexual immorality, theft, murder, adultery, coveting, wickedness, deceit, sensuality, envy, slander, pride, foolishness. All these evil things come from within, and they defile a person." (Mark 7:20-23)
So you see, these things NAR apostlette Cindy Jacobs thinks she has control over aren't really caused by demons at all. A true servant of Christ would have known that. I say, leave them; they are blind guides.
See also:
NAR "APOSTLE" C. PETER WAGNER: "WE TEACH VERY STRONGLY ON THE SEVEN MOUNTAINS"
KEN SILVA WITH A WORD FROM GOD FOR NAR FALSE PROPHET CHUCK PIERCE