By Ken Silva pastor-teacher on Apr 3, 2011 in AM Missives, Current Issues, Emergence Christianity, Emergent Church, Features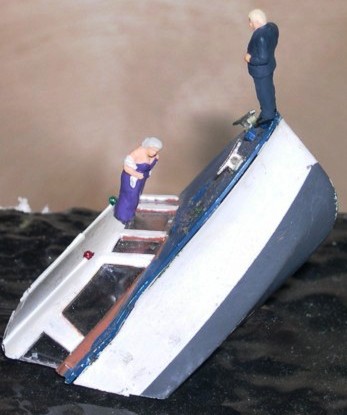 I am astonished that you are so quickly deserting him who called you in the grace of Christ and are turning to a different gospel—not that there is another one, but there are some who trouble you and want to distort the gospel of Christ. But even if we or an angel from heaven should preach to you a gospel contrary to the one we preached to you, let him be accursed. As we have said before, so now I say again: If anyone is preaching to you a gospel contrary to the one you received, let him be accursed. (Galatians 1:6-9)
Justification By Faith Alone In Jesus Christ
We begin with verse 6 to see what the Apostle Paul tells us here regarding the Gospel of Jesus Christ that he preached. Even a cursory reading of the Book of Acts will quickly show that Paul took the Gospel very seriously, and wanted to make sure that no one altered it in any way.
The truth is the sooner we realize that just because someone uses the term "church" or calls themselves a "Christian," it does not mean that they do truly represent the God of the Bible. Yes it is sad, and it's unpleasant, but this is the world in which we now find ourselves today. If we have any hope of reaching some of these people around us for our Lord Jesus Christ we will have to ask Him to help us to awaken from the dream that we have been living in. The false dream that all men will live in peace here on earth before Christ returns; and that all people are basically good. It is just not true. And truthfully, it never was.
What I am encouraging us to do is to come back to the proper view of how we must approach the subject of the Gospel of Jesus Christ; and good place to start is to look at the first chapter of Paul's letter to the churches in the southern part of the Roman province of Galatia. We know it, of course, as the Book of Galatians. Consider the following from Dr. Robert Mounce, who has worked on numerous translations of the Bible, and is President Emeritus of Whitworth College. He tells us:
Galatians stands as an eloquent and vigorous apologetic for the NT essential truth that man is justified by faith in Jesus Christ—by nothing less and nothing more—and that he is sanctified not by legalistic works but by the obedience that comes from faith in God's work for him, in him and through him by the grace and power of Christ and the Holy Spirit.[1]
Let's stop right here for a minute. What has just been said by Dr. Mounce, a noted evangelical Biblical scholar, is exactly what we has been obscured within the delusion of the seeker sensitive Church Growth Movement, which also spawned the sinfully ecumenical Emergent Church aka Emerging Church, a neo-liberal cult with its false gospel of a postmodern form of Progressive Christianity that these rebels against God's Word often refer to as"big tent" Emergence Christianity. It's also touches the core of the problem with the Love Wins mythology of the Emerging Church rock star pastor Rob Bell; you see, as Kevin DeYoung shows us in God Is Still Holy and What You Learned in Sunday School Is Still True: A Review of "Love Wins", has a false gospel:
According to Bell, salvation is realizing you're already saved. We are all forgiven. We are all loved, equally and fully by God who has made peace with everyone. That work is done. Now we are invited to believe that story and live in it (172–73). Bell is not saying what you think he might be saying. He's not suggesting faith is the instrumental cause used by the Spirit to join us to Christ so we can share in all his benefits.

That would be evangelical theology. Bell is saying God has already forgiven us whether we ask for it or not, whether we repent and believe or not, whether we are born again or not. (Online source) 
However, despite these man-centered musings obfuscating the genuine Gospel, the key question still remains: How can the sinner ever hope to be justified before God; in other words, how is a man saved from his debt of sin before a Holy and Righteous God? Simple logic tells you that a debt requires a payment of some kind; does it not? For the wages of sin—which is the debt—is death (Romans 6:23). The infallible and inerrant Word of God in the Bible clearly teaches that Christ Jesus already paid that wage—that debt—with His own death. And this is is also the heart of the matter with the false hope of the Church of Rome–the purity of God's Gospel. That's why Dr. Mounce can say, "Galatians stands as an eloquent and vigorous apologetic for the essential NT truth that man is justified by faith in Jesus Christ—by nothing less and nothing more."
It is truly such a shame, and a travesty of God's justice, that this has been allowed to slowly erode over the nearly 500 years since an Augustinian Monk named Martin Luther nailed those 95 Theses Of Religion upon the door of Castle Church Chapel at Wittenberg. Theses, which essentially said, "We protest"; and would become the very document which would end up igniting the whole Protestant Reformation. As this spiritual blindness continues to fall it's vital that we come to fully understand what is at stake here. For we need to get this truth from our head down into our very hearts. Dr. Mounce is reminding us of this truth when he says — "Galatians stands as an eloquent and vigorous apologetic for the essential NT truth that man is justified by faith in Jesus Christ by nothing less and nothing more."
We state this more concisely by saying man is justified by the grace of God alone, through faith alone, in the finished work of Christ alone on the Cross. And this is the absolute truth and glorious hope of the Gospel, that even while mankind's degenerate sinful nature is an enemy of God, by His own grace through obedience to God the Father alone, Jesus Christ of Nazareth died alone to atone for the sins of all who would believe:
For while we were still weak, at the right time Christ died for the ungodly. For one will scarcely die for a righteous person—though perhaps for a good person one would dare even to die—but God shows his love for us in that while we were still sinners, Christ died for us. Since, therefore, we have now been justified by his blood, much more shall we be saved by him from the wrath of God.

For if while we were enemies we were reconciled to God by the death of his Son, much more, now that we are reconciled, shall we be saved by his life. More than that, we also rejoice in God through our Lord Jesus Christ, through whom we have now received reconciliation. (Romans 5:6-11)
It's so hard for many to see it because we live in such time of tepid indifference within much of the Christian community today, but what I am trying to help you understand that too much of Christ's church visible won't even at least boldly stand for the actual Gospel itself! A couple of glaring examples would be when the evangelical camp raises hardly a peep when Rob Bell, as an alleged evangelical, preaches a different gospel right within its own walls; and says nothing at all when Purpose Driven Pope Rick Warren, arguably one of the most influential pastors in the Southern Baptist Convention—itself the largest Protestant denomination in America—reverses the Reformation and declares the apostate Roman Catholic Church is part of the Body of Christ, which I've shown you previously e.g. in Rick Warren And Roman Catholics.
Be that as it may, unequivocally the true doctrine of salvation, our justification, is gift of faith from God by His grace, as the Bible literally says:
But the words "it was counted to him" were not written for his sake alone, but for ours also. It will be counted to us who believe in him who raised from the dead Jesus our Lord, who was delivered up for our trespasses and raised for our justification. (Romans 4:23-25)
You know, it really couldn't be much clearer. Well, on second thought, we actually can illuninate this even more. We need only look a little further into the book of Romans. We go to chapter 5 and begin with verse 1. Let's see if together we can piece together behind these two verses of Holy Scripture we're going to read here in Romans 5 in what apparently is such a "mystery" for too much of the church visible. Here below, in verses one and two, maybe together we can discover what seems to be so difficult for so many evangelical Protestant scholars to understand today:
Therefore, since we have been justified by faith, we have peace with God through our Lord Jesus Christ. Through him we have also obtained access by faith into this grace in which we stand, and we rejoice in hope of the glory of God. (Romans 5:1-2)
Rediscovering The Basic Message Of Galatians
As you can see, one not need be a graduate of Oxford University to figure this out. Now we are ready to finish up what Dr. Mounce was telling us earlier about the book of Galatians.
It was the rediscovery of the basic message of Galatians–[which is salvation through faith]–that brought about the Reformation. Galatians is often referred to as "Luther's book," because Martin Luther relied so strongly on this letter in his writings and arguments against the prevailing theology of his day. A key verse is 2:16.[2]
In the following we turn to Galatians chapter 2 picking it up in verse 16; and you will see very clearly yet another verse of Scripture, which makes it quite plain regarding how man is justified before our Holy God:
yet we know that a person is not justified by works of the law but through faith in Jesus Christ, so we also have believed in Christ Jesus, in order to be justified by faith in Christ and not by works of the law, because by works of the law no one will be justified (Galatians 2:16).
Again you will see a comment by our friend Dr. Mounce will prove quite helpful here. He is right when he points out that, "Three times it tells us that no one is justified by observing the law" [or any "traditions" of men for that matter] "no one is justified by observing the law, and three times [this verse] underscores the indispensable requirement of placing one's faith in Christ."[3] Dr. Donald Campbell also brings out another critical point in his commentary on Galatians 2:16:
In this verse, one of the most important in the epistle, the word justified occurs for the first time. It is a legal term, borrowed from the law courts and means "to declare righteous." Its opposite is "to condemn." But since people are condemned sinners and God is holy, how can people be justified? In answer, the apostle made a general declaration that negatively man is not justified by observing the law, but positively, justification is by faith in Jesus Christ.

This is a strong affirmation of Paul, Peter, and the rest – introduced by the We . . .know… Finally, in verse 16c the apostle reaffirmed that justification is by faith and not by works (cf. Gen, 15:6)[4]
What I have been endeavoring to get us to look at here is whether or not anything has really changed regarding the importance of our proclaiming the pure Gospel of Jesus Christ. As the opening text we've been using a passage in Galatians 1, beginning with verse 6, as I've  been bringing this all together. We read it as we began, and it will be helpful to go back through it one more time with the new information we've just learned in this work. As we go back through the text in Galatians 1 our focus will be slightly different this time, as we want to carefully look at how Paul reacted to those who added to, and thereby specifically changed—even slightly—the Gospel that he preached. For example, let's consider this little bit of "addition" to the Gospel from Nostra Aetate "the Declaration on the Relation of the [Roman Catholic] Church to Non-Christian Religions." 
This was "Proclaimed by His Holiness Pope Paul VI – October 28, 1965":
3. The [Roman Catholic] Church regards with esteem also the Moslems. They adore the one God, living and subsisting in Himself; merciful and all-powerful, the Creator of heaven and earth, (5) who has spoken to men; they take pains to submit wholeheartedly to even His inscrutable decrees, just as Abraham, with whom the faith of Islam takes pleasure in linking itself, submitted to God.

Though they do not acknowledge Jesus as God, they revere Him as a prophet. They also honor Mary, His virgin Mother; at times they even call on her with devotion. In addition, they await the day of judgment when God will render their deserts to all those who have been raised up from the dead. Finally, they value the moral life and worship God especially through prayer, almsgiving and fasting. (Online source)
Or how about this from the current edition of the Catechism of the Catholic Church:
841 The Church's relationship with the Muslims. "The plan of salvation also includes those who acknowledge the Creator, in the first place amongst whom are the Muslims; these profess to hold the faith of Abraham, and together with us they adore the one, merciful God, mankind's judge on the last day." (Online source)
Now we must ask, does this sound like the true Gospel? Or is it in reality a capitulation in order to be careful not to upset anyone? Is this tripe issued from so-called Vicars of Christ even remotely similar to a bold stand for God like the Master's willingness to be found among those who are persecuted for righteousness' sake (Matthew 5:10), or is it actually trying to live in "peace" at the expense of the truth? The truth is, we need to help people see that words like these could never have been uttered by a true Vicar of Christ. The false religion of Islam is not an Abrahamic faith because the capricious and unknowable Allah is absolutely not the LORD God Almighty, the one true and living God revealed in Holy Scripture.
Pastor Larry DeBruyn correctly points out in Christ and Allah that:
Ideas have consequences, and never more so than when ideas define the essence and genius of God. The God of Christianity is of a wholly different character than Islam, and given that difference, no real theological rapprochement between the two religions is possible.
(Online source)
And if one should need further proof that we are to vigorously oppose anyone with the audacity to add to the Gospel of Jesus Christ you need only return to chapter 1 of the Book of Galatians. But before we run through this passage of Scripture quickly one last time, let me share this bit of insight from F. Roy Coad:
Something of the teaching which was brought by the Judaizing teachers to Galatia can be learned from later references in the letter. It accepted the Messiahship of Jesus, but added another requirement to that of faith in Christ: acceptance of the Jewish obedience, particularly as symbolized in circumcision and the keeping of the ethical and ceremonial law (Ac. 15:1; Gal. 3:2, 10; 4:10, 21; 5:2; 6:12, 13).[5]
Galatians 1:6 — I am astonished that you are so quickly deserting him who called you in the grace of Christ and are turning to a different gospel. And those of us like myself who are former Roman Catholics know firsthand that the apostate Church of Rome does indeed teach a gospel of works/self-righteousness. I'll go through their sacramental system in more detail another time, but for now, here's something from the Code Of Canon Law of the Roman Catholic Church, Canon 842 §1 and §2:
A person who has not received baptism cannot be admitted validly to the other sacraments. The sacraments of baptism, confirmation, and the Most Holy Eucharist are interrelated in such a way that they are required for full Christian initiation."
(Online source, emphasis mine).
A False Hope Is Really No Hope At All
With all of this in mind then, here is what Martin Luther himself had to say about verse 6 of Galatians 1:
[Paul] is highly indignant at the seducers whom he blames for the apostasy of the Galatians. His anger bursts forth in elemental fury at the beginning of his epistle… Note the resourcefulness of the devil. Heretics do not advertise their errors. Murderers, adulterers, thieves disguise themselves. So the devil masquerades all his devices and activities.

He puts on white to make himself look like an angel of light. He is astoundingly clever to sell his patent poison for the Gospel of Christ. Knowing Satan's guile, Paul sardonically calls the doctrine of the false apostles "another gospel," as if he would say, "You Galatians have now another gospel, while my Gospel is no longer esteemed by you (Online source).
And we know that what was being taught in Galatia by these Judaizers was not really another gospel in that it had any real power. Look again at verses 7 and 8 again here in Galatians — not that there is another [gospel], but there are some who trouble you and want to distort the gospel of Christ. But even if we or an angel from heaven should preach to you a gospel contrary to the one we [the Apostles]  preached to you, let him be accursed. You may know that accursed in the original Greek is the word anathema, which the Church of Rome's Council of Trent was so fond of using and carries the meaning "accursed, assigned to damnation."
The Church Reformer John Calvin also points out here regarding verse 8 that:
As [Paul] proceeds in defending the authority of his doctrine, his confidence swells. First of all, he declares that the doctrine which he had preached is the only gospel, and that the attempt to set it aside is highly criminal. But then he was aware, the false apostles might object: "We will not yield to you in our desire to maintain the gospel, or in those feelings of respect for it which we are accustomed to cherish."

Just as, at the present day, the Papists describe in the strongest terms the sacredness with which they regard the gospel, and kiss the very name with the deepest reverence, and yet, when brought to the trial, are found to persecute fiercely the pure and simple doctrine of the gospel. Accordingly, Paul does not rest satisfied with this general declaration, but proceeds to define what the gospel is, and what it contains, and declares boldly that his doctrine is the true gospel; so as to resist all further inquiry.
Of what avail was it to profess respect for the gospel, and not to know what it meant? With Papists, who hold themselves bound to render implicit faith, that might be perfectly sufficient; but with Christians, where there is no knowledge, there is no faith. That the Galatians, who were otherwise disposed to obey the gospel, might not wander hither and thither, and "find no rest for the sole of their foot," (Genesis 8:9,) Paul enjoins them to stand steadfastly by his doctrine. He demands such unhesitating belief of his preaching, that he pronounces a curse on all who dared to contradict it." (Online source)
And then, in verse 9, Paul will repeat his anathema for anyone who has the temerity to alter the Gospel Christ Jesus gave to him — As we have already said, so now I say again: If anybody is preaching to you a gospel other than what you accepted, let him be eternally condemned! As I have already shared with you, the proclamation of the pure Gospel of our Lord is so important and so critical that the Apostle Paul felt constrained to repeat his stern rebuke. Let us never forget that God the Holy Spirit takes His Gospel of Jesus Christ so seriously that He saw to it that this warning was preserved for us in Holy Scripture.
However; somehow today all of this has been simply reduced to "significant differences"; and that's what is so disconcerting, yet this is what the evangelical Protestant community in the visible church must come to grips with. How could we reduce this Gospel of repentance and forgiveness of sins in Jesus' Name  simply to significant differences? If the Apostle Paul was willing to eternally condemn anyone who preached something different, and if the Reformers were willing to die for their proclamation of this same Gospel, then what in the world has happened to us today? Unfortunately, the truth is summed up in this one word—compromise. We have decided that God "understands" how we really don't want to offend anyone. After all we say: If we upset someone, why, they might not believe the Gospel.
That's of course if we even get around to preaching it to them in the first place. In actuality though, what we are really saying is, "I'm afraid to make someone angry with me." Which all of us can understand; no one likes to have people angry with them. However, sometimes this is exactly what they need to stimulate their thought process. As in: "That person made me so angry I'm going too prove them wrong!" And, I'll have you know that not a few people have come into the Kingdom of God via that route. In closing this, let me bring this all together. The Gospel of Jesus Christ is simply not negotiable. Our Lord did what He did, and said what He said; and He does not change, no matter what culture we find ourselves in. This is the truth. Regardless of what Rick Warren or Rob Bell may say we just do not have the luxury of "adapting" the Gospel message to try and make the Christian faith more appealing.
And while we never want to be offensive in how we are presenting this one way in which men can be saved, we are told in no uncertain terms within revealed Scripture — For the word of the cross is folly to those who are perishing, but to us who are being saved it is the power of God (1 Corinthians 1:18). In the end, our job is to tell people the truth, and then to leave the reaction to our presentation of the Gospel—and the results—to the Person of God the Holy Spirit; which is really not such a bad thing after all when you really think about it. For it is God's Gospel; Christ did all the work, and the Holy Spirit is to convict and empower; and we are but our Lord's messengers. However, those that preach a gospel contrary to the one preached by Paul and the other Apostles—even if it is remarkably similar—are not really preaching any gospel at all.
So by now you should be able to see, that what's at stake here is a whole lot more than mere significant differences. For when all is said and done, it's either justification by God's grace alone, through faith alone, in the finished work on the Cross by Christ alone, or it is no gospel at all. You see, while "close" may count in horseshoes, it surely has no place in spiritual matters where the Gospel is all; and any pther gospel is really nothing at all. And this must never be compromised in any way, by anyone, for anyone—no matter how noble and religious these people may appear. The absolute truth is, for those of us who are Christ's ambassadors to tell the world anything else is to hold out a false gospel, which then offers a false hope that's really no hope at all.
________________________________________________________________________________
Endnotes:
[1] Kenneth Barker, NIV Study Bible [Grand Rapids: Zondervan, 1985], 1779.
[2] Ibid.
[3] Ibid., 1783.
[4] John F. Walvoord, Roy B. Zuck Eds., The Bible Knowledge Commentary [Colorado Springs: Cook Communications, 2000], NT, 595, emphasis in original.
[5] F.F. Bruce, Gen. Ed., New International Bible Commentary [Grand Rapids: Zondervan, 1976], 1417, emphasis mine.
See also:
ROB BELL AND POSTMODERN NEO-LIBERALISM
RICK WARREN, THE DANIEL PLAN, AND DOMINIONISM
BRIAN MCLAREN AND HIS NEW EMERGING PROGRESSIVE THEOLOGY
BIG TENT CIRCUS OF POSTMODERN LIBERALISM
THE EMERGING CHURCH AND THE NEW PROGRESSIVE THEOLOGY ON CHRIST
THE OTHER SIDE OF THE GOOD NEWS