By Ken Silva pastor-teacher on Aug 30, 2010 in AM Missives, Current Issues, Features, Rick Warren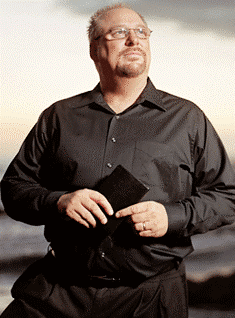 But some men came down from Judea and were teaching the brothers, "Unless you are circumcised according to the custom of Moses, you cannot be saved." And after Paul and Barnabas had no small dissension and debate with them, Paul and Barnabas and some of the others were appointed to go up to Jerusalem to the apostles and the elders about this question. (Acts 15:1-2)
The Gospel Is Of Paramount Importance
You are likely aware that this online apologetics and discernment work Apprising Ministries has been among those who've been reporting on an ill-advised decision by Dr. John Piper to bring Purpose Driven Pope Rick Warren into the Desiring God Conference 2010 as the keynote speaker. As I've pointed out before, sadly, it got even worse when Dr. Piper offered the below defense of his decision; and so, Warrengate is still slowly simmering: 
At root I think [Rick Warren] is theological and doctrinal and sound. 
(as cited Online source) 
Warren's Twitter bio humbly informs us that he is a "Radical Christian, Loves&mentors next generation leaders, Saddleback pastor, Leads Global PEACE Plan & church planting network"; in other words Warren, arguably the most visible pastor in the Southern Baptisit Convention—itself the largest Protestant denomination in the United States—influences many, many people around Christian circles. To give you some further perspective, Warren's Twitter account tells us he has 144, 115 followers and he tweeted the below not long ago, which was retweeted within two minutes by another 27 people to their followers:
As  write this, Warren's false statement which is very dangerous for the purity of the Gospel of Jesus Christ, has already been retweeted by 100+ people; not a problem, if it were true, but it's not. I showed you, e.g. in Rick Warren And Roman Catholics, Warren's sinful ecumenicism. Not to be concerned; I never expected the many women wearing men's pants in leadership positions in pretending to be Protestant evanjellyfish to actually acknowledge that it is sin to consider the apostate Roman Catholic Church, which Dr. John MacArthur has rightly called Satan's best front for the Kingdom of God, a member of the Body of Christ as Rick Warren does. O, it's only as Dr. R.C. Sproul, one of the men Warren's sharing the platform with in the upcoming DG 2010, has said:
The Roman Catholic Church condemns "sola fide! (L.)" Now if, please understand this, if "sola fide (L.)" is the gospel, then the Roman Catholic Church has condemned the gospel of Jesus Christ. Now, nobody who went to the Council of Trent, as a delegate, went there with the intention of condemning the gospel. The theologians of Rome really believed that they were defending the gospel and that the Protestants had in fact committed apostasy. And I admire the Church, the Roman communion of the 16th century for at least understanding what apparently people don't understand today, and that is what is at stake here. That they understood that somebody is under the anathema of God!

And we can be as nice, and as pleasant, and as gentle, and as loving, and as charitable, and tolerant as we can possibly be, but it's not going to change that folks. Somebody is preaching a different gospel! And when Rome condemned the Protestant declaration of "Justification by faith alone" I believe, Rome, when placing the anathema on "sola fide (L.)," placed the anathema of God upon themselves. I agree with his [John MacArthur] assessment, that the institution [Roman Catholic Church] is apostate! (Online source)
But O no, "America's Mega-Pastor" Rick Warren would have us believe that the Gospel doesn't contain "doctrine we debate"; so, is he now prepared to say men like Martin Luther were wrong? Yeah, you see, the Protestant Reformation that Warren spreads skubalon upon; well, it was about the Gospel. And what about that silly Apostle Paul in my opening text; I guess Rick Warren is smarter than this inspired man who authored half the New Testament. God the Holy Spirit tells us that Paul and Barnabas had no small dissension and debate with those men [who] came down from Judea; my, what were they thinking? The world was "dying," perhaps not unlike Latimer and Ridley, eh, and that foolish Apostle Paul was concerned that adding to God's Gospel 1) robs Jesus of His rightful glory, and 2) makes it a false gospel, which God tells us is no gospel at all (see—Galatians 1:6-9).
The point being: The world is already dead in its sin; and since there is only one Gospel of repentance and forgveness of sins in Jesus' Name, by God's grace alone, through faith alone, in the finished work on the Cross of Christ alone, making sure it is preached purely is the only way someone may pass from death to life. I would offer that's well worth debating; and we have a Biblical mandate, which I've clearly shown you in Scripture. But O no says Rick Warren and his cult network of church planters; following is how these resident missiologist church geniuses have now found as a way to round off those nasty edges in God's Word, which once often would lead to conflict with the world, they one so love to find favor with and beg for it's approval.
Here's what they've been able to do with Acts 15:1-2 in their man-pleasing Missional Church Planter's Planting Church Bible, the magum opus of missional/emerging (same thing) church growth marketing techniques, which is dedicated to their beloved Leadership Network who spawned them in the first place:
Some inovative emerging church planters came down from Judea and started teaching the Lord's followers that they could not be saved, unless they were circumcised as Moses had taught. This caused lead apostle Paul and his missiologist bro Barnabas to include them in the next Explosive Growth Conference so those church planters could share how they had contextualized the gospel.

So it was decided to send Paul and Barnabas and a few others to Jerusalem to have a missions conference with the apostles and the missional church leaders there to teach them how the emerging church planters were engaging the Jewish culture and bringing the church back to her Jewishness.
See also:
IS THIS DOCTRINAL AND SOUND DR. JOHN PIPER? 
RICK WARREN ABOVE NEEDING TO EXPLAIN HIMSELF
RICK WARREN DECEPTION ALREADY INVADING REFORMED CAMP  
SADDLEBACK CHURCH, RICK WARREN, AND SPIRITUAL DISCIPLINES 
DR. MICHAEL HORTON ON THE CHAMELEON-LIKE RICK WARREN 
THE INADEQUATE GOSPEL OF RICK WARREN