By Ken Silva pastor-teacher on Jun 11, 2010 in AM Missives, Contemplative Spirituality/Mysticism, Current Issues, Features, Spiritual Formation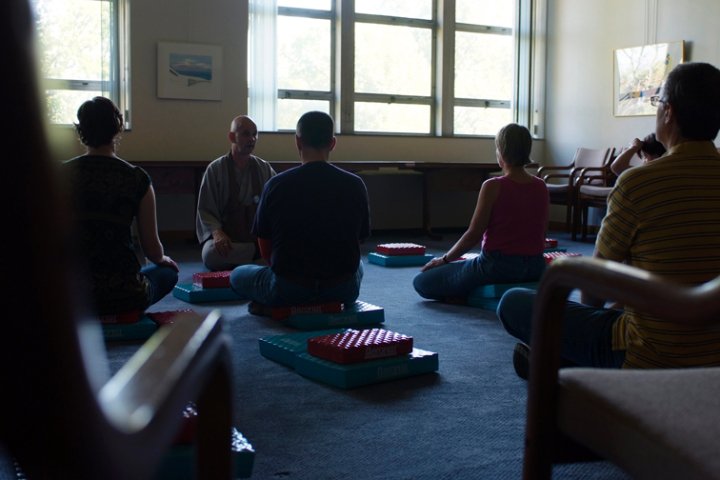 And he brought me into the inner court of the house of the LORD. And behold, at the entrance of the temple of the LORD, between the porch and the altar, were about twenty-five men, with their backs to the temple of the LORD, and their faces toward the east, worshiping the sun toward the east. (Ezekiel 8:16, ESV)
If you think this looks like people practicing Zen Buddhist meditation, you'd be correct. If you think the picture was taken at a Zendo in a Zen Center, you'd be absolutely wrong.
For this is Reverend Shinko Rick Slone, whom Apprising Ministries told you about in The Emerging Church TransFORM East Coast Apostasia-Palooza, as he lead the "Stillness Meditation" which opened each day of the TransFORM heresy-fest of the neo-liberal cult of the Emerging Church.
Well, it's all just a part of A New Kind of Christianty being advanced by the Emergent Church, a new form of Progressive Christian theology that New Age mystic Deepak Chopra recently called "the resurrection of a new global Christianity that will restore our faith both in ourselves and in the divine."
You need to understand that the mind-emptying practice of transcendental meditation eventually leads one to a permanent altered state of consciousness called "transformation" or "enlightenment"; what Buddhists refer to as satori.
First of all, e.g. in Frank Viola Practices Corrupt Contemplative/Centering Prayer and Using Contemplative/Centering Prayer As "Christian" Meditation, I pointed out the rapidly growing influx of Contemplative Spirituality/Mysticism (CSM) right into the timid heart of the squishy evanjellyfish pretending to be Protestant community.
This spurious CSM comes into the church visible under the guise of so-called Spiritual Formation with its supposed "spiritual disciplines"; but what we're actually dealing with is a repackaged version of the Counter Reformation (hello) spirituality of Roman Catholic mystics, a new form of Gnosticism where those practicing the semi-ascetic Pietism of this mysticism-lite can receive direct revelations from God Himself.
I'll tell you that the  jewel of CSM is the practice of meditation in an altered state of consciousness which is known as Contemplative/Centering Prayer (CCP). As one studies the subject of mysticism as I have it becomes unmistakable that it will inevitably lead those who engage in it to a religious pluralism; and for many it leads to universalism.
That becomes crystal clear as we actually examine these so-called Christian mystics and what it is in fact that they have actually taught. However, when we look at what the Bible says about the end times we read something that ought to immediately arrest our attention — The coming of the lawless one is by the activity of Satan with all power and false signs and wonders. (2 Thessalonians 2:9).
Did catch that; false, i.e. counterfeit, experiences. One of which is this CSM.
See also:
RICHARD ROHR AND THE EMERGING CHURCH AS THE THIRD WAY
THROUGH ROB BELL "THE GREAT ENLIGHTENED ONES" TELL US MAN HAS DIVINE GREATNESS
"CELEBRATION OF DISCIPLINE" BY RICHARD FOSTER AN ENCYCLOPEDIA OF THEOLOGICAL ERROR 
DALLAS WILLARD ENCOURAGES CONTEMPLATIVE/CENTERING PRAYER
ACTS 29 NETWORK AND REFORMED COUNTER REFORMATION SPIRITUALITY?