By Ken Silva pastor-teacher on Jun 8, 2010 in Current Issues, Emergence Christianity, Emergent Church, Features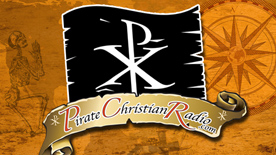 Christian Research Network is a sister outreach of Apprising Ministries; and CRN contributor Chris Rosebrough, host of the Fighting for the Faith program on Pirate Christian Radio, announced today via this tweet:
I am now free to announce that I will be debating Doug Pagitt on the topic of Hell in October in Newberg Oregon. Details forthcoming.
(Online source)
But apparently this will prove useless because Frank Turk knows the future:
@piratechristian – you're going to debate, and he's just going to come and dismiss. You might 'win', but you won't convert or convince. (Online source)
I think Rosebrough's doing exactly the right thing; and I say that as one who also holds the doctrines of grace. As I always teach my own local church; preach the Gospel, anywhere, anytime, and to anyone. Do so as lovingly, gently, and as patiently as you can; but when the opportunity is there preach we must.
Knowing Rosebrough, I can tell you there's no doubt whatsoever that the heretical Doug Pagitt, as well as everyone who listens, will hear the Gospel of repentance for the forgiveness of sins in Jesus' Name. I personally wonder why Frank Turk even felt the need to try and discourage a brother from preaching the Gospel in the first place.
And I sure hope he knows that it's God, not Chris Rosebrough, Who will do the winning, converting, or convincing. That said:
14 How then will they call on him in whom they have not believed? And how are they to believe in him of whom they have never heard? And how are they to hear without someone preaching? 15 And how are they to preach unless they are sent? As it is written, "How beautiful are the feet of those who preach the good news!" 16 But they have not all obeyed the gospel. For Isaiah says, "Lord, who has believed what he has heard from us?" 17 So faith comes from hearing, and hearing through the word of Christ. (Romans 10:14-17)
The Lord be with you Chris.
See also:
CHARLES SPURGEON: THOSE WHO BURY THE GOSPEL WITH TRASH
DOUG PAGITT EXCITED ABOUT EVENTS THROUGH THE LENS OF THE ENNEAGRAM
DOUG PAGITT, JOHN PIPER, AND KARMA KICK-BACK
THE EMERGING CHURCH AGENDA AND DOUG PAGITT
DOUG PAGITT AND ARROGANCE OF LIBERAL/PROGRESSIVE CHRISTIANS
DOUG PAGITT AND A "CHRISTIANITY" HE LIKES