By Ken Silva pastor-teacher on May 31, 2010 in Current Issues, Features, Leonard Sweet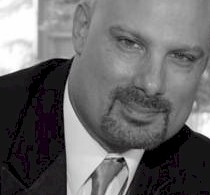 Apprising Ministries brings to your attention Frank Viola, whose "official website" informs us is:
a Christian author and speaker. His public speaking covers a wide range of topics including the all-sufficiency of Jesus Christ, the deepening of the spiritual life, Christian community, church planting, God's eternal purpose, mission, and church restoration. (Online source)
You should also know that Frank Viola is also co-author with Leonard Sweet, a leading theologian in the neo-liberal cult of Emergent Church, of the book to be released tomorrow Jesus Manifesto. Viola made sure to retweet:
Linearity, Creativity & Education – http://themerrymonk.com/?p=1188 (Online source)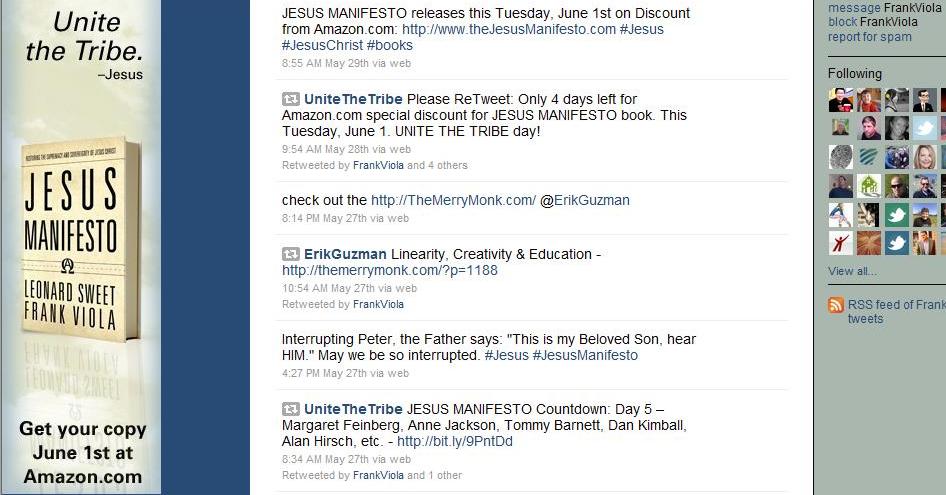 Viola also tweeted:
check out the http://TheMerryMonk.com/ @ErikGuzman (Online source)
It seems pretty clear that Frank Viola is rather impressed with this "Merry Monk" Erik Guzman; but who is he? Well, his Twitter account tells us that Guzman is "Executive Producer for Key Life Network, co-host of the talk show Steve Brown Etc. , and I am The Merry Monk of Love."
Apparently at his website he distills:
This would follow, for at his website Merry Monk Guzman also informs us:
I'm a whiskey mystic, a silly son of God, a sword saint and a divine DJ. I'm The Merry Monk of Love. I've been undergoing a radical emotional, physical and spiritual reformation. I'm constantly being repossessed by the Happy Spirit. It's sporadic enlightenment. It's a merry metamorphosis.

Join me for some spiritual experimentation, and use the links in this sidebar to subscribe to this blog and The MonkCast. Also, use the link below to email me. Send along something profound or funny. Or, let me know if you'd like to join me for a drink. If there's enough interest we can even arrange a gathering. (Online source)
Frank Viola wanted to make sure we sure that we would come to know Guzman; well, I find it interesting to note that Guzman is a mystic who tells us in his post Spiritual Experimentation:
Now, I like to read theology and philosophy, but when it comes to my religion, I need way more than ideas about God. I need experience. I need to eat and drink and breathe God…to know him in the Biblical sense. I want to be a monk the way Anthony Bourdain is a chef. That's my kind of spirituality…raw, real and sensual. I want to dive naked into the divine and live to tell about it.

And yet, as Kierkegaard said, "If I am capable of grasping God objectively, I do not believe, but precisely because I cannot do this I must believe." However, through belief there is experience.

Here's an example that's foundational for what I call spiritual experimentation. I'm not a dualist. I don't believe that humans are spirits trapped in bodies. I believe that we are spiritual physical beings, a unified whole. We're essentially living dirt…the nexus of heaven and earth. As a result, when I fast, my "spirit" fasts. By definition, what I do with my body affects my spirit. As a Christian Existentialist, I also believe that the power of my spirit being united with God's Spirit affects my body. So, during a fast I can have a real, emotional, physical experience with the divine through belief…

I'm into spiritual experimentation. Experimenting is just more fun than spiritual discipline or spiritual formation… Experimentation lacks any real commitment. The pressure's off. You're not signing up for a way of life, but if you don't try it, you'll never know if you like it or not. My experience with spiritual experimentation, and the experience of those who have experimented with me, has been like making a little tear in the fabric of reality…Try a week of meditating for 30 minutes every day. Just sit with the awareness that God is all around you and in you. I'll bet your perception during the other 23.5 hours will start to change appreciably. Then dabble with solitude or silence or my favorite spiritual discipline, celebration. Share your results with me or other experimenters and learn from more experienced dabblers.

Maybe that tear in the fabric of reality will get so big and so much light will come through that you'll realize you are living and breathing in the very words of God. (Online source)
You should know that the above really does shed much light upon where these Emerging Church counter Sola Scriptura neo-Gnostics like Frank Viola and Leonard Sweet are trying to lead us.
See also:
EMERGING CHURCH THEOLOGIAN LEONARD SWEET AND CALVARY CHAPEL OF ALBUQUERQUE
CONCERNING LEONARD SWEET OF THE EMERGING CHURCH AND CHRISTIAN EDUCATION
EMERGENCE CHRISTIANITY: QUANTUM SHIFT TO PANENTHEISM
POSTMODERNISM IS SINFUL AND NOT COMPATABLE WITH CHRISTIANITY
THE EMERGING CHURCH SOWING ITS NEO-ORTHODOX CONFUSION ON SCRIPTURE
EMERGENT CHURCH LEADERS AND ODMS—ONLINE DISCERNMENT MINISTRIES