By Ken Silva pastor-teacher on May 12, 2010 in Current Issues, Emergence Christianity, Emergent Church, Features, Leonard Sweet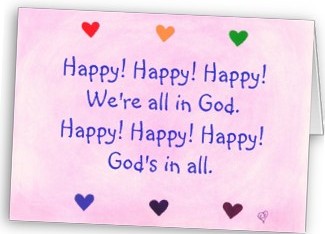 Apprising Ministries has told you before that Leonard Sweet is leading theologian in the Emerging Church; and as you can see in Skip Heitzig Scheduled To Speak Along With Leonard Sweet At Calvary Of Albuquerque, he hides under the cover as Leadership Network as evangelical.
Sweet is good friends with Emergent Church guru Brian McLaren and also adheres to the newer postmodern form of big tent Progressive Christianity that McLaren began laying out more systematically in his latest book A New Kind of Christianity.
You'd best wake up to the fact that these are neo-Gnostics deeply steeped in of  corrupt Contemplative Spirituality/Mysticism (CSM), which is perpetrated as so-called Spiritual Formation (SF) by Living Spiritual Teacher and Quaker mystic Richard Foster along with his spiritual twin and SBC minister Dallas Willard. 
And you'll see in David Spangler, Leonard Sweet, And Quantum Spirituality  just how far out Sweet himself is. Now consider the tweet Sweet just sent:
That isn't Christian theology at all; however, it is right in lockstep with the heretical teaching of some "divine spark within all mankind" of the Eastern mysticism at the root of the Emerging Church 2.0 and its psuedo-Christian religion they call Emergence Christianity.
See also:
CONCERNING LEONARD SWEET OF THE EMERGING CHURCH AND CHRISTIAN EDUCATION
EMERGENCE CHRISTIANITY: QUANTUM SHIFT TO PANENTHEISM
BRIAN MCLAREN AND EVANGELICAL PANENTHEISM
EMERGENCE CHRISTIANITY AND PANENTHEISM
BRIAN MCLAREN SPREADING DIVISION IN THE CHURCH
THE EMERGING CHURCH, PHILIP CLAYTON, AND NEW PROGRESSIVE THEOLOGY