By Ken Silva pastor-teacher on May 6, 2010 in AM Missives, Emergence Christianity, Emergent Church, Features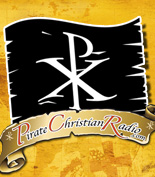 From time to time Apprising Ministries brings you the often insightful comments Christian apologist Chris Rosebrough by presenting segments of his Fighting for the Faith (FftF) program on Pirate Christian Radio (PCR).
Here we point you to a post at the fine online apologetics and discernment work Sola Sisters (SS); it's called Chris Rosebrough Interviewed About Emergent Conference.
In it you'll find the link to where Rosebrough talks about attending the recently concluded apostasia-palooza TransForm East Coast conference of the neo-liberal cult of the Emerging Church.
SS brings out a very vital point when they tell us that Rosebrough explains:
that the one thing that the emergents are missing is forgiveness. He explains that many emergent church adherents have had some kind of exposure to a legalistic kind of pietism, usually during their upbringing in a traditional church setting, from which they have turned away.  But what they don't understand is that, in embracing emergent, they have simply traded one system of legalistic pietism for another system of legalistic pietism.  The pietism is played out in different ways…..but it is still pietism.

Not drinking, not smoking, not going to movies, not dancing (or any combination of these rules) – these are some of the most common things people think of when it comes to legalism.  Today's emergents, however, while feeling freedom in these areas, are nonetheless burdened with a new, postmodern set of legalistic rules: advancing the cause of social justice, living sustainably, engaging in certain spiritual disciplines, etc.  While each system of legalism "looks" very different on the surface, both are identical at their core: they are both systems of bondage, nothing better than a set of hoops to jump through in the hope of gaining favor with the Lord. (Online source, emphasis theirs)
This is what makes the plight of those following the spiritual skubalon of the bankrupt Emergence Christianity foisted upon them by the leaders within the Emergent Church all the more sad.
Here they've been mistreated by professing Christians with empty legalism only to be herded over to the powerless antinomianism of this new form of progressive/liberal theology.
You can read the post by Sola Sisters in its entirety and download Rosebrough's interview right here.
See also:
BRIAN MCLAREN ADDRESSES TRANSFORM EAST COAST CONFERENCE
BRIAN MCLAREN SPREADING DIVISION IN THE CHURCH
JESUS, RECONSIDERED: BRIAN MCLAREN AND AL MOHLER ON NPR
BRIAN MCLAREN AND HIS NEW EMERGING PROGRESSIVE THEOLOGY
THE EMERGING CHURCH, PHILIP CLAYTON, AND NEW PROGRESSIVE THEOLOGY
LIBERALISM 2.0 THE NEW PROGRESSIVE CHRISTIAN THEOLOGY