By Ken Silva pastor-teacher on Oct 18, 2009 in Current Issues, Devotions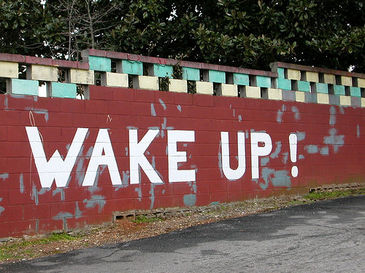 …in like manner these people also, relying on their dreams, defile the flesh, reject authority, and blaspheme the glorious ones. (Jude 8, ESV)
Don't Look Now; But They're Here
The following is excerpted from the Apprising Ministries article Jay Bakker Receives Award. What you need to understand is this egregiously ecumenical Emerging Church aka Emergent Church de-formation of the Christian faith—now morphing into Emergence Christianity (EC) is a cult of a postliberalism growing within evangelicalism itself now; a Liberalism 2.0 which comes complete with the virus of Contemplative Spirituality/Mysticism (CSM) that goes to work shorting out critical reasoning skills.
The truth is that the EC learned well from its evil forebears in the original cult of liberalism and for years now the EC followed its methodology and has been busy embedding itself within evangelical publishing houses, seminaries, and denominational structures. One need only look at the growing acceptance within mainstream evangelicalism of the Elvis of the Emerging Church Rob Bell to see how far the influence of the EC has stretched because, whether intentional or not, Bell has been a key player in advancing its theology.
And this in spite of Bell's open promotion CSM and even using teachings by New Age priestess Marianne Williamson as you can see for yourself in Through Rob Bell "The Great Enlightened Ones" Tell Us Man Has Divine Greatness. Thinking he's quoting from Nelson Mandela, Bell informs us that in his opinion mankind is "put on display, to show—the glory of God that is within us." Bell then continues in agreement with Williamson's classic mystic teaching of the divine spark, "you may be a dirt clod, but there is greatness and power and glory that resides in every single human being."
This is where gay affirming "pastor" Jay Bakker enters our picture; you see, now that very astute EC leaders like Bakker's friend Tony Jones and Brian McLaren, who when Bakker was struggling a while back took Bakker into his home, can see they have the power in place you will see them begin to come out of the closet. And one of the pet causes of the EC is the full evangelical acceptance that GLBTQ people, unrepentantly having sexual relations with another of the same sex i.e homosexuality, are not in sin; but rather, the gay affirming argue that this is also a viable lifestyle for the Christian.
There's good reason why in posts like Ex-Homosexual Friend Of Apprising Ministries I've been warning that there's a very dark and threatening same-sex storm right now approaching hurricane force, which is currently only slightly off the coast of your own local church. As you can see in Emergence Christianity—A Postliberal Cult Slithers Into Evangelicalism through this spurious CSM, rooted in the Counter Reformation of apostate Roman Catholicism, the EC has largely kicked out the pillar of Sola Scriptura—particularly in your Young Adult and Youth ministries.
The Plank Of Evangelicalism You're Standing On Is Rotting Out Beneath You
Sleep on if you want to, but without Sola Scriptura one is on the postmodern playing field of existential and highly subjective experience where there are no rules i.e. evangelicalism is defenseless against these vipers. And as I posed in Rev. Megan Rohrer On Gay Rights Movement, who happens to be a transgendered renegade ELCA pastrix, the time is near when you'll need to decide just how it is that you plan to respond when openly homosexual "Christ-followers" such as "reverend" Rohrer are being held up as acceptable role models for your own evangelical Christian youth.
In articles e.g. like The Gay Christian Network" so you can get some idea of what you're up against. Here I'll also mention that Rick Brentlinger of Gay Christian 101 was kind enough to send me, on his own, his 390 page gay affirming textbook of the same name.
We've since had a few amiable discussions, and should the Lord allow the funding for me to remain here, I would hope to do some pieces interacting with Brentlinger's very in-depth book of "Spiritual Self-Defense For Gay Christians." But for now, I will simply say to you once again, The Nightmare Is Only Beginning For Mainstream Evangelicalism.
See also:
BECAUSE I LOVE JAY BAKKER AND GLBTQ PEOPLE
BUT DO EMERGENCE CHRISTIANITY AND BRIAN MCLAREN REALLY LOVE GAY PEOPLE?
ROB BELL, PETER ROLLINS, AND QUEERMERGENT'S ADELE SAKLER
KEN SILVA, JAY BAKKER AND HOMOSEXUALITY