By Ken Silva pastor-teacher on Oct 19, 2009 in AM Missives, Contemplative Spirituality/Mysticism, Current Issues, Features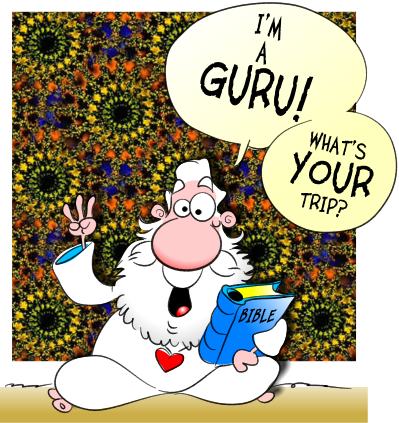 They are full of superstitions from the East; they practice divination like the Philistines and clasp hands with pagans. (Isaiah 2:6)
Wannbe Gurus Galore
Apprising Ministries sounds the warning again, along with Lighthouse Trails Research, about increasing inroads of corrupt Contemplative Spirituality/Mysticism (CSM) ala Living Spiritual Teacher and Quaker mystic Richard Foster—and his spiritual twin Dallas Willard—who are spreading this spurious Spiritual Formation (SF). Right in line with AM posts such as Contemplative Spirituality Growing Within Mainstream Evangelicalism and Disciplines To Deception In Southern Baptist Convention comes the following sad report at From the Lighthouse blog (FtL).
In "Soul at Rest" Women's Conference Will Connect Women with Contemplative Advocate we're told of a Soul At Rest conference of CSM coming next month at an obstensibly mainstream Protestant evangelical church aligned with Chuck Smith's Calvary Chapel. FtL begins:
For those who wonder if contemplative spirituality is still making strong inroads into the evangelical Christian church, below is an indicator that this mystical spirituality is moving full speed ahead. And for most Christian leaders, there are no questions asked.

North Coast Calvary Chapel: Women's Conference Soul at Rest (November 6th-8th) will be featuring contemplative author Tricia McCary Rhodes as the speaker of the conference. Rhodes has been a contemplative advocate for many years…
FtL then leaves us no doubt we're dealing with spurious CSM, which flowered in the antibiblical monastic traditions of apostate Roman Catholicism, and is now masquerading as some form of "Protestant" SF:
From Rhodes' book, The Soul at Rest: A Journey into Contemplative Prayer, she states:

Take deep breaths, concentrating on relaxing your body. Establish a slow, rhythmic pattern. Breathe in God's peace, and breathe out your stresses, distractions, and fears. Breathe in God's love, forgiveness, and compassion, and breathe out your sins, failures, and frustrations. Make every effort to "stop the flow of talking going on within you–to slow it down until it comes to a halt." (p. 28) (Online source)
This is the same lunacy in the Lord's Name I covered recently in Read The Bible, Pray, And Do What It Says where I talked about Kyle Strobel, the son of well-known Christian apologist Lee Strobel, who tells us that he grew up at Willow Creek Community Church. Strobel informed a friend on AM that, "I am finishing my Ph.D in systematic theology on Jonathan Edwards, and founded a spiritual formation ministry"; and further, Strobel also claims that his ministry is consistent with Puritan spirituality.
But as I pointed out previously, after examining his SF ministry Metamorpha with all of its "information on spiritual disciplines, prayer exercises, books, spiritual direction and retreats," it's crystal clear that Kyle Strobel has much more in common with CSM guru-ess Ruth Haley Barton than he does with Jonathan Edwards. This now brings me to my other example concerning how CSM continues gaining ground within mainstream evangelicalism, which would be Willow Creek Community Church (WCCC) itself.
A couple of days ago Bill Donahue, "Executive Director—Adult Ministry" at WCCC and part of "The Willow Creek Association Group Life Team," tweeted:
7 Days til This Changes Everything! #grouplife (Online source)
That link takes us to the Twitter account for the Official Site for Willow Creek Association Group Life team, and over at Group Life, we find information concerning that This Changes Everything (TCE) conference coming up October 24:
This Changes Everything is a one-day training event designed to move you in that direction. It offers practical next steps for fostering spiritual growth in your small groups. (Online source)
Rehashing Spiritual Practices Used By Monastic Systems Of The Roman Catholic Church
The promotional email received at Apprising Ministries, which is entitled "Spiritual Formation and Group Life," informs us that TCE is "the spiritual formation-focused Group Life Conference on Saturday, October 24 live via satellite." TCE features one very well known practitioner of CSM in Dr. Henry Cloud, and as I pointed out in Does Psalm 46:10 Teach Contemplative/Centering Prayer, Cloud was featured in the DVD Be Still And Know, which was an veritable ode to Contemplative/Centering Prayer (CCP).
In addition TCE will also have CSM advocate Mindy Caliguire, founder of "a spiritual formation ministry serving church leaders—for the care of their own souls and those they lead," that's called Soul Force (SFe), which is:
a publishing and ministry vision dedicated to helping people restore health to their souls. The growing hunger for authentic Christian spirituality continues, along with a need for practical help in experiencing God. As a result, the vision of Soul Care continued to emerge. Consulting and speaking with groups such as the Willow Creek Association, Renovare and the Spiritual Formation Alliance has broadened the Soul Care platform. (Online source)
Under alleged Soul Care Pillars At SFe we find the recommendation to practice Solitude/Silence, which incorporates the CCP mentioned above, including incorrectly listing Psalm 46 as somehow teaching this foolishness. And you are probably aware that Renovare is the mystic ministry of the aforementioned Richard Foster who, according to EC guru Brian McLaren, is a key mentor of the egregiously ecumenical Emerging Church aka Emergent Church de-formation of the Christian faith—now morphing into Emergence Christianity (EC).
You need to know, as I just pointed out again in Not So Gay Writing On Wall Of Apostatizing Evangelicalism, that this EC is a cult of a postliberalism now growing within evangelicalism itself. It's actually a Liberalism 2.0 that comes complete with the virus of CSM, itself a core doctrine from the EC hatching in Hell, and which then goes to work shorting out one's critical reasoning skills. Do yourself a favor and examine the fruit of this CSM, which Jesus has told us to do, and you'll see it's no great surprise that this Counter Reformation spirituality is largely reversing God's Reformation.
See also: 
TIM KELLER ENDORSING COUNTER-REFORMATION CONTEMPLATIVE SPIRITUALITY?
MOVE OVER PASTORS FOR SPIRITUAL DIRECTORS/GURUS
EVANGELICAL RIP VAN WINKLES EMPLOY QUAKER MYSTIC RICHARD FOSTER FOR BEDTIME FABLES
THE TERMINOLOGY TRAP OF "SPIRITUAL FORMATION"
"CELEBRATION OF DISCIPLINE" BY RICHARD FOSTER AN ENCYCLOPEDIA OF THEOLOGICAL ERROR
SO YOU WANT TO BE LIKE CHRIST… DITCH THE DISCIPLINES OF DALLAS WILLARD
CONTEMPLATIVE SPIRITUALITY/MYSTICISM (CSM) OF SPIRITUAL FORMATION IS RECKLESS FAITH