By Ken Silva pastor-teacher on Oct 16, 2009 in AM Missives, Contemplative Spirituality/Mysticism, Current Issues, Devotions, Features, Spiritual Formation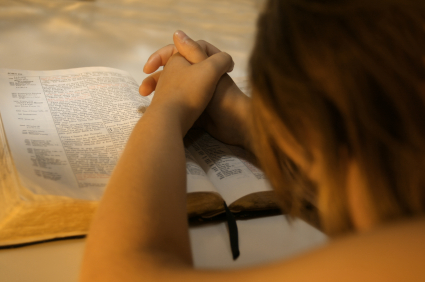 Then they said to the king, "Daniel, who is one of the exiles from Judah, pays no attention to you, O king, or to the decree you put in writing. He still prays three times a day." (Daniel 6:13)
Following Jesus Away FromThe World
In articles here at Apprising Ministries such as Contemplative Spirituality Growing Within Mainstream Evangelicalism and Disciplines To Deception In Southern Baptist Convention I've been doing what I can to alert you to a huge problem now that evangelicalism welcomed the Trojan Horse of the egregiously ecumenical Emerging Church aka Emergent Church de-formation of the Christian faith—currently morphing into Emergence Christianity (EC)—a cult of postliberalism within its walls. A Liberalism 2.0 as apologist Chris Rosebrough has correctly dubbed it.
And the danger would be Protestant evangelicalism's embrace of a core doctrine of the EC, which it in turn borrowed from apostate Roman Catholicism, corrupt Contemplative Spirituality/Mysticism (CSM) ala Living Spiritual Teacher and Quaker mystic Richard Foster—and his spiritual twin Dallas Willard—key mentors of the Emerging Church to spread spurious Spiritual Formation (SF). A good example of how deeply this CSM aka SF has spread is the foolishness taught by Kyle Strobel as shown in The Difference Between Spiritual Formation And Sanctification.
Kyle Strobel, who tells us that he grew up at Willow Creek Community Church, is the son of well-known Christian apologist Lee Strobel. He informed a friend that, "I am finishing my Ph.D in systematic theology on Jonathan Edwards, and founded a spiritual formation ministry"; and further, Strobel claims his ministry is consistent with Puritan spirituality. After examining Metamorpha with all of its "information on spiritual disciplines, prayer exercises, books, spiritual direction and retreats," it's clear Kyle Strobel has much more in common with CSM guru-ess Ruth Haley Barton than Jonathan Edwards.
It's important to note here that the EC with its CSM is rooted in the semi-pelagian Church Growth Movement, and yet there are many preachers within mainstream evangelicalism who believe they've discovered a new way of "reaching" people so that now we can be followers of Jesus and the world is simply going to love us. But unfortunately this same Jesus clearly says the world i.e. the unregenerate will never love God. And if you truly walk with Jesus the sufferings and persecutions that fell on Him are going to fall upon you as well:
For it has been granted to you on behalf of Christ not only to believe on Him, but also to suffer for Him. (Philippians 1:29)
That's the life of the true Christian, we are not of this world any more than Jesus was; and the more you become like Him, the more it will hate you as it did Jesus. And God the Holy Spirit warns us concerning man-centered evangelical leaders like Purpose Driven Pope Rick Warren and the Elvis of Emergence Rob Bell when He reveals the secret to the appeal of their message with the unregenerate — they speak from the world, and the world listens to them (1 John 4:5, ESV). The fact is that Jesus also clearly told us — "Woe to you when all men speak well of you, for that is how their fathers treated the false prophets" (Luke 6:26), and, "If you were of the world, the world would love its own; but because you are not of the world, but I chose you out of the world, because of this the world hates you" (John 15:19, NASB).
Fiddling With Fake Spiritual Formation While The Visible Church Is Burning
Now, rather than today's No-Controversy For The New Downgrade, let's consider the following from Charles Spurgeon who battled the beginning of the original Cult of Liberalism in England in the 1800's. In commenting on our opening text Spurgeon said:
Daniel had been exalted to very great worldly prosperity, but his soul had prospered too. Oftentimes outward advancement means inward decline, Tens of thousands have been intoxicated by success. Though they bade fair in starting in the race of life to win the prize, they were tempted to turn aside to gather the golden apples, and so they missed the crown.
But this is exactly what happened to an evangelicalism, which had never turned it's back on humanism by trying to placate the fallen nature of man. In attempting to please men it kept telling them about their "free will" and their ability to "make a decision for Christ." As Dan Phillips of the fine website Pyromaniacs put it in his excellent article Self-Help, Self-Esteem, Self-Destruction, And Large, Irresponsible Mouths:
preaching and writing by folks like Joel Osteen, Robert Schuller, and teeming hordes of wannabes. These men (and women) take on the mantel of authority, stand in the pulpit, and tell every last one of their hearers unconditionally and without qualification that God loves them, accepts them just as they are, approves of their hopes and dreams and aspirations, and wants nothing more than He wants for them to be happy and fulfill their desires. God will initial all their aspirations, and back them up all the way. (Online source)
Spurgeon then continues his contrast:
It was not so with Daniel–he was as perfect before God in his high estate as in his lowly days, and this is to be accounted for by the fact that he sustained the energy of his outward profession by constant secret communication with God. He was, we are told, a man of excellent spirit and a man abundant in prayer; hence, his head was not turned by his elevation, but the Lord fulfilled in him His promise to "make His servant's feet like hinds' feet, that they may stand upon their high places."

Yet although Daniel preserved his integrity, he did not find a position of greatness to be one of rest. The example of Daniel I present for your observation today, believing that these are times when we need to be as firm and resolute as he, and that at any rate, occasions will come to every one of us, before we win our crown, when we shall need to put our foot down firmly and be steadfast and unflinching for the Lord and His Truth (At the Master's Feet, December 9). 
So you see attacks on the veracity (truthfulness) and perspicuity (clarity) of God's Word by people who profess to be Christians ala EC leaders like Tony Jones—heretical "theologian in residence" at the EC church of his equally heretical quasi-universalist pastor Doug Pagitt—as well as flagrant compromise with the world by such as these is absolutely nothing new. The question you should be asking is: "How do I keep myself from being deceived and falling into compromise with these other man-lovers (see—2 Timothy 3:2)?" And our text verse in Daniel cited above now begins to bring you to your answer — "He still prays three times a day." Humble yourself before God; read the Bible, pray, and then do what it says.
See also:
JOHN MACARTHUR: SEEKER-FRIENDLY MOVEMENT IS THE NEW LIBERALISM
GARY GILLEY: SPIRITUAL FORMATION SYSTEM OF RICHARD FOSTER DERIVED FROM COUNTER-REFORMATION MYSTICS
SOUTHERN BAPTIST PASTOR RICK WARREN AND SADDLEBACK CHURCH OPENLY RECOMMEND CONTEMPLATIVE SPIRITUALITY
ROB BELL ABSOLUTELY WRONG ABOUT SCRIPTURE
MOVE OVER PASTORS FOR SPIRITUAL DIRECTORS/GURUS
THE GREATEST EXPERT ON THE SCRIPTURES AND HIS VIEW OF THE BIBLE