By Ken Silva pastor-teacher on Sep 24, 2009 in Current Issues, Emergence Christianity, Emergent Church, Features, Homosexuality/"Christian"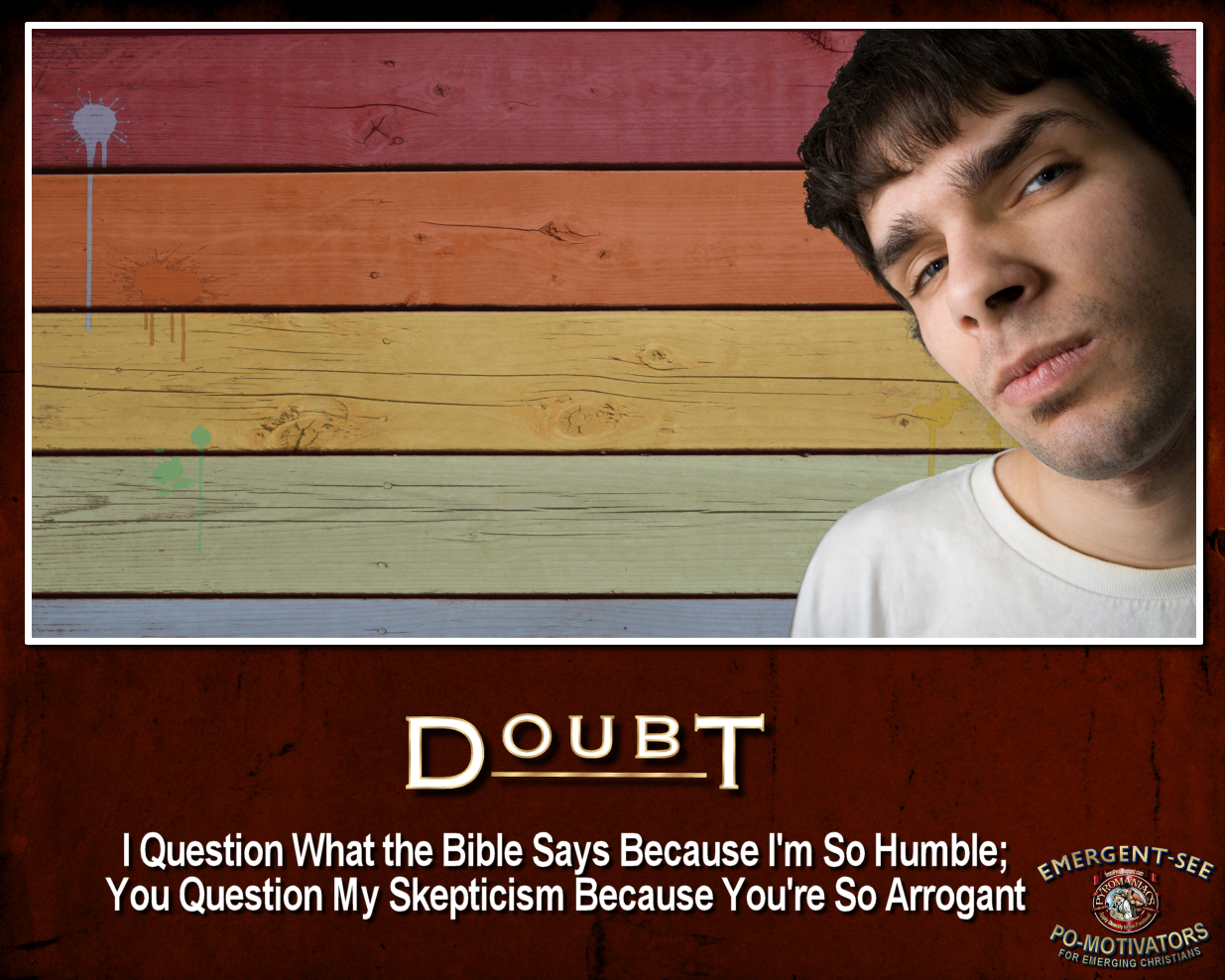 In Did ELCA Pastrix Nadia Bolz-Weber Just Call Jesus "A Schmuck"? I reminded our many new readers, particularly those who've come to Apprising Ministries because of our coverage of the recent tragic vote mortally wounding the Evangelical Lutheran Church of America (ELCA), that AM has long been maintaining Mainstream Evangelicalism Is Now On The Rapid Slide To Apostasy.
The main reason for this is because of its ongoing embrace of the egregiously ecumenical Emerging Church aka Emergent Church—morphing into Emergence Christianity—(EC). As I pointed out already in The Emergence Of Postmodern Apostles Of Unbelief those celebrating doubt as some twisted humility in this postliberal cult e.g. Rob Bell are nothing new at all.
It's nothing more than an Emergence rebellion against Sola Scriptura; think liberal theology ugraded to Liberalism 2.0 as Christian apologist Chris Rosebrough recently coined it. Consider the following from the prince of preachers Charles Spurgeon circa 1880's:
Beloved, your risen Lord wants you to be happy. When He was here on earth, He said, "Let not your heart be troubled"; He says just the same to you today. He takes no delight in the distresses of His people. He loves you to believe in Him and be at rest.

Find if you can, beloved, one occasion in which Jesus inculcated doubt or bade men dwell in uncertainty. The apostles of unbelief are everywhere today, and they imagine that they are doing God service by spreading what they call "honest doubt." This is death to all joy! Poison to all peace! The Savior did not so.
AM has been warning that there's a very dark and threatening same-sex storm right now approaching hurricane force, and which is currently only slightly off the coast of the mainstream evangelical community. This is because the EC, now openly pushing their gay affirming agenda for mainstream evangelicalism, is promoting grace-twisting "pastor" Jay Bakker, who heads the largely Biblically illiterate group who've crowned themselves outlaw preachers.
It's also important to note that in a couple of weeks "queer inclusive" ELCA "pastor," and former "professional f**k-up," Nadia Bolz-Weber will be advanced forward into the mainstream through an apostasy-fest called Christianity 21 (C 21). JoPa Productions, the  company formed by heretical Emerging Church theologian Tony Jones and his equally heretical quasi-universalist Emergent Church pastor Doug Pagitt, are the ones behind C 21.
They tell us that "all 21 of these Voices" at C 21 are women who'll supposedly be revealing "the way the Christianity will be changing in coming days." As you can see in Outlaw Preacher Nadia Bolz-Weber, whom the highly influential EC voice Tony Jones has told us is one "of the most provocative and innovative voices in the faith," has openly aligned herself with those outlaw "preachers."
In fact, one them has announced an upcoming gathering of these false teachers:
OK #outlawpreachers How about mtg in Denver May 15-17 at House for All Saints and Sinners (Nadia Bolz-Weber's church) (Online source, emphasis mine)
This is the necessary background you need to understand the larger picture concerning the tragic, and homopressive, vote of the ELCA to embrace clergy who are unrepentantly committing the sin of sexual immorality by having sexual relations with another of the same sex i.e homosexuality. And in The Sin Of Homosexuality Is Different I show that same-sex sexual relations will always be outside of Jesus' definition of marriage.
Now I will point you to a clip from the fine Issues, Etc. radio program. In this excellent segment below, Power Plays in the Evangelical Lutheran Church in America, host Todd Wilken interviews Dr. James Nestingen, professor emeritus of church history at Luther Seminary, also works with the Word Alone Network:
WordAlone's primary concern is that the ELCA is losing its Christ-centered focus. ELCA churches and members are turning to authorities other than the authority of God's Word, revealed in his risen Son, Jesus Christ, and in his inspired Word in the Holy Scriptures. The other authorities – human experience, wisdom and tradition – are used to turn aside the authority of God's Word.

The weaknesses within the ELCA – ecumenical agreements that compromise on significant biblical and confessional truths, the teaching and preaching of universalism, a decline in the proper mission of the church (global missions and new mission starts) and the push for approval of sexual relationships outside of marriage to name just a few – are symptoms of the deeper problem within the ELCA, the crisis over the authority of God's Word. (Online source)
Dr. Nestigen, author of the important article Joining the Unchurched concerning this ELCA vote to reject the clear teachings of God's Word, is among those Christians who will be leaving the ELCA now that it's become "fundamentally antinomian" and "all of the words in the title", save being in America "are a lie."
See also:
PROTESTANT CHURCHES SHIFTING TOWARD AFFIRMING HOMOSEXUALITY
THE NEW CHRISTIANS WITH CHRISTIANITY WORTH BELIEVING—NO SOLA SCRIPTURA: YES, WOMEN PASTORS AND QUEER CHRISTIANS
BUT DO EMERGENCE CHRISTIANITY AND BRIAN MCLAREN REALLY LOVE GAY PEOPLE?
TONY JONES WILL DISCUSS HOMOSEXUALITY BUT NOT FROM SCRIPTURE
JOHN SHELBY SPONG ADMITS HOMOSEXUALITY IS CONDEMNED IN SCRIPTURE