By Ken Silva pastor-teacher on Jun 5, 2014 in Contemplative Spirituality/Mysticism, Current Issues, Features

As evidenced e.g. by articles like On Contemplative Spirituality and Charismania, one of the issues I've been covering here at Apprising Ministries is the influx of hyper-charismatic excesses and full-on Contemplative Spirituality/Mysticism (CSM) into mainstream evangelicalism.
Take for example charismaniacs Rick Warren and NAR's Samuel Rodriguez ERLC at the SBC and Catalystt Contemplative Lab led by CSM Guru Phileena Heuertz. As I survey the evangelical battlefield I'm noticing that charismaniacs and  practitioners 0f occutlic CSM rule the roost.
With this in mind, yesterday's Chris Fabry Live! (CFL) program would catch my attention. At the end of every broadcast Fabry informs us that CFL is "a production of Moody Radio in Chicago." At it's section on Moody Radio's website, we're told that CFL was:
expanded to two hours on many of our stations on May 3, 2010. You can listen here on our website or download the podcasts if you miss either hour. Chris Fabry Live! is designed to build up the spiritual immune system of the Christian man and woman.

As you walk through the journey of faith called the Christian life, you meet new people, learn new things, laugh, cry and, most importantly, grow in your understanding of God. (source)
The point being, with CFL we have a middle-of-the-road, mainstream evangelical, program. Now, as you'll hear below, Fabry's guest was Dr. Marcus Warner who:
has served as president of Deeper Walk International since 2006. He is a former pastor and Bible professor at Bethel College in Mishawaka, Ind., with a doctorate from Trinity Evangelical Divinity School. Marcus is the primary teacher at Deeper Walk seminars and has written several books. (source)
As charismania and CSM continues to slither further into apostatizing evangelicalism you're going to have to come to grips with "Deeper" spiritual teachings. Like everything, excesses abound with this idea of going deeper into a relationship with God. I want you to be aware of this.1
That noted, the Deeper Walk International (DWI), of which Dr. Marcus Warner is president, came about through:
Dr. Mark I. Bubeck [who] is the founder and president emeritus of ICBC, inc. A pastor for over 40 years, Dr. Bubeck is the author of The Adversary, Overcoming the Adversary, The Rise of Fallen Angels, and Raising Lambs Among Wolves now updated and re-published as The Adversary at Home. (source)
In addition, from DWI also extends the Deeper Walk Institute that:
providees training for ministry professionals and people looking to go deeper in their walk with God.  The training is designed to provide transferable concepts and tools to help people find freedom from bondage and grow in personal maturity. (source)
DWI also will be hosting the 2014 Deeper Walk Conference (2014DWC) in November. The following DWI clip:
is the first in a series of topics addressed by Dr. Marcus Warner, the president of Deeper Walk International. (source)
You will also find it of interest that one of the Speakers for 2014DWC will be pastrix Helen Musick:

(source)
As you can see, Musick is pastrix of transformation2
It's not evangelical Protestant Christianity; and worse, this highly subjective CSM is truly hostile to the proper Christian spirituality of Sola Scriptura
)) at Quest Community Church, the Seeker Driven multi-site megachurch of Founding and Lead Pastor Peter Hise,3 where in violation of God's Word she ministers alongside Executive Pastrix Sharon Clements.4
For some solid Biblical teaching on the subject of spiritual warfare I recommend the following from Christian apologist Bob DeWaay:
Spiritual Warfare

ISSUE 1 Binding and Loosing, Part 1: False Spiritual Warfare Teachings

ISSUE 2 Binding and Loosing, Part 2: False Spiritual Warfare Teachings

ISSUE 26 God's Truth in an Age of Lies, Part 3: Spiritual Warfare – The Truth vs The Lie

ISSUE 40 Are Christians Cursed?: Exposing Marilyn Hickey's False Teaching on Curses

ISSUE 48 The Dishonoring of God in Popular Spiritual Warfare Teaching: Refuting the Bad Theology Espoused by Spiritual Warfare Teachers

ISSUE 68 Generational Curses: Biblical Answers to Questions Raised by the phrase "visit the inquities to the third and fourth generation"

ISSUE 69 Colossian Heresy, Part 1: Exegesis of Colossians 2 that Identifies the Nature of the Colossian "Philosophy"

ISSUE 70 Colossian Heresy, Part 2: How Colossians Warns Against Spiritual Elitism and False Spiritual Warfare Teachings

ISSUE 78 How Deliverance Ministries Lead People to Bondage: A Warning Against the Warfare Worldview

ISSUE 109 False Spiritual Warfare Teachings: How the Church Becomes Pagan (source)
In closing, I give you Word Faith mogul, and mainstream evangelical "modalist-trinitarian,' T.D. Jakes and his version of breaking the spell of generational curses and casting out their demons:
[mejsvideo src="https://www.apprising.org/wp-content/uploads/2012/06/T.D.Jakes-Generational-Curses.mp4″ width=640 height=360]
Now here's the CFL program, which aired yesterday on Moody Radio network, and featured Dr. Marcus Warner of Deeper Walk International: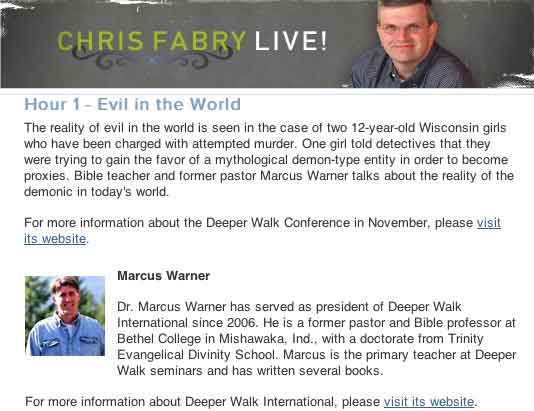 [mejsaudio src="https://www.apprising.org/wp-content/uploads/2014/06/FabryDemonsGenCurse.mp3″]
Further reading
Endnotes