By Ken Silva pastor-teacher on Jun 2, 2014 in AM Missives, Current Issues, Features, Word Faith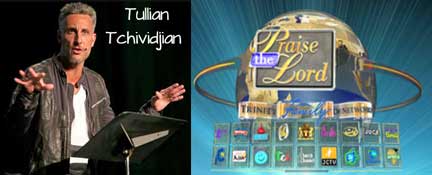 The other day here at Apprising Ministries I showed you that Ray Comfort and Franklin Graham on TBN's Praise the Lord Tonight. Jan Crouch et al have really been using Franklin Graham lately to try and bring credibility to their Praise the Lord (PtL) program.
Having once been in the Word Faith movement myself, I have brought to your attention that PtL is the main vehicle for fleecing the Christian flock used by Trinity Broadcasting Network (TBN), which some rightly call Trinity Blasphemy Network.
From this vantage point of the battlefield, let me now remind you that Tullian Tchividjian is senior pastor at the famous Coral Ridge Presbyterian Church in Fort Lauderdale. ((http://www.crpc.org/tullian-tchividjian-senior-pastor, accessed 6/2/14.)) Tchividjian succeeded the late Christian statesman, Dr. D. James Kennedy, who personally endorsed my ministry.
However, you may not know that  Tchividjian's:
full name is William Graham Tullian Tchividjian. The first part of his name "William Graham" is after his maternal grandfather, Billy Graham. "Tullian" is after the early church father, Tertullian. (source, bold in original)
So, tonight—from where I stand—TBN will attempt to continue cashing in on the Graham name and legacy, as if they are even in the remotest neighborhood of a legitimate Christian network:
Now, as of this writing anyway, we don't yet know the extent of Tchividjian's appearance with the heretical Jan Crouch and her equally off son Matt Crouch; and Tullian Tchividjian has said many times that he'll go anywhere for the sake of the Gospel.
I think the case is obvious in that the Crouch family and their TBN have been allowed for too long to feel their toxic and warped wares within the church visible. Remember when Jesus faced a similar situation He referred to Isaiah 56:7 and Jeremiah 7:11 and proclaimed:
"It is written, 'My house shall be called a house of prayer,' but you make it a den of robbers." (Matthew 21:13).
This noted, I offer that in the case of TBN this is not a wise choice by Tchividjian to let himself be used because—as I said in Franklin Graham Hosting TBN's Praise the Lord—Christians faithful to Jesus send a better message by having nothing to do with them.
As it is written:
I appeal to you, brothers, to watch out for those who cause divisions and create obstacles contrary to the doctrine that you have been taught; avoid them. 

For such persons do not serve our Lord Christ, but their own appetites, and by smooth talk and flattery they deceive the hearts of the naive. (Romans 16:17-18)
Further reading